NEWS
Japan finish tournament in 3rd place after losing to Singapore - StayAndPlay eFriendlies
25 April 2020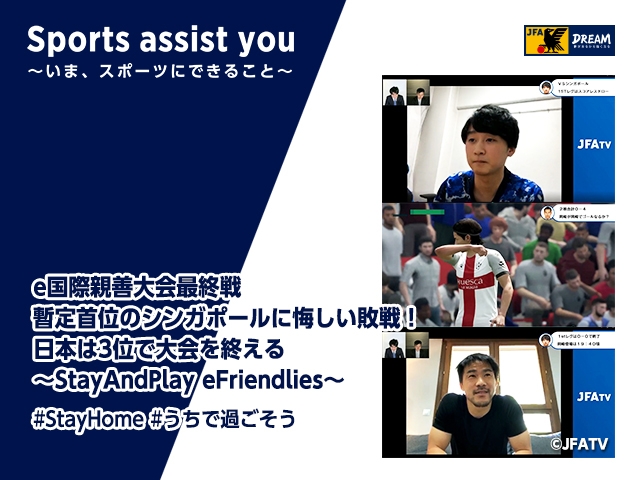 The final day of the eSports international friendly tournament, "StayAndPlay eFriendlies," took place on Friday 24 April, where Japan faced Singapore in their third and final match of the tournament. With Japan eNational Team's Web Nasri (Kashima Antlers) drawing 0-0 in the first leg, and JFA eSports Ambassador OKAZAKI Shinji (SD Huesca/Spain) losing the second leg 0-4, Japan lost the match with an aggregate score of 0-4, finishing the tournament in third place.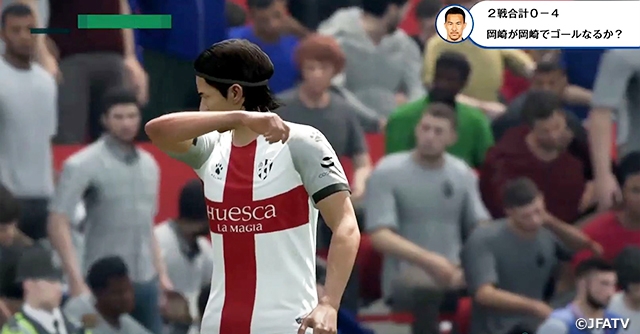 After registering a win and a loss in their first two matches, Japan needed a win with a five goal margin against Singapore, who had won both of their matches, in order to win the title. Ahead of the match, Web Nasri commented, "Singapore is in great form, so we are expecting a tough match, but we will give our utmost efforts to win the match. I have put Mr. Okazaki in tough spots in the previous two matches, so I hope to give him a comfortable lead in this match." Okazaki also shared his aspiration for the match, "Our opponent will be facing us with great confidence. Web Nasri has won back-to-back matches, so I am sure he can win another. I hope to feed off of his momentum to win my match as well."
The first leg was played between Web Nasri's Kashima Antlers and Chelsea FC (England) controlled by Singapore eNational Team's Amraan GANI. Despite showing a slight edge in ball possession during the first half, Web Nasri struggled to break through the solid defence showcased by Gani, who has only conceded two goals at this tournament. After both teams ended the first half without taking a single shot, the second half continued to be a solid defensive battle, as the two players displayed their high-level reading abilities to predict the opponent's tactic. Despite the close opportunity created by Web Nasri in the 71st minute, the match ended in a scoreless draw.
Following the first leg, Web Nasri reflected on his match, "It was an exceedingly difficult match, both defensively and offensively. The opponent applied great pressure to limit the passing options upfront and I was not able to create effective attacks." He continued by cheering his partner, Okazaki, "I ended up with a disappointing result, but I hope we can give his best to win the match for us."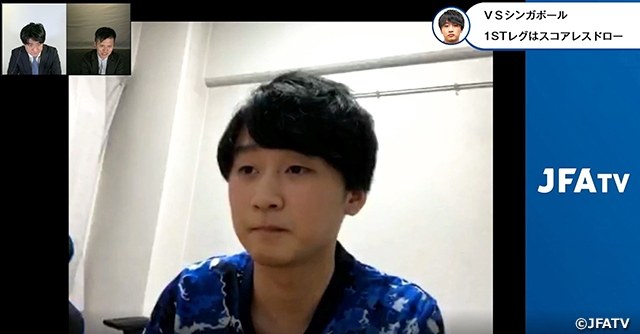 After watching the first leg between Web Nsri and Gani, Okazaki mentioned, "When two high-level players play against each other, they showcase spectacular defence and I was so impressed by their performance. He created close scenes in the match, so I hope to carry his momentum to win the second leg." With high hopes for the match, the Japanese international faced Joel CHEW from Tampines Rovers. Controlling Manchester United (England), Chew displayed great techniques from the early minutes, but Okazaki managed to respond with composure. However, the opening goal came for the Singaporean side in the seventh minute from a counterattack. Despite the defensive efforts made by Okazaki, he conceded another goal in the 35th minute to enter halftime with a two-goal deficit. Chew continued to showcase his dominance over Okazaki in the second half, as the 20 year old midfielder scored two more goals to hand over a 0-4 loss to the veteran striker.
After the match, Okazaki commented on his performance, "My opponent was so good, and I was just terrified. He never let his guard down and took full advantage of my mistakes to score goals. It was as if he was deliberately allowing me to take shots to setup his own attacks. Even playing online, you can see the opponent's character, and I thought that is an intriguing part about eSports." Web Nasri also commented after the match, as he praised the opponent, "The opponent was at a level where I am not sure even if I can win against him."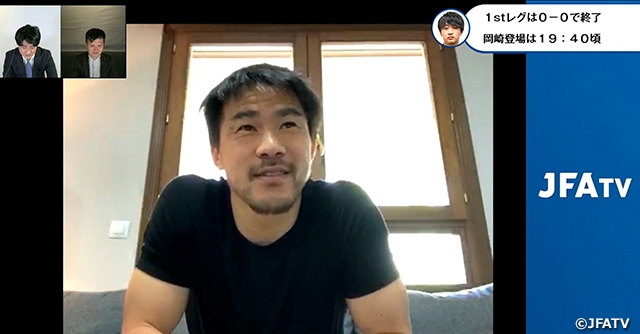 As a result, Japan finished the tournament with a record of one win and two losses. With Singapore taking the title with three wins, Chinese Taipei finished in second, while Japan finished in third and Malaysia in fourth.
Despite missing out on the title, the Japanese duo showcased great performances, as the tournament was viewed by many football fans and eSports fans. At a personally level, Web Nasri showcased a promising performance, as he finished with an undefeated record of two wins and one draw in his first international competition as a member of the Japan eNational Team.
*In order to priorities the health of all players and staffs, all matches of this tournament will be played remotely to prevent the spread of the novel coronavirus.
Players' Comments
Web Nasri (Kashima Antlers)
This is a disappointing result, but with Mr. Okazaki taking part, I think the tournament was able to gain great attention. We are in difficult times, and with negative news circulating each day, I hope this stream has provided a source of entertainment for everyone.
OKAZAKI Shinji (SD Huesca/Spain)
eSports is a battle of concentration and mentality. It requires you to use your fingers skilfully, so there is a different type of stress applied to the players compared to outdoor sports. It made me wonder how the eSports players train in a daily basis and allowed me to recognise the brilliance of the top players like Web Nasri. This was a priceless experience that made me realise the joy of eSports. I would be ecstatic if people were having fun watching this tournament. This battle (against the novel coronavirus) can last for a longer period, but let's all fight together to bring back our normal lives.

Broadcast
JFA Official YouTube ChannelJFATV
JFA eSports/Football Official Twitter account (@jfa_esports)https://twitter.com/jfa_esports
*In order to priorities the health of all players and staffs, all matches of this tournament will be played remotely to prevent the spread of the novel coronavirus.