NEWS
Japan Beach Soccer National Team drops first match against USA 3-5 at Balaton Beach Soccer Cup 2018
18 August 2018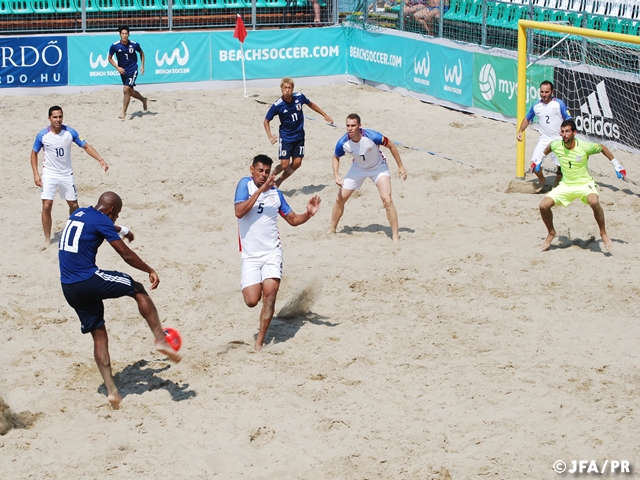 Balaton Beach Soccer Cup 2018
Fri. 17 August 2018 Kick-off time 13:00 (Local time) Match duration 36mins (12mins x3)
Balaton Beach soccer Arena, Siofok, Hungary
Japan Beach Soccer National Team 3-5 (0-1, 2-1, 1-3) USA Beach Soccer National Team
Scores
7' goal against (USA Beach Soccer National Team)
13' MOREIRA Ozu (Japan Beach Soccer National Team)
20' goal against (USA Beach Soccer National Team)
21' TSUBOYA Ryota (Japan Beach Soccer National Team)
25' MOREIRA Ozu (Japan Beach Soccer National Team)
32' goal against (USA Beach Soccer National Team)
33' goal against (USA Beach Soccer National Team)
35' goal against (USA Beach Soccer National Team)

Starting Line-up
GK: KAWAI Yusuke
FP: MOREIRA Ozu, MATSUO Naoya, OBA Takaaki, GOTO Takasuke
Reserves
GK: SHIROTA Yu
FP: MATSUOKA Shota, TSUBOYA Ryota, MATSUDA Kosuke, OKUYAMA Masanori
*Free substitutes, all players played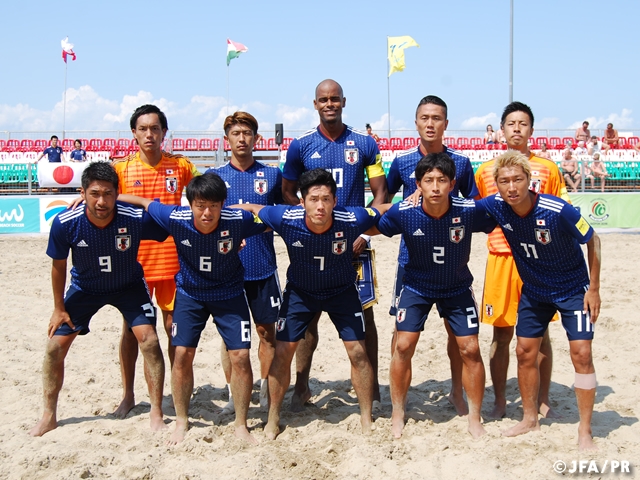 Match Report
On Friday 17 August, the Japan Beach Soccer National Team faced the USA Beach Soccer National Team in their first match of the Balaton Beach Soccer Cup 2018. It was the first time Japan faced the USA side since their training match in January 2017. Despite TSUBOYA Ryota's first national team goal, the team lost the match 3-5.
USA kicked-off the match at 13:30 local time. Both teams created opportunities to carry the ball upfront but failed to finish their plays with a shot. Japan started to strike their shots from distance but conceded the first goal in the seventh minute from an unfortunate own goal.
The second period became a see-saw game. Japan struck first when MOREIRA Ozu fired a bicycle shot from seemingly no angle and captured the goal to level the match. The USA retook the lead in the 20th minute when they struck a freekick directly. Just seconds later, Japan once again scored the equaliser when Tsuboya fired a freekick directly into the goal to make it 2-2.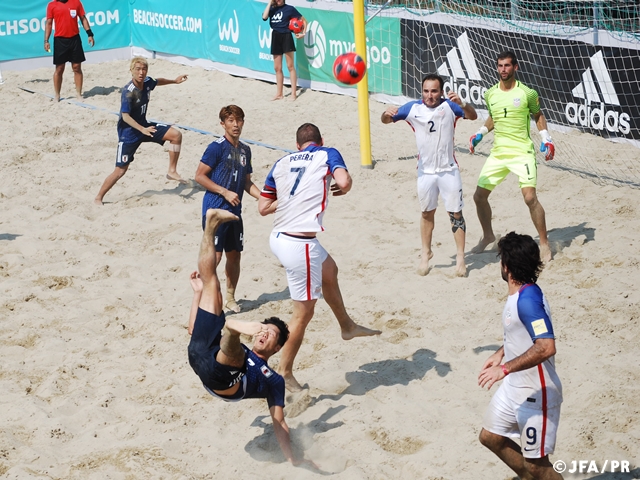 Japan took their first lead of the match in the third period when Moreira nailed a powerful shot. However, Japan conceded a goal in the 32nd minute off a counter attack initiated from their own mistake. The USA tallied another goal as they converted a loose ball following a freekick to take the lead 3-4. In the closing seconds of the match, USA extended their lead with a shot from distance to finish the match with a final score of 3-5.
On Saturday 18 August, Japan will face the Czech Republic Beach Soccer National Team as their second match of the tournament with a kick-off time of 13:30 local time.
Players' Comments
FP #2 MATSUOKA Shota (Aveldage Kumamoto BS)
It is very disappointing that we couldn't win our first match. We must think what we must improve to win the remaining two matches, both as a team and as an individual, and fight with the pride of the Japan national team.
FP #9 OKUYAMA Masanori (Loewe Yokohama)
It is very disappointing that we dropped the first match. Despite conceding the opening goal, our team managed to keep our composure and took the lead at one point but gave away the initiative from our own mistakes. We have many players in our team that lacks national team experience, so we must keep on communicating and feed off of this loss to strive for the title by winning the remaining two matches.
Schedule
Balaton Beach Soccer Cup 2018
Fri. 17 August
3-5
1st Match vs USA (Siofok)
Sat. 18 August
13:30
2nd Match vs Czech Republic (Siofok)
Sun. 19 August
16:15
3rd Match vs Hungary (Siofok)
*Local Time
*The schedule is subject to change due to the team condition, the weather, etc.
Balaton Beach Soccer Cup 2018
Tournament Dates: Fri. 17 - Sun. 19 August 2018