NEWS
Marcelo Mendes to end coaching Japan Beach Soccer National Team
22 June 2017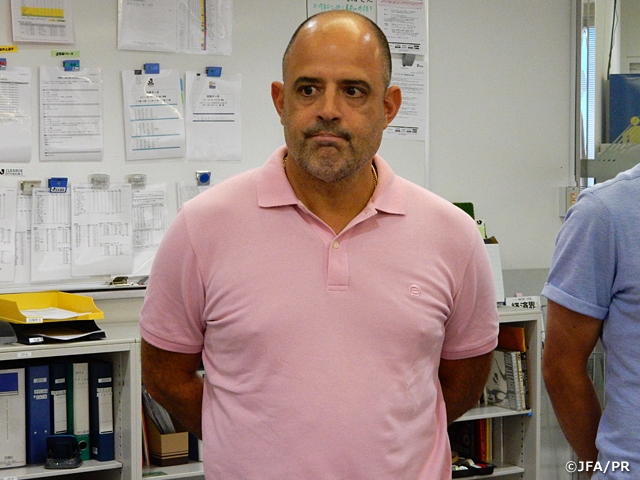 The Japan Football Association announces that Japan National Beach Soccer Team's coach Marcelo MENDES will not renew his current contract when it expires at the end of August.
Marcelo MENDES Coach's Comment
First, I would like to thank former JFA President DAINI who invited me (to Japan) and supported me very warmly, President TASHIMA who greatly supported us in this past AFC Championship and the World Cup, staff in the association, team staff, players and all others who have worked with me. It's sad, but we all have to move forward. Japanese beach soccer have to keep developing even further and so do I personally. I want to keep supporting Japanese beach soccer. (On the most impressive event during his coaching tenure) The Asian Beach Games last year and the championship we won in Thailand this year were some of the positive things I remember. Another thing with a big impact I remember is that we played in two World Cups. I think I will remember that for long. The positive changes were possible not just because of what I did but also thanks to the cooperation by many people.
I think rebuilding of the national team, which I was order to carry out when I arrived in Japan first, was started and achieved as much as we could. We also traveled around in the country for clinics where we interacted with kids, women, elite athletes and casual players, and I think that gradually helped the promotion of beach soccer. But I think those are just starting points and there will be more projects to be carried out to promote beach soccer. Unfortunately I won't be able to be a part of it, but from my perspective, the journey hasn't reached even the halfway to the goal yet. I believe the JFA is also aware of it and there is no question that those projects will keep evolving. I am hopeful for that.
Profile
Name
Marcelo Silveira MENDES
Date of Birth
23 January 1970 (Age 47)
Nationality
Brazil (Rio de Janeiro)
Coaching Experience
1998:
Gama Filho University Women's Football Coach
1998-99:
Flamengo FC Women's Football Coach (Brazil)
1999-2000:
Portugal Beach Soccer National Team Coach
2000:
Fluminense Beach Soccer Coach (Brazil)
Sanpaolo Beach Soccer Coach (Brazil)
2001:
USA Beach Soccer National Team Coach
Rio de Janeiro Beach Soccer Coach
Vasco da Gama Beach Soccer Coach (Brazil)
2002:
Trinidad and Tobago Beach Soccer National Team Coach
2002-05:
Sanpaolo Beach Soccer Coach (Brazil)
2003:
Portugal Beach Soccer National Team Coach
2003-04:
Bonsucesso FC U-20/U-15 Football Coach (Brazil)
2005:
Madureira Football Coach (Brazil)
Trinidad and Tobago Beach Soccer National Team Coach
2005-06:
Uruguay Beach Soccer National Team Coach
2006:
South Africa Beach Soccer National Team Coach
2007-13:
UAE Beach Soccer National Team Coach
・FIFA Beach Soccer World Cup 2017 4th appearance (2007、2008、2009、2013)
2011-12:
Seattle Sounders FC Beach Soccer Coach (USA)
2014-2017.8:
Japan Beach Soccer National Team Coach
・The 4th Asian Beach Games (2014/Phuket) Runners up
・AFC Beach Soccer Championship Qatar 2015 Runners up
・FIFA Beach Soccer World Cup Portugal 2015 Last 8
・5th Asian Beach Games (2016/Danang) Winner
・AFC Beach Soccer Championship Malaysia 2017 3rd place
・FIFA Beach Soccer World Cup Bahamas 2017 appearance
Certification
FIFA Beach Soccer instructor