NEWS
Japan Beach Soccer National Team knocked out at the group stage of the FIFA Beach Soccer World Cup Bahamas 2017 after losing the match against Brazil 3-9
03 May 2017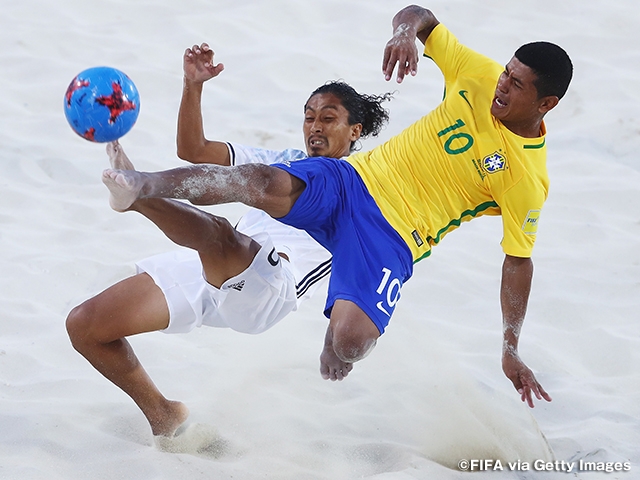 FIFA Beach Soccer World Cup Bahamas 2017
Group Stage 3rd vs Brazil Beach Soccer National Team
2017-5-2(Tue.) 18:30 Kick-off Playing Time 45min. (15min. × 3)
Nassau Stadium (Nassau, Bahamas)
Japan Beach Soccer National Team 3-9 (1P 2-2, 2P 1-4, 3P 0-3) Brazil Beach Soccer National Team
Scores
5' OG (Brazil Beach Soccer National Team)
6' Goal against (Brazil Beach Soccer National Team)
10' OBA Takaaki (Japan Beach Soccer National Team)
12' GOTO Takasuke (Japan Beach Soccer National Team)
17' Goal against (Brazil Beach Soccer National Team)
20' Goal against (Brazil Beach Soccer National Team)
21' Goal against (Brazil Beach Soccer National Team)
22' OG (Japan Beach Soccer National Team)
23' Goal against (Brazil Beach Soccer National Team)
28' Goal against (Brazil Beach Soccer National Team)
35' Goal against (Brazil Beach Soccer National Team)
36' Goal against (Brazil Beach Soccer National Team)
Starting Line-ups
GK: TERUKINA Shingo
FP: OBA Takaaki, AKAGUMA Takuya, MOREIRA Ozu, GOTO Takasuke
Substitutions
GK: KAWAI Yusuke
FP: SUZUKI Masato, HARAGUCHI Shotaro, YAMAUCHI Shusei, IINO Tomoyuki, KOMAKI Masayuki, TABATA Teruki
Match Report
It was the important match to determine if Japan can go through to the next stage. Japan faced Brazil. If Japan could beat Brazil, they could guarantee their second place in the group and move on to the next stage.
While 2,000 people came to watch the last match of the group stage, Japanese players entered the pitch –they all looked very uplifted prior to the match. In the 5th minute of the first period, Brazil started a speedy offence from the left wing and Japan tried to clear the ball to the centre, but it became Japan's own goal. 1 minute after the opening goal, RODRIGO scored the second goal from a free-kick. In the 10th minute, Japan scored an awaited goal; HARAGUCHI Shotaro passed the ball to GOTO Takasuke and he took an over-head shot. Then OBA Takaaki hit the cleared ball back to Brazil's goal. 2 minutes later, Goto scored their second goal after getting a free-kick caused by a foul. Japan could equalise within the first period.
Both teams began the second period from the even score. With loud cheering from Japanese supporters, Japan allowed Brazil to move the ball around well and conceded another goal by Rodrigo to make it 2-3. After 3 minutes, a Brazilian player smashed a strong pass and MAURICINHO made a successful finishing touch to make it 2-4. Brazil scored another goal 1 minute after through their brilliant combination play. In the 22nd minute, Japan's Oba made a long ball to the front, and Brazil tried to clear it – this turned to be an own goal to be 3-5. Japan could not score even though they could make some chances and allowed Brazil's counter-attack instead. The second period ended 3-6.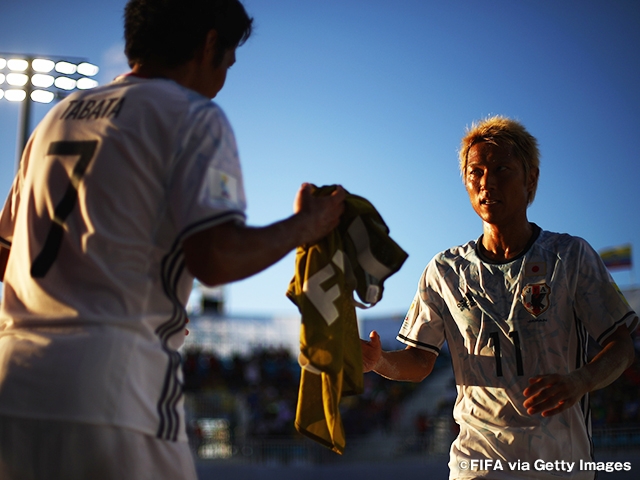 Even though Japan was three goals behind Brazil who is on the upper ranking, they encouraged each other before kicking-off the final period by saying: "We never know what will happen till the end. Let's not give up and keep fighting". While the sun was going to down, Japan's MOREIRA Ozu and IINO Tomoyuki could not make shots into the net. Instead, in the 28th minute, Brazil scored another goal from a free-kick. They continued to score to extend the gap up to 5 goals; in the 35th minute Brazil scored another goal from a low shot. Japan's substituted goalkeeper KAWAI Yusuke could not stop this shot.
Unfortunately, Japan could not break through to the next stage. They will start their activities again for the next World Cup which will be held in two years.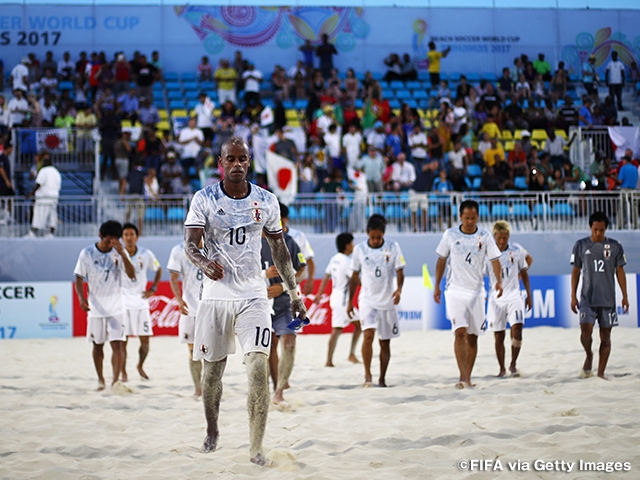 Players' Comments
FP #10 MOREIRA Ozu (Tokyo Verdy BS)
We believed in getting the victory until the end, but the gap became bigger and bigger. In fact, our World Cup was already ended in the previous match against Tahiti. This match is not the end. If we had won the previous match, we would have been OK even if we lost this one against Brazil. It's too regrettable for me to find any words right now, considering all the effort and work for beach soccer to gain the number of fans. I'm feeling embarrassed to go back to Japan with such a result. We have to practice more and each player has to make even more effort. I also regret that I could not score any goal throughout the past three matches. The only thing I have to do is to apologize. Before the end of my career as a player, I really want to make a good result. When we go back to Japan, the only thing I should do is thinking about the next World Cup.
GK #1 TERUKINA Shingo (Ryukyu Erythrina)
Brazil continued to attack us whereas we were mostly passive throughout the match. Each of us have to be more capable in offence. We could keep up in the first period. Even though we began the second and third periods with the same mentality as the first period, Brazilian players' got more and more rhythm and I felt that we were pushed by them. It is impossible to face them well unless we can keep consistency without any fear. When we move the ball to an easier spot because of fear, that makes them even more aggressive, hence we had to be more ambitious. This experience made me understand again that we have more to do.
Schedule
FIFA Beach Soccer World Cup Bahamas 2017
Thu. 27 April
TBC
Training
Fri. 28 April
9-4
Group Stage 1st
vs Poland (National Beach Soccer Arena)
Sat. 29 April
TBC
Training
Sun. 30 April
3-4
Group Stage 2nd
vs Tahiti (National Beach Soccer Arena)
Mon. 1 May
TBC
Training
Tue. 2 May
3-9
Group Stage 3rd
vs Brazil (National Beach Soccer Arena)
Wed. 3 May
TBC
Training
Thu. 4 May
TBC
Quater Final
Fri. 5 May
TBC
Training
Sat. 6 May
TBC
Semi Final
Sun. 7 May
TBC
Final
*Local Time
*The schedule may be subject to change due to the team condition, the weather, etc.
FIFA Beach Soccer World Cup Bahamas 2017
27 April 2017 (Thu.) ~ 7 May 2017 (Sun.)
Tournament Information