NEWS
Japan Beach Soccer squad kick off their Okinawa camp
17 December 2016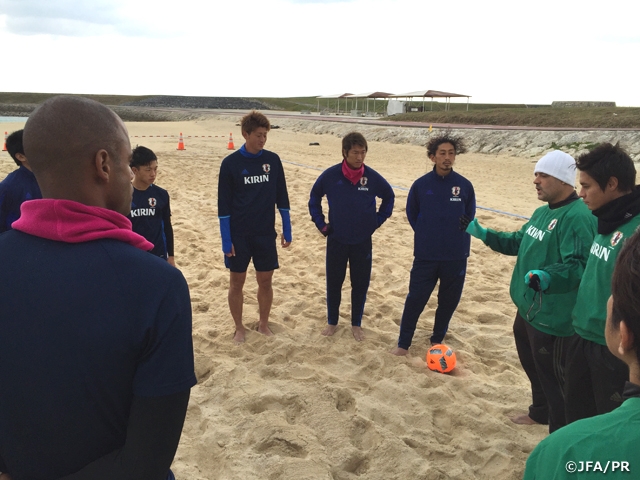 The Japan Beach Soccer National short-listed squad kicked off their Okinawa camp in Ginowan City on Friday 16 December.
This is the first national team activity since the Brail-UAE trip in October, and it will be an important training camp in preparation for the 2017 AFC Championship, which are also the Asian qualifiers for the World Cup.
With a strong and chilly wind, their first training started from 3 p.m. and lasted for approximately two hours. Since the beach soccer season is over, they began their practice with circuit training and other physical work-outs, while improving their conditioning. Then this was followed by 4-on-3 half-court games where they reviewed their team tactics for about an hour. To wrap things up for the day, they worked on penalty kicks being one of the main issues found during the last Brazil-UAE camp.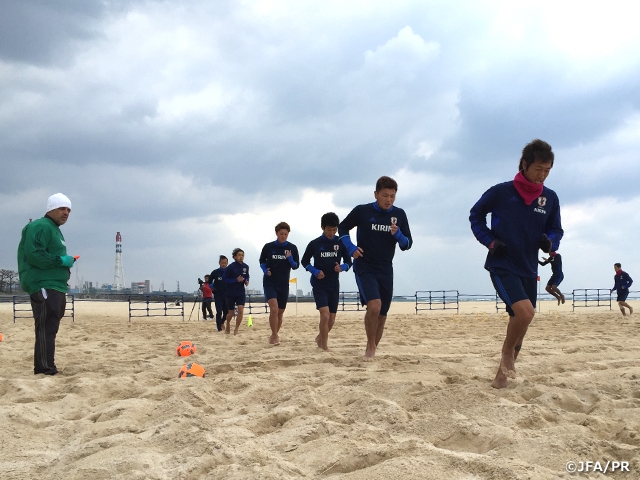 Players' Comments
TERUKINA Shingo (Sol Mar Praia Okinawa)
Preparing us towards the Asian qualifiers next year and the U.S. trip, we started the first day of training. We worked on light physical training then had shooting exercises which included certain aspects of a physical work-out. This was followed by 4-on-3 half-court games. We need to improve further the quality of 4-on-3s as they are important to the team tactics.
I personally have to work on throwing and passing accuracy using my foot. I expect the Asian qualifiers for the World Cup next March to be much tougher than the ones we had experienced previously. I will do my best in making good communication with my teammates during this camp, and certainly we do not want any injuries.
IINO Tomoyuki (Dorsole Kitakyushu)
This is the last camp for the national squad this year. While going through physical training, each one of us checked his current fitness level. This is my first call-up to the national team, so I will proactively talk to my teammates, while deepening the understanding of team tactics. Furthermore, I want to practise at full stretch and make the most out of it. I am also gratefully that I can participate in this wonderful camp in Okinawa. I have no time to waste here.
NAKAHARA Yuki (Aveldage Kumamoto BS)
This is an excellent camp to check on the things I worked on this year. It will be an important three-day camp to create the next building block. Today we focused on physical training, whereas more emphasis will be put on tactics starting from tomorrow. I need to prepare myself well to display my skills in training. I am sincerely happy to be able to enjoy the warm weather in Okinawa and practise futsal here. I will make the most out of this three-day camp.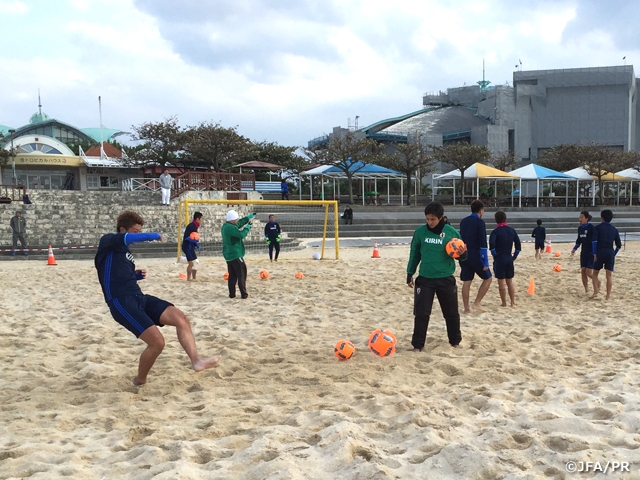 Schedule
| | | |
| --- | --- | --- |
| Fri. 16 December | PM | Training |
| Sat. 17 December | AM/PM | Training |
| Sun. 18 December | AM/PM | Training |
*The schedule is subject to change due to the team condition, the weather, etc.