NEWS
To the Asian Cup, Nadeshiko Japan getting started
06 May 2014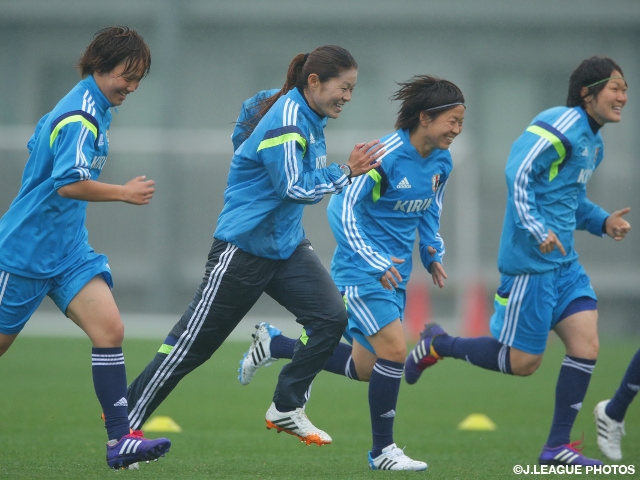 Nadeshiko Japan started its camp in Osaka, Japan on 5 May to prepare for AFC Women's Asia Cup which also serves as a qualifier for next year's FIFA Women's World Cup.
20 players of the team had their first training in chilly and wet weather. 4 players who belong to foreign teams, including Kawasumi Nahomi and Ogimi Yuki, and Osafune Kana who was unwell, did not participate in this training.
Considering they had some matches such as Japan Women's Football League 3-4 days just prior to the camp, the first-day training mainly concentrated on physical condition and relaxation through some practice sessions of correct passing and mini games. First-time selected players and the experienced squad members such as Sawa Homare and Iwashimizu Azusa from the FIFA World Cup 2011 Championship winning team had training in a relaxed atmosphere which involved chasing after a ball.
Since Japan aims to both qualify for the World Cup and win the Asian Cup at the AFC Women's Asia Cup which starts from 14 May in Vietnam, it is important for the team with new members to enhance communication and having common awareness of play within the team.
Especially, the team is expected to have a new combination in the backline since Kumagai Saki, who belongs to OLYMPIQUE LYONNAIS, will not join the team. Defender Iwashimizu Azusa says "Our daily training and each intra-squad games are very important. I want to adjust my understanding of other members play style.
On the 4th day of the camp, a match titled as Nadeshiko Japan World Match against New Zealand is planned at Kincho Stadium in Osaka.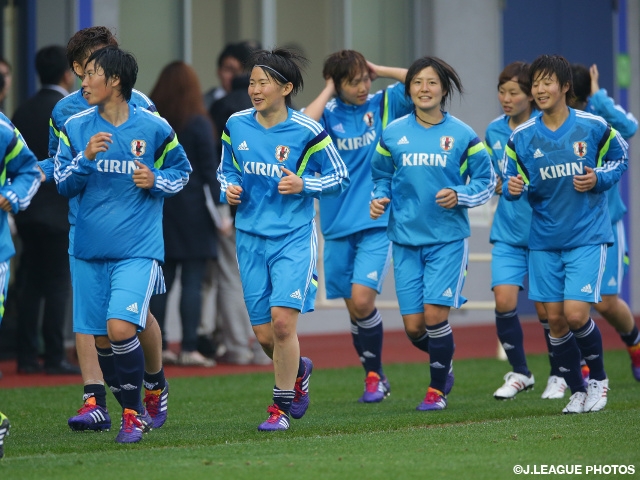 Comments From Head Coach & Players
SASAKI Norio,Head Coach
Today we just had a light training session since most of members had matches yesterday. Even though it may need some time, we will definitely enhance the team's playing condition including that of the new members and getting ready for the matches. Having the same sense of high motivation amongst the team members to win the title is the key since all the matches will be held in a short period of time at this Asian Cup and they have to keep sharing this motivation all the time even off the pitch. I expect our team players to share their qualities of play and characteristics through talking deeply and to let everyone understand each other very well.
SAWA Homare
Since this Asian Cup is the World Cup qualifying Competition and we have to be in the top 5 teams of the Cup, I have a strong will to get one of the spots in the World Cup. I joined in this camp with a motivation to win this Asian Cup because I have not experienced the top of the Asia yet. Young members are literally young but they are all excellent players with skills, so I expect myself to absorb various things from them throughout this team experience.
IWASHIMIZU Azusa
I expect to talk with the new members gradually. As a defender, I would be happy to contribute to building a horizontal relationship and help other members to play well, enjoying football and the joy of achievement. My goal is clearly to get the title of the Asian Cup since Japan has not won it yet. For me, qualifying for the World Cup is just a minimum objective. To win the Asia Cup, every training and intra-squad game is very crucial and fruitful.
NAOMOTO Hikaru
It is good for me to have the camp with such high-level players and I expect to be challenged and learn a lot of things. I want to show my aggressive plays in front of goal at the time of offence. Nadeshiko Japan, which won the last World Cup, has been my objective and dream. However, I have less pressure to become a member of the team comparing to myself when I was in the "under generation". I look forward to seeing how much I can hang on aggressively in the team and I definitely want to contribute to getting the title of the Asian Cup Winners.
KOHATA Shiho
To be honest, I was nervous throughout the first training because there were many members whom I had not expected to play together with. I hope that I can play well enough to initiate attacking play and to protect Japan's goal. I also want to score goals through joining in set piece plays.
KIRA Chinatsu
If I have a chance of taking a part in any game, I want to play very aggressively, making shots and contributing to goals. I want to learn some of the tips for scoring goals from Ogimi who is also a striker of the team.
Nadeshiko Japan WORLD MATCH
Nadeshiko Japan (Japan Women's National Team) vs. New Zealand Women's National Team
Thu. 8 May Kick off is planned at 19:35 at Kincho Stadium in Osaka.
Tickets are now on sale! The ticket information is here!
Schedule
| | | |
| --- | --- | --- |
| Thu. 8 May | 19:35 | Nadeshiko Japan WORLD MATCH vs New Zealand Women's National Team (Kincho Stadium) |
| Wed. 14 MAy | 20:15 | AFC Women's Asian Cup 2014 in Vietnam vs. Australia Women's National Team |
| Fri. 16 May | 20:15 | AFC Women's Asian Cup 2014 in Vietnam vs. Vietnam Women's National Team(Thong Nhat Stadium) |
| Sun. 18 May | 19:15 | AFC Women's Asian Cup 2014 in Vietnam vs. Jordan Women's National Team(Binh Duong Stadium) |
| Thu. 22 May | 17:15/20:45 | AFC Women's Asian Cup 2014 in Vietnam Semifinal(Thong Nhat Stadium) |
| Sun. 25 May | 16:45/20:15 | AFC Women's Asian Cup 2014 in Vietnam Third-place Match/Final(Thong Nhat Stadium) |
※From 13 May The time shows local time.
First-Day Training at the Training Camp

Interview with SAWA Homare

Interview with Kohata Shiho

Interview with KIRA Chinatsu