NEWS
Nadeshiko Japan fall to USA, finish runners-up in tournament - FIFA Women's World Cup final
06 July 2015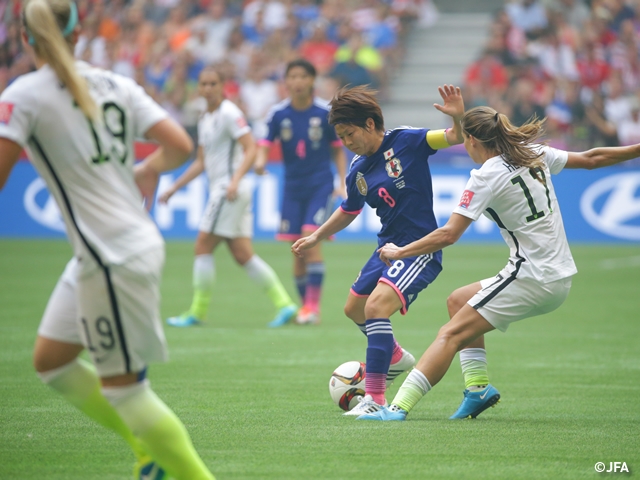 Nadeshiko Japan finished runners-up in the FIFA Women's World Cup Canada 2015 as the Japan national team fell to USA 5-2 in the tournament final in Vancouver on 5 July (6 July Japan time).
USA won a record third title and first since 1999.
With the injured midfielder ANDO Kozue (1. FFC Frankfurt) watching from the bench, the rematch of the last final saw defending champions Nadeshikos struggling mightily from the start.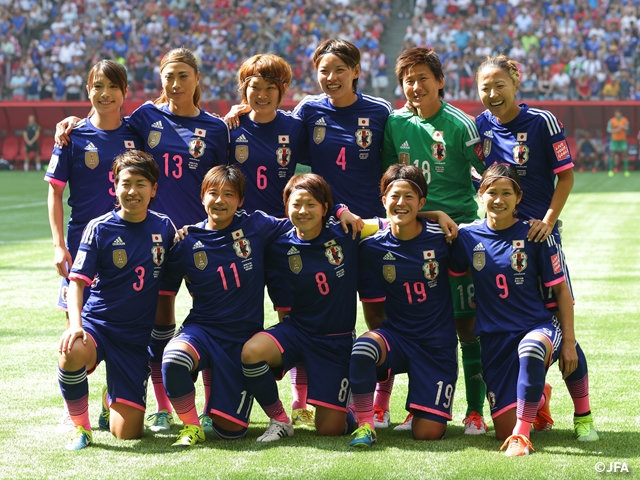 As USA dominated early with fierce attacks and connected the ball with their pace, Japan conceded two goals from set pieces in the first 5 minutes.
USA passed the ball from left to right and gained the first corner kick of the match in the 3rd minute. Carli Lloyd burst in from the outside of the box and met the right cross with her right foot to score her side's opening goal.
Two minutes later, the upbeat USA went up the right flank and obtained a free kick. When Julie Johnston and Alex Morgan got into the near post for Lauren Holiday's free kick, Lloyd ran into space open in the middle and hit Johnston's back-heel into the net to make it 2-0.
Although Japan squad got together on the pitch and called out each other to get their composure back, USA intercepted Japan's pass in the midfield and sent it to the right flank in the 14th minute. A Japan defender cleared Tobin Heath's shot from a distance. But Holiday volleyed the high ball that went over the head for her side's third goal of the match.
And in the 16th minute, Lloyd fired a long-range shot from the halfway line, which went into the net for 4-0.
Just after the goal, Japan shifted defensive midfielder UTSUGI Rumi (Montpellier HSC) to left back, left back SAMESHIMA Aya (INAC Kobe) to left midfield and left midfielder MIYAMA Aya (Okayama Yunogo Belle) to defensive midfield in attempt to cool down the match.
In the 27th minute, when midfielder KAWASUMI Nahomi (INAC Kobe) put a cross from the right flank after receiving a long ball from Miyama at centre, forward OGIMI Yuki (VfL Wolfsburg) controlled the ball and turned around to move away from USA defender's marking before finding the back of the net.
Japan created another chance three minutes later when Miyama launched a shot after connecting passes from Ogimi following Kawasumi and Sameshima, but her shot was denied by USA goalkeeper Hope Solo.
The Japanese side continued to fight back with their tactics as midfielder SAWA Homare (INAC Kobe) came on as a defensive midfielder for defender IWASHIMIZU Azusa (Nippon TV Beleza) in the 33rd minute and midfielder SAKAGUCHI Mizuho (Nippon TV Beleza) moved down in the central defence. Forward SUGASAWA Yuika (JEF United Ichihara Chiba Ladies) was subbed in for Kawasumi six minutes later to enhance their attacking force with forward OHNO Shinobu positioning then on the right.
After finishing the first half 4-1 down, Nadeshiko Japan, striving to rally back in the second half, kept USA from scoring in the 50th minute, when goalkeeper KAIHORI Ayumi parried Morgan Brian's shot with her right hand. In the 52nd minute, Sawa responded to Miyama's free kick in the box. Sawa induced an own goal by Johnston, who was marking her, to close the gap to two goals.
Yet two minutes later, the American side added one more goal when Heath netted Brian's cut-back from a left corner kick.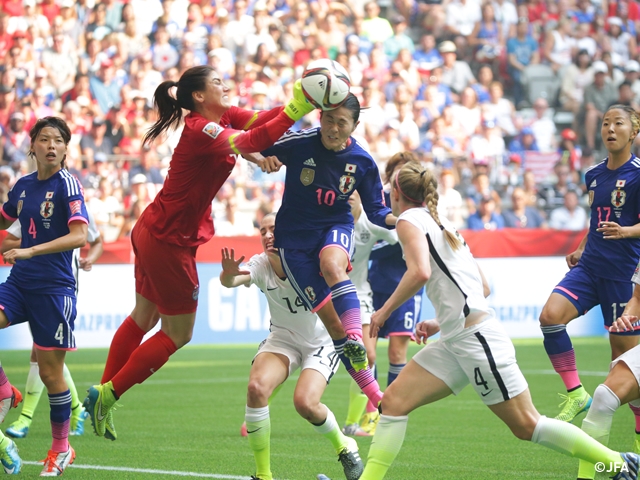 Forward IWABUCHI Mana (FC Bayern Munich), replacing Ohno after 60 minutes, created an attacking rhythm with her dribbling challenges. In the 62nd minute, Utsugi unleashed a shot from the edge of the box, and in the 68th minute, Sawa laid Miyama's cross off to Ogimi, who also threatened the opponents' goal.
After the match, individual awards were announced by FIFA as USA midfielder Lloyd won the Golden Ball, the best player of the tournament, with a total of six goals including a hat trick of the day while Miyama was presented the Bronze.
Head Coach and Players' Comments
SASAKI Norio, Head Coach (Nadeshiko Japan/Japan Women's National Team)
Our players ran hard until the very end and did very well in each match until this far. The U.S. were meticulous in set pieces, and we weren't good enough to cope with them. But I want to give my squad credit for scoring two goals from four goals behind. It is the best gain that we came back here to the final again after winning the tournament four years ago. I expect this to help a lot of Japanese girls start playing football. Our players and I will go back to Japan with pride.
MF #8 MIYAMA Aya (Okayama Yunogo Belle)
The opponents studied set-pieces a lot more than we did and showed off options no teams ever did. In terms of that, our preparation wasn't enough. We created a couple of chances as well, so their fifth goal really hurt us. We were getting confident as the tournament went on and we kept winning, and the outcome helped us move forward for the most part. There were everyone's efforts to get together as a team until this tournament since the Algarve Cup.
DF #5 SAMESHIMA Aya (INAC Kobe)
Because we didn't have any match where the opponents scored first, the match ended up being like this as a result after we allowed USA to score first today. They appeared to have studied set pieces so much and changed the ways for each play. It's not easy to equalise when you are allowing that big lead, and we weren't able to do it actually. It reminded me that keeping clean sheet is really important.
FW #16 IWABUCHI Mana (FC Bayern Munich)
There was a big margin when I was sent onto the pitch, so I tried to go out with "goal first" mindset. But nothing came out of it. That's disappointing. Compared to the last tournament four years ago and the Olympics three years ago, I think I was able to showcase what I have. But I didn't get anything out of it and my team lost. I felt I'd better work harder.
MF #10 SAWA Homare (INAC Kobe)
The early goals we gave up were unexpected. Because I didn't warm up well, it was difficult to get into the game at that timing. But I believe I was able to play my role as much as I could. It's not true I'm not disappointed in the outcome with the runners-up but I feel we did everything we could without regret. Everyone did a good job and there was solidarity. Now I'm feeling I was brought here to the big tournament with this good team.
Jill ELLIS, Head Coach (USA Women's National Team)
I'm proud of the players stepping up throughout the tourney. After 15 minutes, I had to pinch myself to make sure I wasn't dreaming. We wanted to put them under pressure right from the start, and everything fell into place perfectly. I did know that my players were capable of doing something exceptional. We have a lot of respect for Japan, but tonight we were completely focused and were able to adapt our style of play perfectly.
FIFA Women's World Cup Canada 2015
Final
Nadeshiko Japan (Japan Women's National Team) vs USA Women's National Team
Mon. 6 July - 8:00 (Japan Time)