NEWS
Nadeshiko defeat Netherlands at R16, advance to last eight - FIFA Women's World Cup
24 June 2015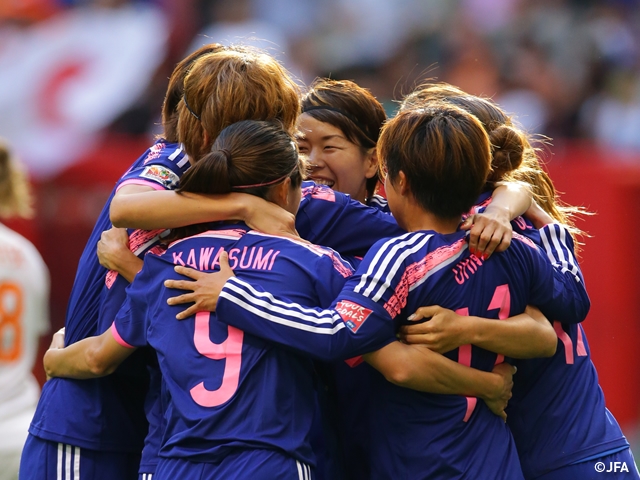 On 23 June, Nadeshiko Japan faced the Netherlands at the first round (Round 16) of the FIFA Women's World Cup Canada 2015 the knock out stage at BC Place Stadium in Vancouver. With a goal each by defender ARIYOSHI Saori and midfielder SAKAGUCHI Mizuho (Both Nippon TV Beleza), Japan won the match 2-1 and advanced to the last eight in two straight World Cups. In the last tournament in 2011, Japan kept on to win the title.
Sakaguchi was awarded with the player of the match.
Japan started KAIHORI Ayumi (INAC Kobe) at goalkeeper, Ariyoshi, IWASHIMIZU Azusa (Nippon TV Beleza), KUMAGAI Saki (Olympique Lyonnais) and SAMESHIMA Aya (INAC Kobe) on the defence line, and Sakaguchi and UTSUGI Rumi (Montpellier HSC) as defensive midfielders. Their offensive end consisted of KAWASUMI Nahomi (INAC Kobe) and MIYAMA Aya (Okayama Yunogo Belle) on right and left respectively and OHNO Shinobu (INAC Kobe) and OGIMI Yuki (VfL Wolfsburg) in the middle.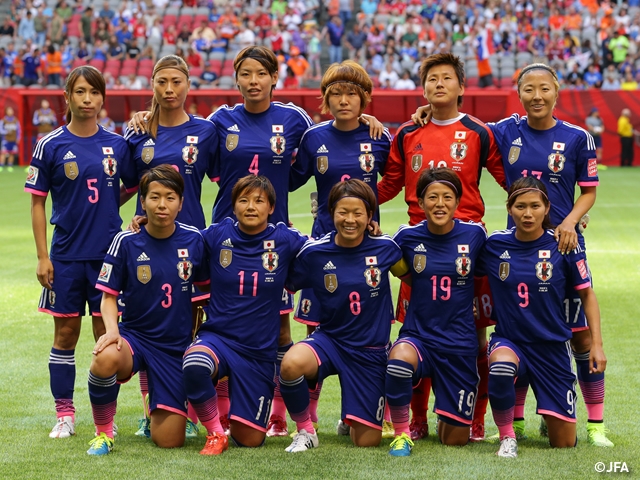 Although they allowed the Netherlands to attack behind their defenders early in the match when midfielder Sherida SPITSE met forward Vivianne MIEDEMA's feed, Japan's defence was fairly stable throughout the match. By checking every player sneaking into the space and putting aggressive pressure up and early, Japan dominated the match.
The first goal was scored in the 10th minute. Miyama ran up on the left and fed a cross to Ogimi, whose header hit the cross bar. The deflection was once cleared by an opposing defender but then directly right-footed into the goal by Ariyoshi. It was Ariyoshi's first goal in her national team career.
After that, Japan had Kawasumi, Ariyoshi and Sakaguchi threaten the Dutch goal one after another. In the 29th minute, after Ohno and Ogimi double-teamed an opponent to pick the ball, Ogimi fired a long-range shot. Ogimi showed another attempt minutes before the end of the first half, and Ohno also headed a right cross, which went just off target.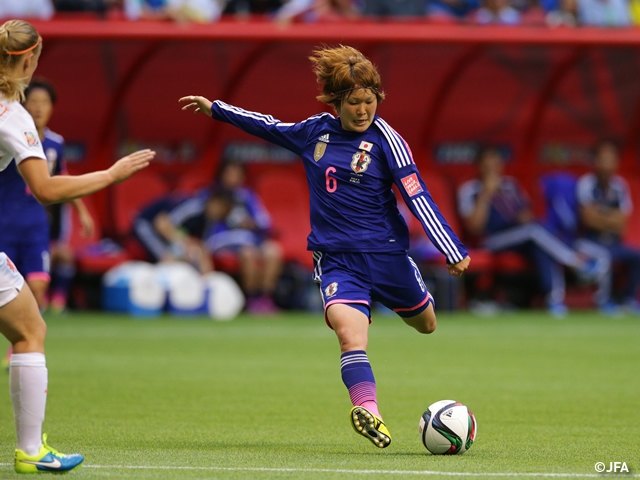 In the beginning minutes of the second half, the Netherlands started building up their offence by moving around the ball. In the 53rd minute, forward Kirsten VAN DE VEN replaced Danielle VAN DE DONK to energise the offence as well.
In the 77th minute, they created a crucial opportunity from a corner kick and VAN DE VEN well-reacted to the ball punched away by Japan's goalkeeper Kaihori. It, however, was denied by Sakaguchi. A moment later, the 78th minute, Japan scored the second goal of the day out of a good defensive play in the midfield.
On the right flank, Sakaguchi and Kawasumi pressed the opponent with the ball and took it to substitute Iwabuchi. Iwabuchi then sent it to Ogimi and then to Miyama, who fed it into the box. There was Iwabuchi again to meet the ball but she instead decided to let it go to Sakaguchi who was waiting for the ball right behind Iwabuchi. Sakaguchi beautifully shot it with her left foot into the back of the net.
Sawa later was subbed in place of Kawasumi. In the injury time, VAN DE VEN headed a cross from right and it somehow went into the goal to cut the deficit to just one goal. But Japan stayed composed until finishing up the match 2-1 to advance to the Round 8.
Match detail (Japanese version only)
In the quarter final, Japan will take on Australia in Edmonton on 27 June. Other matches to be played in the same round are China against the United States and Germany against France on 26, and England against Canada on 27.
Head Coach and Players' Comments
SASAKI Norio, Head Coach (Nadeshiko Japan /Japan Women's National Team)
There is no doubt that we prepared our offence in the past six days, but today we won the match because of our defence, not our offence. There was some crucial moment from a corner kick, but we played good defence in transition and also we put very good pressure up front. So I say our defence created our offence. I give credit to the defensive balance and decision making we showed.
Our next opponents Australia have been showing great improvements in this tournament. I think they have the biggest upside among all teams left, so I think we will need to be very careful.
MF #8 MIYAMA Aya (Okayama Yunogo Belle)
It made it easier for us that they kept attacking the sides all match long. But after this match, now I think the opponents from this point on will try to eliminate our strength, so we can't stay too optimistic. Playing at the level that we played at today will be a minimum we need to do.
Even today, we had some things we did well and not so well. We take all those things positively and try to keep showing our strength one play after another. We want to make this tournament an opportunity to make ourselves even better.
MF #6 SAKAGUCHI Mizuho (Nippon TV Beleza)
In the knockout stage, when you lose one match, you go home. So being able to win the match was a very good thing obviously. (On her goal) When Miyama kicked it back to us, there was Iwabuchi in front of me. I thought I was at a better position, so I said "Let it go". Then she let it go and I just tried to put it up there. I am not good at shooting it like that, but I am glad that it went in. I thought our positioning was better today than before, and we created more scoring opportunities, I felt.
DF #19 ARIYOSHI Saori (Nippon TV Beleza)
(On scoring her first international goal at the World Cup) It was a great experience, so I want to take advantage of it in next matches. Also I want to increase the plays that can lead to good goals. Our offence moved the ball around with a good tempo, so that made it easier for me to move up, but I need to improve a couple of points in defence. We will make sure to correct our mistakes today and get ready for the next match.
Roger REIJNERS, Head Coach, Netherlands National Women's Team
We started the match well, but after conceding the first goal, we didn't take care of our ball and we lost balls very often. It got a little better in the second half, but we lost our carefulness again.
In the last ten minutes, we moved our midfielders up to score, but we couldn't reach the good finish. Japan are a very good team. We played hard, but we couldn't create enough space and didn't get the ball how we wanted it. I think that players can get better by playing in these tournaments.
FIFA Women's World Cup Canada 2015
Quarter-Final
Australia Women's National Team vs Nadeshiko Japan (Japan Women's National Team)
Sun. 28 June - 5:00 (Japan time)