NEWS
Nadeshiko Japan hold official training session ahead of international friendly match against Nigeria
06 October 2022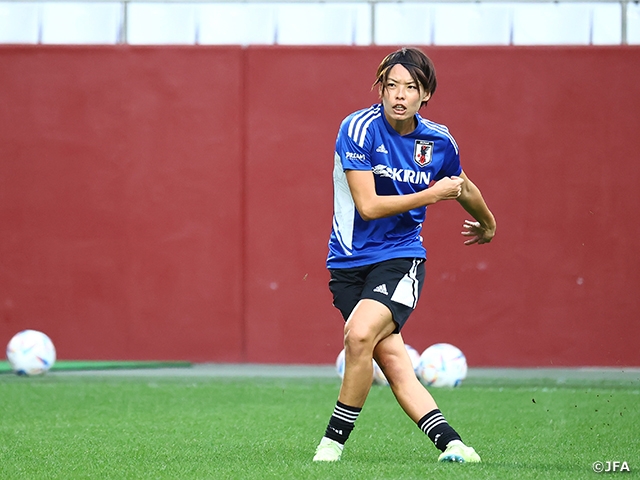 On Wednesday 5 October, one day ahead of their international friendly match against the Nigeria Women's National Team, the Nadeshiko Japan (Japan Women's National Team) held an official training session at the match venue, Noevir Stadium Kobe (Hyogo).
All 25 players reported to camp by the night before, as the Nadeshiko Japan held their first training session with the entire squad on site. The evening session was open to the media for the first 15 minutes, where the field players were seen going through their warmup routines while the goalkeepers went through their own drills to prepare for the session.
Head Coach IKEDA Futoshi made his appearance at the official press conference, which took place following the training session, where he commented, "We have been working on new combinations and strategies for this match."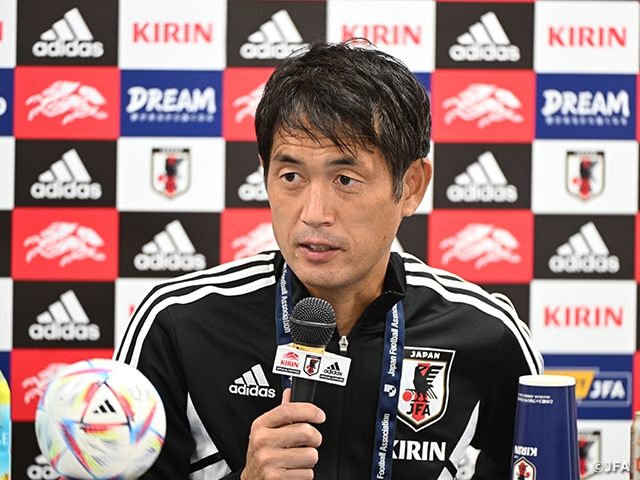 On this day, Nigeria also held a training session, in which was closed to media expect for the first 15 minutes, where they were seen going through light jogs and passing drills to prepare for the session.
Led by Head Coach Randy WALDRUM, Nigeria have also qualified for the FIFA Women's World Cup Australia/ New Zealand 2023™, as the American coach commented about their upcoming friendly match against the Nadeshiko Japan, "It is important to play against the best teams in order get stronger, and I consider Japan as one of the best teams in the world."
The international friendly match between the Nadeshiko Japan and the Nigeria Women's National Team will kick-off at 16:25 on Thursday 6 October at Noevir Stadium Kobe.
Coaches and Players' Comments
IKEDA Futosh, Head Coach of Nadeshiko Japan (Japan Women's National Team)
We would like to make use of this international match day to take on new challenges, including the integration of players playing abroad and those who played in the FIFA U-20 Women's World Cup Costa Rica 2022™. The players have been actively communicating with each other and we are well prepared for tomorrow's match. We will approach the two matches against Nigeria and New Zealand as one big activity, in order to raise the overall level of the team.
GK #1 YAMASHITA Ayaka (INAC Kobe Leonessa)
With new players joining the team, I think the competition will intensify once again, so I want to take on new challenges from this time on. I think Nigeria and New Zealand are teams that have the potential to make deep runs in the FIFA Women's World Cup™, so we hope to deliver results while also experiencing their intensity and speed. With this match being played at my club's home stadium, I am sure many of our team members will be watching, so I hope to showcase a performance that can make the younger players want to reach this stage.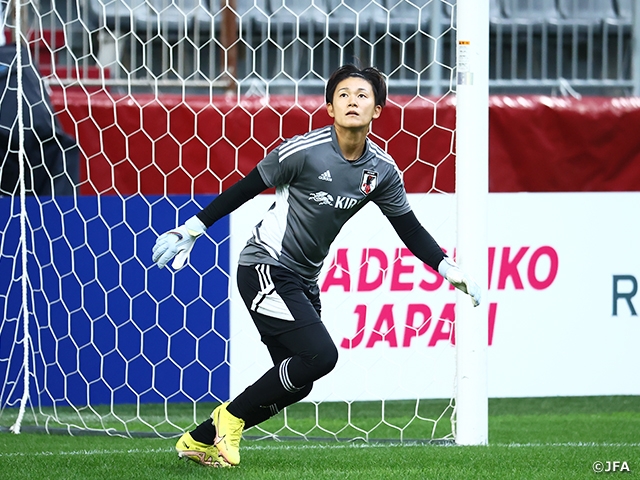 DF #4 KUMAGAI Saki (FC Bayern Munich/Germany)
We do not get many opportunities to face teams from Africa, so we hope to make the most of this opportunity to get a feel of their unique rhythm and playing style. We are also looking forward to making new challenges to improve the team. We would like to fulfil our responsibility as national team players to give our best while also taking on positive challenges on the pitch.
FW #9 UEKI Riko (Nippon TV Tokyo Verdy Beleza)
We are aware that the African players will have the upper hand in terms of athleticism, so we must focus on our own game to compete against them. We have prepared well to win the match, so I am looking forward for tomorrow. I need to score goals to make a case for myself, so that is something I will be focusing on, but I will also try to enjoy the experience with my teammates.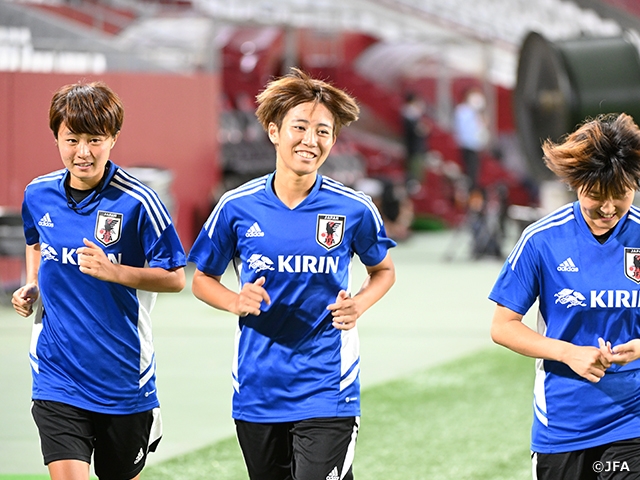 Randy WALDRUM, Head Coach of Nigeria Women's National Team
We are very happy to be given this opportunity to play in Japan. I have a lot of respect for Japan, and they are an excellent team, so I am sure we will gain a lot from tomorrow's match. Japan have always been a well-disciplined and well organised team, but I have been impressed with the way they have improved their physicality while maintaining their quality in technique and skills in recent years. We hope to play a good match tomorrow to prepare well for next year's FIFA Women's World Cup™.
International Friendly Match
Fixture: Nadeshiko Japan vs Nigeria Women's National Team
Date: Thu. 6 October [16:25]
Venue: Noevir Stadium Kobe (Hyogo)
Tournament Information