NEWS
Canada Women's National Team arrives in Japan ahead of International Friendly Match vs Nadeshiko Japan
04 October 2019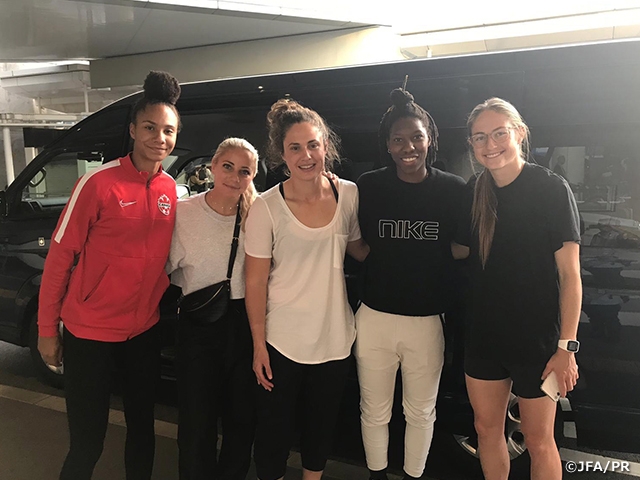 Ahead of the international friendly match against the Nadeshiko Japan (Japan Women's National Team), the Canada Women's National Team arrived in Japan on Tuesday 1 October.
Despite being tired from the long flight, the players kept themselves relaxed by listening to music and chatting with each other. During dinner time, the players talked about the match between Japan and Ireland at the Rugby World Cup held at Ecopa Stadium and showed their excitement about their upcoming match as well.
The international friendly match between the Nadeshiko Japan and the Canada Women's National Team will kick-off at 14:30 on Sunday 6 October at IAI Stadium Nihondaira.
Coach and Player's Comment
Kenneth HEINER-MOLLER, Coach
Following this year's FIFA Women's World Cup France 2019, we have been setting our eyes on the 2020 Summer Olympics in Tokyo. While we made our efforts to maintain our form, we have also been working towards improving our overall performance as a team. This tour to Japan will not only allow us to face the former Women's World Cup Champions, but it will also allow us to test out the training facilities and match environment in Japan, which means a lot for us ahead of the Olympics.
Christine SINCLAIR
With the conclusion of the World Cup in France, our team has taken a step towards our new goal. This tour to Japan and the match against the Nadeshiko Japan will give us a great learning experience, especially for the young players. We hope to prepare ourselves well ahead of the match.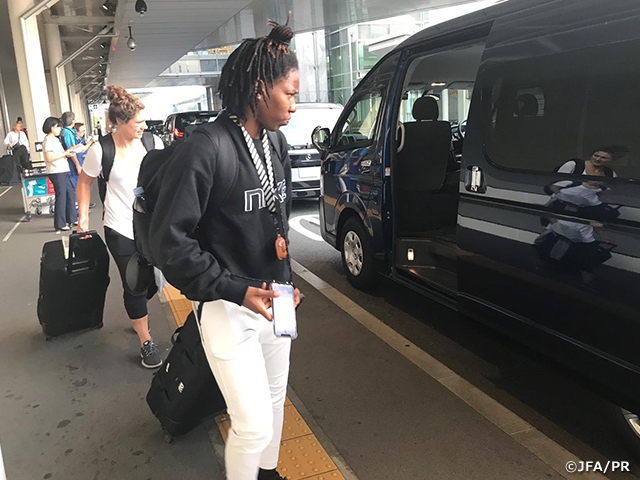 Coach
Kenneth HEINER-MOLLER
Squad
GK
Stephanie LABBE (North Carolina Courage/USA)
Sabrina D ANGELO (Vittsjo GIK/Sweden)
Kailen SHERIDAN (Sky Blue FC/USA)
DF
Allysha CHAPMAN (Houston Dash/USA)
Shannon WOELLER (Eskilstuna United DFF/Sweden)
Shelina ZADORSKY (Orlando Pride/USA)
Lindsay AGNEW (Houston Dash/USA)
Rebecca QUINN (Reign FC/USA)
Kadeisha BUCHANAN (Olympique Lyonnais/France)
Vanessa GILLES (FC Girondins de Bordeaux/France)
Julia GROSSO (University of Texas at Austin/USA)
Jade ROSE (Ontario REX)
MF
Desiree SCOTT (Utah Royals FC/USA)
Sophie SCHMIDT (Houston Dash/USA)
Ashley LAWRENCE (Paris Saint-Germain/France)
Jessie FLEMING (University of California, Los Angeles/USA)
Deanne ROSE (Florida State University/USA)
FW
Christine SINCLAIR (Portland Thorns FC/USA)
Adriana LEON (West Ham United/England)
Janine BECKIE (Manchester City/England)
Gabrielle CARLE (University of Florida/USA)
Jayde RIVIERE (University of Michigan/USA)
Jessica De FILIPPO (University of Louisville/USA)
Jordyn HUITEMA (Paris Saint-Germain/France)
Schedule
Sat. 5 October
PM
Official Training/Press-conference
Sun. 6 October
14:30
International Friendly Match vs Nadeshiko Japan
(IAI Stadium Nihondaira)
International Friendly Match
Nadeshiko Japan (Japan Women's National Team) vs Canada Women's National Team
Match Date: Sun. 6 October 2019 14:30
Match Venue: IAI Stadium Nihondaira, Shizuoka