NEWS
Japanese doctor awarded for poster presentation at the 7th AFC Medical Conference 2023
20 March 2023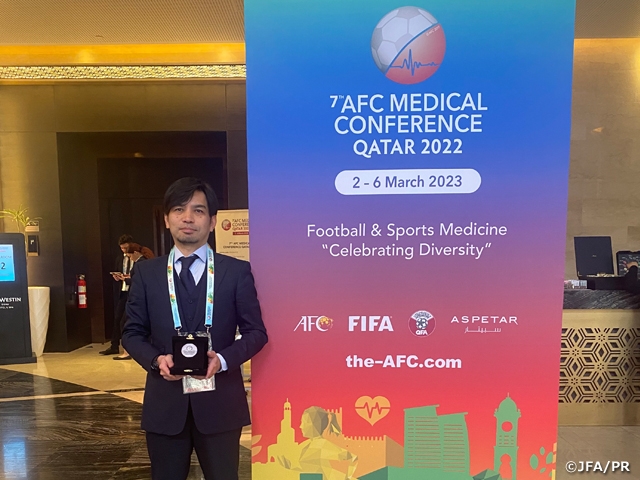 Dr. MOROOKA Takatoshi received an award for his poster presentation given at the 7th AFC Medical Conference 2023, which took place in Doha, Qatar, from Saturday 4 March to Monday 6 March. His accomplishment came after five doctors from Japan were honoured at the 3rd AFC Medical Awards held during the same conference.
Recipient: Dr. MOROOKA Takatoshi (Nishinomiya Kaisei Hospital, Hyogo Medical University)
Name of Award: Best Poster Award
Title of presentation: Surgical Case of a Professional Player for Apophysitis of the fifth metatarsal base (Iselin's disease)
Recipient's Comments
Dr. MOROOKA Takatoshi (Nishinomiya Kaisei Hospital, Hyogo Medical University)
My poster presentation received the "Best Poster Award" at the AFC Medical Conference Qatar. Under the guidance of Dr. TANAKA Juichi, who received the "Distinguished Service Award" at this year's conference, the presentation summarised the experience of the treatment and surgery performed on a professional football player in the J. League who had apophysitis of the fifth metatarsal base. Although the case reported in this presentation is a rare condition, there are many conditions and symptoms that are not correctly diagnosed in the field of sports injuries, including football, which can be detrimental to the athletes and delay their recovery for a considerable amount of time. In every case, the process for getting the player back onto the pitch is carefully thought out in light of previous experience and reports. I hope that this report will help players to receive proper diagnosis and treatment in the future and I also hope to continue devoting my time to the study of football medicine.
I have been working as a member of the medical staff for the youth categories of the Japan National Team and Gamba Osaka since 2013. I would like to extend my gratitude and share my joy at receiving this award to all the managers, coaches, trainers, staff of the football association, fellow football doctors, and my family, for their support and guidance over the years.