NEWS
Ehime and Shoshi, two teams with premiership experience, move on to the second round - Prince Takamado Trophy JFA U-18 Football Premier League 2022 Play-Off
10 December 2022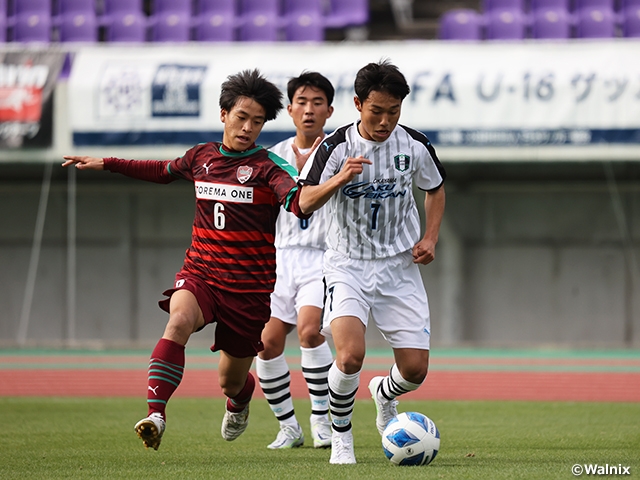 Six first round fixtures of the Prince Takamado Trophy JFA U-18 Football Premier League 2022 Play-Off took place in Hiroshima on Friday 9 December.
Featured Match 1
Ehime FC U-18 1-0 (0-0, 1-0) V-Varen Nagasaki U-18
At Edion Stadium Hiroshima, the match between Ehime FC U-18 (Shikoku 1/Ehime) and V-Varen Nagasaki U-18 (Kyushu 2/Nagasaki) was played at Nagasaki's pace. Oyama Kosei (#14) attempted to score in the 12th minute after receiving a pass from Nanamure Aoto (#13) on the left side, but the first half ended scoreless. In the 49th minute, Nagasaki had another opportunity when Takaki Shido (#8) responded to a deflection following a corner kick to fire a shot, but his attempt struck the right goal post. The crossbar stopped Nanamure's attempt to head the second ball in.
ONO Narumu (#4) of Ehime said of the first half, "We were overpowered by our opponents at the start of the match and almost conceded on many occasions, but I'm glad we were able to hold on as a team." The second half saw Ehime create more opportunities by utilising the spaces behind the opposing defence line, as YUKUTOMO Toki (#7) recalled, "We knew we couldn't outplay the V-Varen's defence line head-to-head. We frequently lost possession of the ball in the first half, so we tried to establish a rhythm by exploiting the spaces behind them." Their approach came to fruition in the 76th minute, when KIYASU Kosei (#23) converted the corner kick delivered by KAWAGUCHI Sosuke (#17) to take the lead. After fending off Nagasaki's late surge, Ehime moved onto the second round with a 1-0 victory.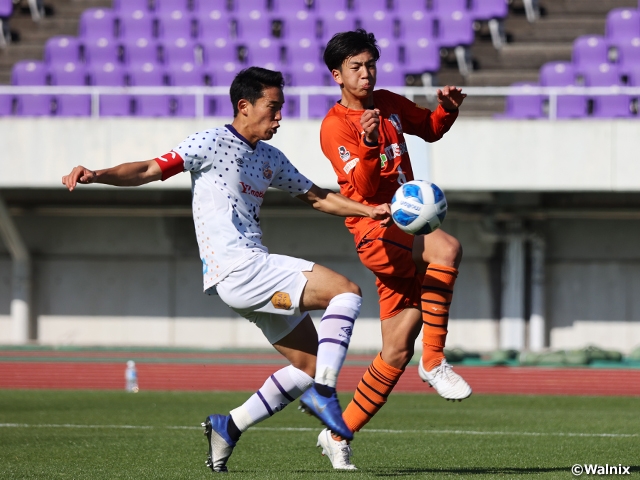 Featured Match 2
Shoshi High School 2-0 (2-0, 0-0) Okayama Gakugeikan High School
The match between Shoshi High School (Tohoku 1/Fukushima) and Okayama Gakugeikan High School (Chugoku 2/Okayama) saw the Fukushima side take the initiative, as coach NAKAMURA Koji mentioned, "We knew our opponents were fast down the line, so I told the players to anticipate for short counters after winning the ball." Shoshi High School's ANZAI Yuto (#15) delivered a cross to set up the header of AJIRO Hiyu (#17) in the third minute, followed by a shot attempt made by himself in the 10th minute, as the midfielder reflected on his plays, "I am always focused on making plays to help the team, whether it's by delivering crosses or taking shots myself."
The opening goal came in the 26th minute, when OKANO Rao (#10) carried the ball in the midfield before firing a shot into the Okayama goal, in a play he later credited his teammate, "(SUZUKI) Kotaro did a great job drawing attention of the defenders, which gave me enough space to penetrate." In the 28th minute, SUZUKI Kotaro (#9) responded to a corner kick to flick the ball, allowing YOSHIMITSU Jin (#6) to convert the ball into the net. The Shoshi defence, led by SUZUKI Haruto (#2), displayed great perseverance to keep the clean sheet intact despite the late surge by Okayama Gakugeikan. As a result, Shoshi advanced to the second round, where Teikyo Nagaoka High School (Hokushinetsu 1/Niigata) await.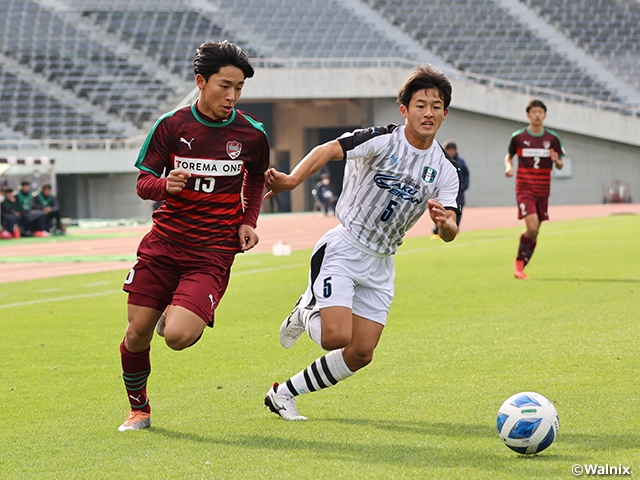 Coaches and Players' Comments
KITAUCHI Kosei, Coach (Ehime FC U-18)
It was a really tough match. Although we wanted to control the ball possession, it was Nagasaki who held the ball for majority of the match. I don't think we were able to exert even half of what we are capable of, but I think our luck turned in our favour because we didn't let up in defence. Although Funabashi Municipal High School has been playing in the Premier League for some time, we want to play them fearlessly. I believe that we can put up a good fight as long as we can play to our strengths, so we will hold a meeting to assess what went wrong today.
MF #10 ABE Taisei (V-Varen Nagasaki U-18)
We ended up being eliminated at the same stage as last year, which brought back the same bitter memory for us. We really wanted to allow our juniors to play at a higher league, but we didn't have what it takes to get there. I want to tell them that they need to work even harder in order to reach that level. My journey will not end here, as I will now strive towards making the World Cup. We must bring V-Varen back to J1 in order to accomplish this, so I must first determine what I can do to assist the club in achieving this objective.
DF #5 YAMADA Ikkei (Shoshi High School)
We managed to enter the match in great shape, take the initiative, and score the opening goal. We knew our opponents were going to apply pressure aggressively, so we tried to deliver the ball behind their defence line. We were able to effectively target our two big forwards. However, we were overwhelmed by our opponents' intensity level, which is something we need to improve. If we lose the following match, this victory will mean nothing, so we must reset our focus and make changes in preparation for that game.
TAKAHARA Yoshiaki, Coach (Okayama Gakugeikan High School)
The back-to-back goals we gave up severely hurt us. We tried to exploit the weakness in the defence of our opponents, but we lacked quality in the final third, and that ended up being the big difference in this match. We entered the second half with the intention of scoring back a goal as soon as possible, but our opponents' defence was too strong. This match served as a reminder that we need to raise the level of our individual skills in order to compete at the Premier League. We needed to be able to compete head-to-head with teams like Shoshi in order to advance to the top tier at the national level, but we simply weren't there yet.
Prince Takamado Trophy JFA U-18 Football Premier League 2022 Play-Off
Tournament Dates: Fri. 9 & Sun. 11 December 2022