NEWS
Kamimura Gakuen and Hamamatsu Kaiseikan advance past the first round in their bids to enter the Premier League for the first time - Prince Takamado Trophy JFA U-18 Football Premier League 2022 Play-Off
10 December 2022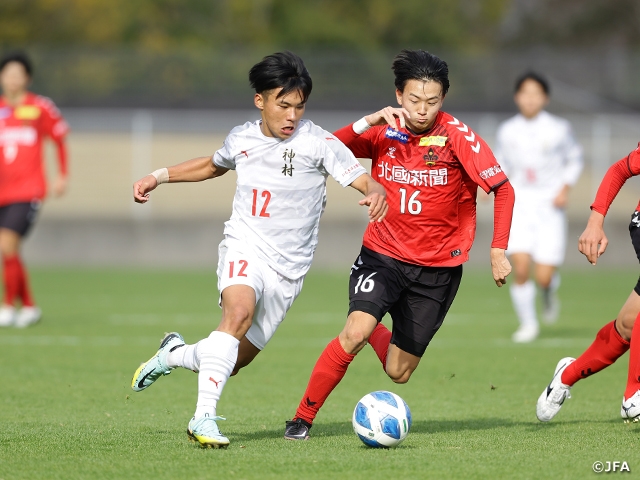 Six first round fixtures of the Prince Takamado Trophy JFA U-18 Football Premier League 2022 Play-Off took place in Hiroshima on Friday 9 December.
At Hiroshima Koiki Park Football Stadium, two fixtures kicked-off the action, as Hamamatsu Kaiseikan High School (Tokai 1/Shizuoka) faced Sapporo Otani High School (Hokkaido 2/ Hokkaid), and Kamimura Gakuen High School (Kyushu 1/Kagoshima) played Zweigen Kanazawa U-18 (Hokushinetsu 3/Ishikawa).
Featured Match 1
Hamamatsu Kaiseikan High School 2-1 (1-0, 1-1) Sapporo Otani High School
The match started with the Tokai Champions Hamamatsu Kaiseikan taking the initiative. Sapporo Otani, who have been away from official competition for a while after losing in the first round of the All Japan High School Soccer Tournament Hokkaido qualifier, struggled to find their rhythm in the early stages, as coach SHIMIZU Takayuki later reflected, "With this being our first official match in a while, we were overwhelmed by the atmosphere."
After hitting the post with a shot taken in the fifth minute, Hamamatsu Kaiseikan's SAKAUE Akira (#17) was given another opportunity in the 11th minute, when WAKAO Naoya (#2) responded to a through ball delivered by MATSUMOTO Daiki (#14) to take a shot. MATSUURA Sora (#1), the goalkeeper for Sapporo Otani, made the save, but Sakaue was there to score on the deflection and give Hamamatsu Kaiseikan the lead.
However, after getting used to the match atmosphere, Sapporo Otani gradually picked up their pace, as SASA Shuta (#5) recalls, "We started out with a lacklustre performance but managed to improve in the second half." The Hokkaido side gained control of the match in the second half and equalised the match in the 67th minute with the goal scored by NAGATA Haruhito (#11).
Despite Sapporo Otani's second-half comeback, Hamamatsu Kaiseikan's YAMAGUCHI Riku (#16) converted a cross in the 84th minute to give his team the victory, as the striker later remarked, "I knew the ball would be delivered to me."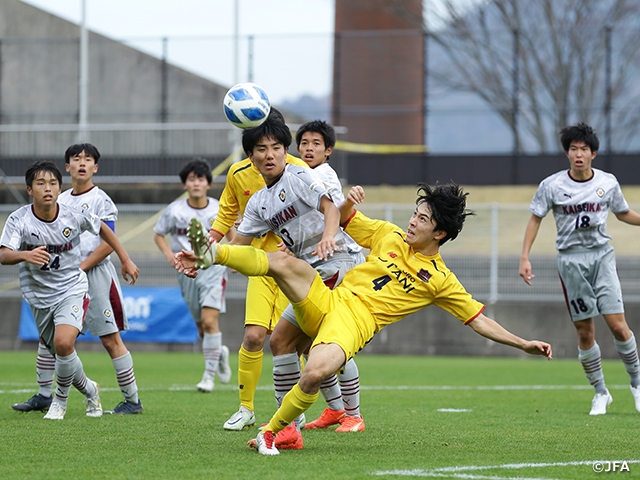 Featured Match 2
Kamimura Gakuen High School 4-3 (2-1, 2-2) Zweigen Kanazawa U-18
The match between Kamimura Gakuen and Zweigen Kanazawa also turned out to be a hotly contested one. FUKUDA Shio (#13) put Kamimura Gakuen in the lead with a header in the 23rd minute as they dominated the first half of the match. KASAGI Jun (#15), who later remarked, "I have never taken a shot like that," scored the second goal for the Kagoshima side in the 30th minute as they gained momentum.
Kanazawa, however, displayed incredible perseverance from this point on, as coach SAITO Masaki reflected, "I really felt the players' growth." After TSURUTANI Keigo (#16) scored a goal in the 34th minute, NAKAGAWA Go (#9) scored the equaliser in the 56th minute.
In response, YOSHINAGA Yumeki (#16) and Fukuda scored goals for Kamimura Gakuen in the 60th and 73rd minutes, respectively. Kanazawa made a comeback with a goal in additional time from INOUE Ryusho (#26), but they were unable to tie the game as Kamimura Gakuen prevailed 4-3.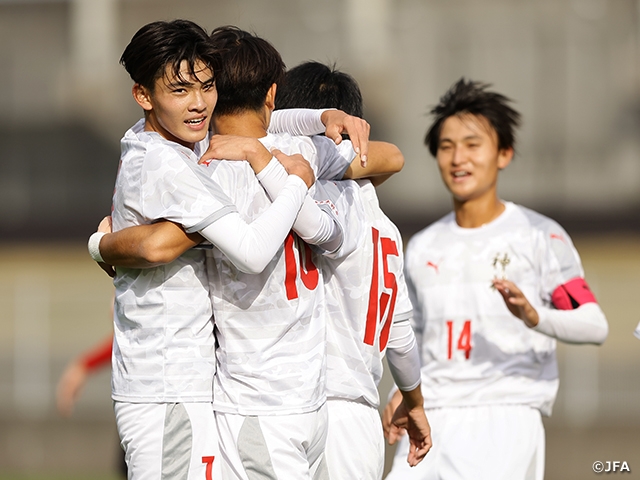 Coaches and Players' Comments
FW #16 YAMAGUCHI Riku (Hamamatsu Kaiseikan High School)
First and foremost, I want to thank my teammates because scoring a goal is not something you can do by yourself. Speed is my weapon, so I was looking to work my way into open space when I came onto the pitch. I was able to gain a lot of confidence this year, because I was able to score quite a few goals with headers in the Prince League Tokai.
SHIMIZU Takayuki, Coach (Sapporo Otani High School)
Although there were no official matches, we have been preparing for this tournament by travelling out of the prefecture and organising practice matches with university and J youth teams. I think it paid off, but we were still a bit stiff in the early minutes of the match. I think the players showed what we have been working on, especially in the second half.
ARIMURA Keichiro, Coach (Kamimura Gakuen High School)
The players benefit from this tournament because they don't typically encounter this level of intense competition on a regular basis. We let up in defence, allowing goals to be scored on plays that shouldn't have been that challenging. We'll use this as an opportunity to shore up our defence ahead of next match.
FW #16 TSURUTANI Keigo (Zweigen Kanazawa U-18)
I think I have really grown during the three years I spent away from my parents in Kanazawa. The first year was difficult, but it gave me the strength to be independent and to appreciate my parents even more. I was determined to score today, and although we didn't win, I think I was able to turn the tide with my goal.
Prince Takamado Trophy JFA U-18 Football Premier League 2022 Play-Off
Tournament Dates: Fri. 9 & Sun. 11 December 2022