NEWS
Hiroshima earn crucial points to keep their survival hopes alive! - Prince Takamado Trophy JFA U-18 Football Premier League 2022
21 November 2022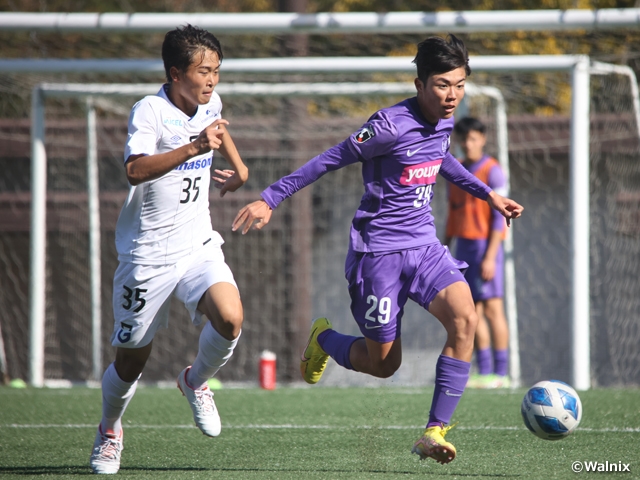 The 20th sec. of the Prince Takamado Trophy JFA U-18 Football Premier League 2022 WEST took place on Saturday 19 and Sunday 20 November. At Yoshida football park, Sanfrecce Hiroshima FC Youth (Hiroshima) faced Gamba Osaka Youth (Osaka).
Featured Match
Sanfrecce Hiroshima FC Youth 1-0 (0-0, 1-0) Gamba Osaka Youth
It has been a long time since Hiroshima played a match with spectators, as only parents were allowed to watch their matches during the pandemic. With students from Yoshida High School, where some of the Hiroshima players attend, and their supporters looking on in anticipation, the players entered the match in high spirits, as NAKAGAWA Hagumu (#29) recalled, "It was our first match with spectators, so we tried to showcase a good performance to those who came to the match."
The match started with Hiroshima applying aggressive pressure from the outset. After winning the ball, the home side delivered the ball into the spaces behind the Gamba side-backs to create chances. In the 22nd minute, Nakagawa responded to a pass delivered by TAKASHITA Michika (#14) to take a shot, but his attempt was blocked by the Gamba defence. Nakagawa had another opportunity in the 41st minute, this time receiving the ball from ISHIHARA Miran (#27), but once again fell short from finding the back of the net.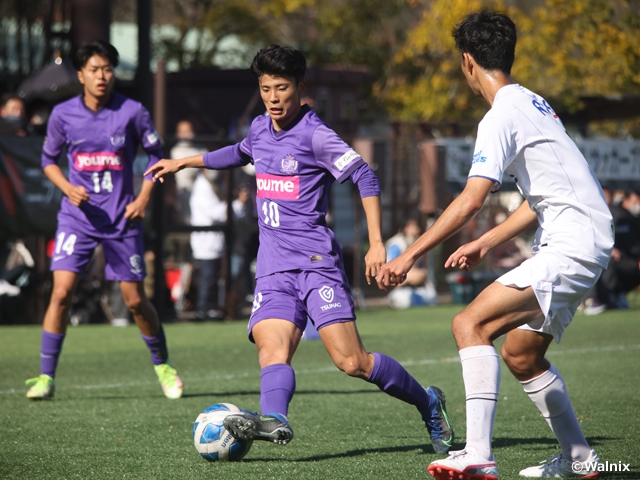 Despite being pressed back by the Hiroshima offence, Gamba sought for their chances through counterattacks, as HIKASA Renko (#17) later reflected, "I was making a conscious effort to study the opponent's centre back. They had moments where their line was out of sync, so I tried to exploit that." A close opportunity was created during additional time of the first half, when ADACHI Kodai (#8) connected with a cross delivered by IZUMI Keita (#15), but his effort was saved by the goalkeeper.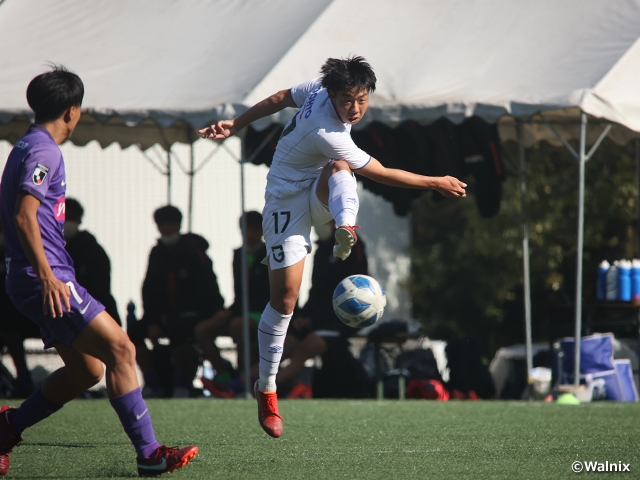 MINAMINO Harumi (#9) fired a shot that struck the post in the early minutes of the second half, which almost put the Osaka side in the lead, but Hiroshima continued to dominate the match in the second half. The deadlock was broken in the 55th minute, when the ball was connected through KASAGI Yuzu (#10) and TAKEYAMA Shin (#22), before Nakagawa broke through the left side to send a cross, which was converted by Kasagi to give Hiroshima the lead. Reflecting on his goal, Kasagi later commented, "I was determined to score a goal today, so after passing the ball, I carried myself into a position where I could score a goal. I was anticipating for the cross, so I just had to make good contact with the ball."
In efforts to equalise the match, Gamba rallied towards the end of the match, creating number of close opportunities, but the Hiroshima defence showed great concentration to keep their one goal lead intact, as Kasagi recalled, "In the second half of the season, we had so many matches where we gave up the lead towards the end of the match, so we were all focused on keeping the lead today."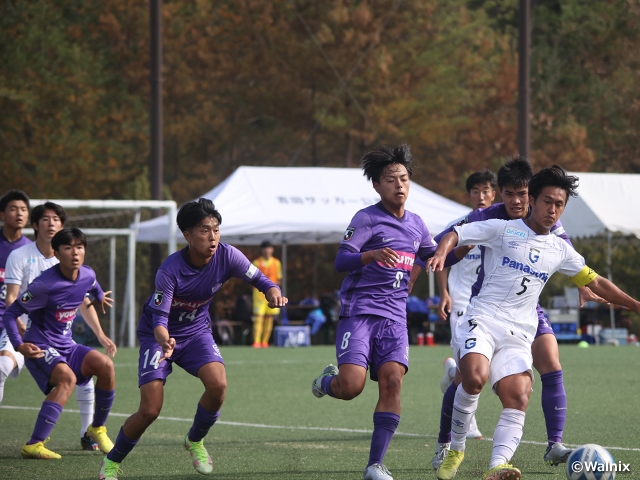 Coach and Players' Comments
TAKATA Tetsuya, Coach (Sanfrecce Hiroshima FC Youth)
With this being our first match with spectators, the students at Yoshida High School came to support us. Their presence really helped the players step up their performance today. Considering where we stand in the rankings, we really needed to focus on our defence first, but also had to remind ourselves that we are defending in order to initiate our offence. Although we gave up some close opportunities to our opponents, the players played with great composure and patience to maintain the lead. Over the course of the season, we have persevered through some particularly challenging matches, which I think has made our players stronger.
MF #10 KASAGI Yuzu (Sanfrecce Hiroshima FC Youth)
With three matches left to be played, we were still in the race for league survival, so this was a match we couldn't afford to lose. We entered the match with the intention of applying aggressive pressure from the start to take the initiative, which helped us find our rhythm from the first half. We hope to win the remaining two matches to finish the season on a high note.
DF #5 KUWAHARA Rikuto (Gamba Osaka Youth)
While we gave up many chances to our opponents, it was great that we managed to keep a clean sheet in the first half. Despite being dominated, we created chances of our own through counterattacks, so it wasn't a bad game. However, we conceded a goal from our own mistake during the build-up, which was something we had been working all season. We don't regret the goal because it was a result of us trying to execute the football we were striving for, but it's a pity that we couldn't score a single goal today. It is our responsibility as seniors to keep the team in the Premier League, so will do what ever it takes to win the remaining two matches.
FW #17 HIKASA Renko (Gamba Osaka Youth)
In order to keep our place in the Premier League, this was a match we couldn't afford to lose. We prepared all week to play against a solid Sanfrecce side, but I wasn't able to capitalise on the opportunities I was presented with. If I had scored those chances, we could have won the match, so I feel responsible for this loss. We must reset our minds and strive to win the remaining two matches to get out of the relegation zone. Next week, we will be playing Shimizu at home, so we will do everything in our power to win that match.
Results of other matches
Vissel Kobe U-18 3-0 (1-0, 2-0) Riseisha High School
Sagan Tosu U-18 1-1 (0-1, 1-0) Cerezo Osaka U-18
Shimizu S-Pulse Youth 3-1 (2-1, 1-0) Nagoya Grampus U-18
Shizuoka Gakuen High School 2-2 (0-1, 2-1) Jubilo Iwata U-18
Ozu High School 2-0 (0-0, 2-0) Higashi Fukuoka High School
Led by the goal of TOMINAGA Nina (#9), Vissel Kobe U-18 (Hyogo) scored three goals to win their home match against Riseisha High School (Osaka). The match between Sagan Tosu U-18 (Saga) and Cerezo Osaka U-18 (Osaka) ended in a 1-1 draw, with neither side giving an inch. Shimizu S-Pulse Youth (Shizuoka) won 3-1 against Nagoya Grampus U-18 (Aichi), thanks to the brace of TANAKA Jigen (#8). Shizuoka Gakuen High School (Shizuoka) and Jubilo Iwata U-18 (Shizuoka) played to a 2-2 draw after Shizuoka Gakuen's GYOTOKU Ei (#4) scored the equaliser in the closing minutes of the match. The high school duel between Ozu High School (Kumamoto) and Higashi Fukuoka High School (Fukuoka) went to Ozu 2-0.
Prince Takamado Trophy Premier League Official Twitter
#高円宮U18 プレミアリーグ 2022
WEST 第20節(11/20)#広島 1-0 #G大阪#清水 3-1 #名古屋#静岡学園 2-2 #磐田#鳥栖 1-1 #C大阪

結果詳細はこちらhttps://t.co/EwnoNsPsov…#高校サッカー pic.twitter.com/R9mQimbSja

— 高円宮杯 JFA U-18サッカープレミアリーグ (@jfa_u18) November 20, 2022
#高円宮U18 プレミアリーグ 2022
WEST(11/20時点)

暫定順位表
1⃣ #鳥栖
2⃣ #V神戸
3⃣ #磐田
4⃣ #名古屋
5⃣ #静岡学園
6⃣ #大津
7⃣ #履正社
8⃣ #広島
9⃣ #東福岡
1⃣0⃣ #C大阪
1⃣1⃣ #清水
1⃣2⃣ #G大阪

詳細はこちらhttps://t.co/AHqNVIJWJl#高校サッカー pic.twitter.com/hypoujnwix

— 高円宮杯 JFA U-18サッカープレミアリーグ (@jfa_u18) November 20, 2022
Prince Takamado Trophy JFA U-18 Football Premier League 2022
League Duration: Sat. 2 April - Sun. 4 December 2022