NEWS
Omiya walk away with a point against league leading Kawasaki with late equaliser - Prince Takamado Trophy JFA U-18 Football Premier League 2022
11 July 2022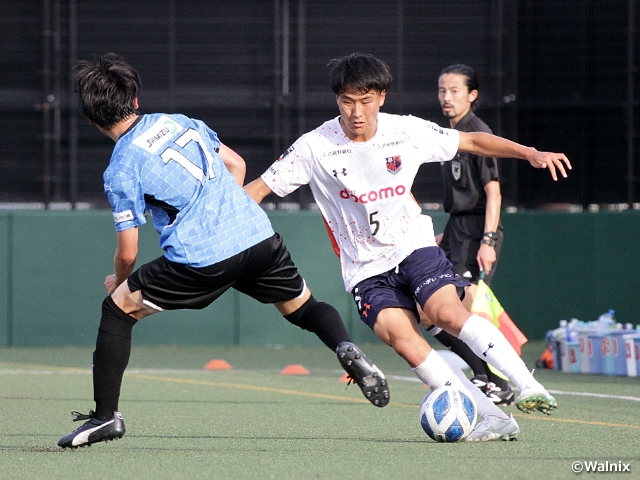 The 12th sec. of the Prince Takamado Trophy JFA U-18 Football Premier League 2022 EAST took place on Saturday 9 and Sunday 10 July.
Featured Match
Kawasaki Frontale U-18 1-1 (1-0, 0-1) Omiya Ardija U18
At Fujitsu Stadium Kawasaki, league leaders Kawasaki Frontale U-18 (Kanagawa), who finished the first half of the season with 10 wins and a draw, hosted Omiya Ardija U18 (Saitama). Omiya's coach MORITA Hiroshi positioned this match as "our last chance to contend for the title" before entering the crucial battle against the league leaders.
The match started with the home side taking the initiative through their aggressive pressure and quick transitions. While keeping the Omiya offence at bay, Kawasaki scored the opening goal from a counterattack in the 12th minute, when GOKITA Kishin (#9) assisted the goal of OKAZAKI Torataro (#20).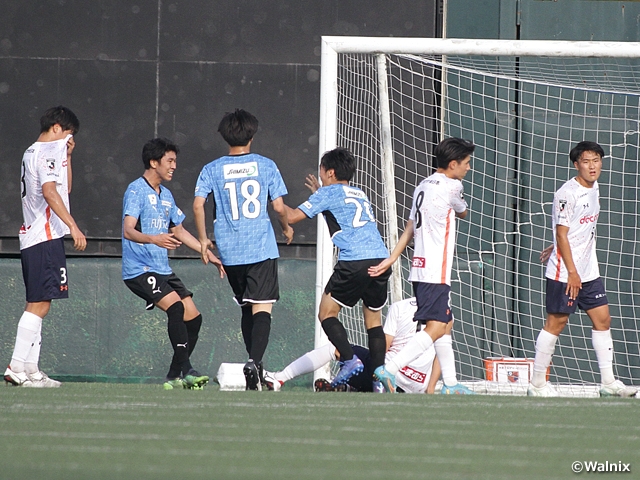 With momentum on their side, Kawasaki continued to showcase their dominance over Omiya, as their defenders, led by MATSUNAGANE Yuto (#3), delivered effective passes to their offence to threaten the opposing goal. However, as Matsunagane later reflected, "we weren't able to capitalise on our opportunities," the league leaders failed to extend their lead in the first half.
During halftime, Omiya's coach Morita pointed out that "we were losing possession of the ball from our own mistakes," and "need to keep our plays simple to exploit the spaces behind the opposing defence line." In terms of defence, the coach told his players to change their approach, "instead of pressing for the ball, let's keep our three lines compact and respond to the ball as it comes to us." The visitors entered the second half with a new approach to the game, as they sought to eliminate the strengths of Kawasaki while anticipating for their opportunities to score the equaliser.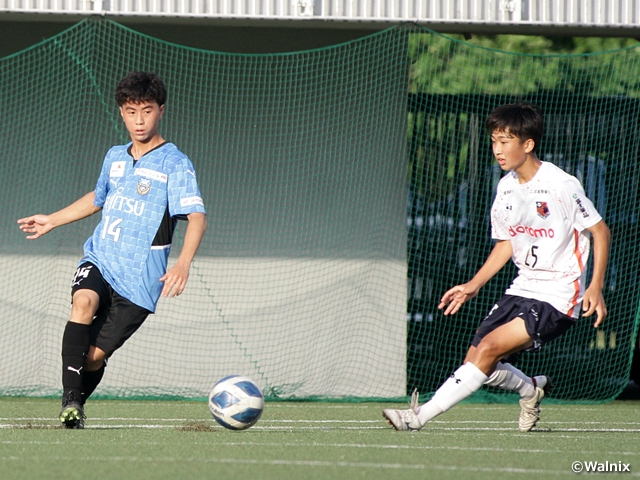 The second half was a battle of patience between Kawasaki, who were unable to get the ball into their attacking third, and Omiya, who defended tenaciously, but as Kawasaki's coach NAGAHASHI Yasuhiro reflected, "That's when we got impatient," it was Kawasaki who were next to concede from their own mistake.
In the 73rd minute, MAEZAWA Hiroki (#9) retrieved the ball from an opponent's mistake and delivered a pass to TAKAHASHI Hikaru (#11), who used his speed to take on the Kawasaki defence. After breaking loose from the opposing defenders, he depended on his "game intuition" to strike a right footed shot that found the back of the net, scoring the equaliser for Omiya.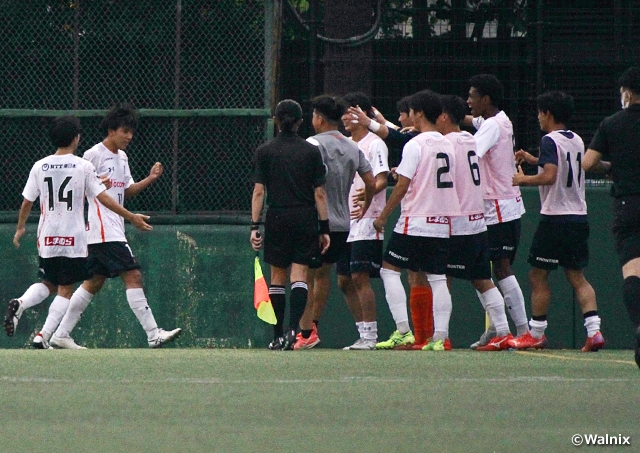 The teams then engaged in a fierce battle to secure the full three points, but neither side managed to score the decisive goal. The last league match before the summer break ended with the teams sharing a single point.
Coaches and Players' Comments
NAGAHASHI Yasuhiro, Coach (Kawasaki Frontale U-18)
Facing Omiya's solid defence, we failed to score the second goal and were beaten on the counterattack. I believe this was a fair result. I am not going to preach the idea that we need to capitalise on the opportunities were given. Instead, we just need to create twice as many opportunities to score more goals. I also feel that we need to observe our opponents more and make better decisions accordingly.
MF #18 YUI Kota (Kawasaki Frontale U-18)
It's very frustrating. It felt like we weren't able to play as we normally do. In the first half we were able to receive the ball between the lines, but when that became difficult in the second half, we had to make a conscious effort to swich our point of attacks to the flanks. As for myself, I would like to be able to play a more active role to create chances for the team.
MORITA Hiroshi, Coach (Omiya Ardija U18)
We were not fully committed to our defence in the first half. However, we didn't let our opponents score the second goal, which was a major factor for us. We made the necessary adjustments in the second half and managed to gain momentum from the equaliser. Takahashi's goal was a good example of what he is capable of doing. He has been able to take on the defenders facing forward and now he is able to score from those plays.
FW #11 TAKAHASHI Hikaru (Omiya Ardija U18)
Kawasaki Frontale were a very good team, and it was a difficult match, but we knew we would have our chances if we played patiently. Our coach told us that the two forwards would be the key today. When I scored the goal, I was able to take a clean first touch and was in no hurry to take a shot. I think that goal really showed my colour, and I am glad I was able to score.
Results of other matches
JFA Academy Fukushima 1-0 (0-0, 1-0) FC Tokyo U-18
Yokohama FC Youth 2-3 (0-2, 2-1) Yokohama F.Marinos Youth
Aomori Yamada High School 3-0 (1-0, 2-0) Funabashi Municipal High School
Maebashi Ikuei High School 1-1 (0-1, 1-0) Kashiwa Reysol U-18
Kiryu Daiichi High School 0-1 (0-0, 0-1) Ryutsu Keizai University Kashiwa High School
JFA Academy Fukushima (Shizuoka) defeated FC Tokyo U-18 (Tokyo), thanks to the goal of SUZUKI Riku (#15), to record their first back to back victories of the season. Yokohama FC Youth (Kanagawa) and Yokohama F.Marinos Youth (Kanagawa) combined for a total of five goals in the "Yokohama derby," which saw UCHINO Kotaro (#9) score the game winner in additional time of the second half to give Yokohama FM the victory. Led by the goal of WATANABE Rai (#2), Aomori Yamada High School (Aomori) defeated Funabashi Municipal High School (Chiba) 3-0. Kashiwa Reysol U-18 (Chiba) scored the equaliser in additional time to share a point with Maebashi Ikuei High School (Gunma). Ryutsu Keizai University Kashiwa High School (Chiba) also scored a goal in additional time to win against Kiryu Daiichi High School (Gunma).
Prince Takamado Trophy Premier League Official Twitter
%F0%9F%8F%86#高円宮U18 プレミアリーグ 2022%F0%9F%8F%86
%F0%9F%94%B4EAST 第12節(7/10)%F0%9F%94%B4

%E2%9A%BD試合結果%E2%9A%BD#横浜FC 2-3 #横浜FM#青森山田 3-0 #市立船橋#前橋育英 1-1 #柏#桐生第一 0-1 #流経大柏

結果詳細はこちら%F0%9F%94%97https://t.co/L3gtVZoRxK#高校サッカー pic.twitter.com/9XkOTkoreJ

— 高円宮杯 JFA U-18サッカープレミアリーグ (@jfa_u18) July 10, 2022
%F0%9F%8F%86#高円宮U18 プレミアリーグ 2022%F0%9F%8F%86
%F0%9F%94%B4EAST%F0%9F%94%B4

%E2%9A%BD暫定順位表%E2%9A%BD(7/10時点)
1%E2%83%A3 #川崎F
2%E2%83%A3 #横浜FM
3%E2%83%A3 #青森山田
4%E2%83%A3 #前橋育英
5%E2%83%A3 #FC東京
6%E2%83%A3 #大宮
7%E2%83%A3 #横浜FC
8%E2%83%A3 #流経大柏
9%E2%83%A3 #柏
1%E2%83%A30%E2%83%A3 #AC福島
1%E2%83%A31%E2%83%A3 #市立船橋
1%E2%83%A32%E2%83%A3 #桐生第一

詳細はこちら%F0%9F%94%97https://t.co/4ZZTNijG2B#高校サッカー pic.twitter.com/GUrsDfy0u6

— 高円宮杯 JFA U-18サッカープレミアリーグ (@jfa_u18) July 10, 2022
Prince Takamado Trophy JFA U-18 Football Premier League 2022
League Duration: Sat. 2 April - Sun. 4 December 2022