NEWS
Nagoya Oceans wins back to back matches to clinch final round for second straight year at the AFC Futsal Club Championship Thailand 2019
11 August 2019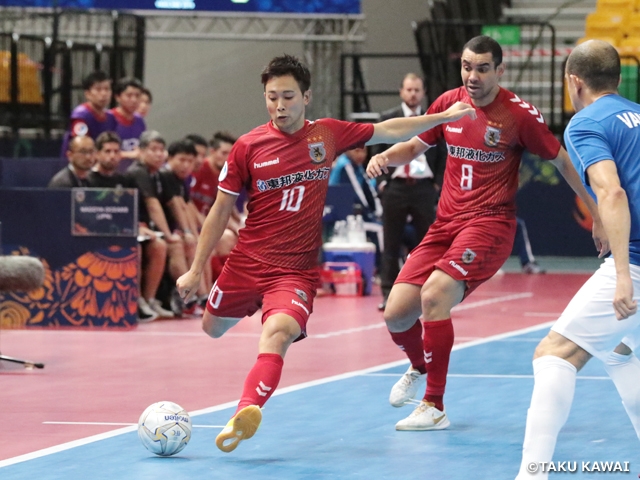 The second group stage matches of the AFC Futsal Club Championship Thailand 2019 took place on Saturday 10 August, where Nagoya Oceans faced the Kuwaiti side, Kazma SC.
Following their 4-2 victory over Al Dhafra FC in the first match, Nagoya entered the second match with great composure. Against an opponent who took a defensive approach by dropping deep, Nagoya calmly possessed the ball while anticipating for the opponent's counterattacks. The opening goal came in the 12th minute, when PEPITA played a give and go with HOSHI Shota at the centre of the court, before striking a left footed shot that pierced the net. Although they created more opportunities in the first half, the match entered halftime with Nagoya leading 1-0. 。
The second half saw Nagoya continue to dominate, but the F. League champions struggled to convert their opportunities in the early minutes. Their second goal came in the seventh minute of the half, when KASAI Daiki intercepted a pass and sent the ball to MIZUTANI Soma, who setup the powerful shot taken by Hoshi that doubled the lead for Nagoya.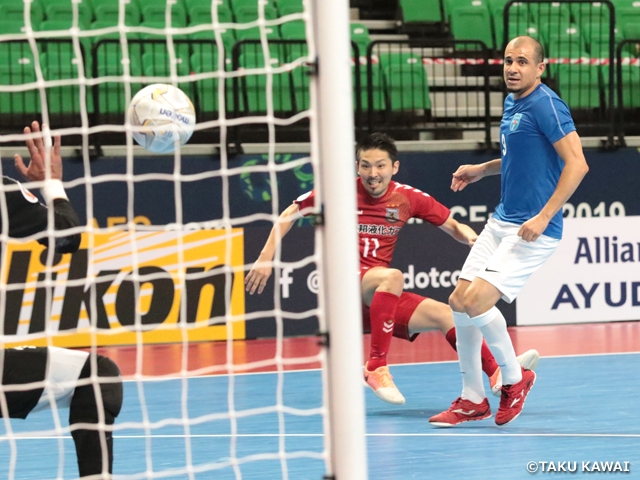 In the closing minutes of the match, Pepita intercepted a pass during the opponent's powerplay, and slotted the ball into the open net to score Nagoya's third goal. Despite taking a commanding lead, Nagoya conceded a goal soon after from the Kuwaiti side's power play.
With two and a half minutes left on the clock, a Kazma player was ejected with a violent conduct against Nagoya's YOSHIKAWA Tomoki. The match ran out of time as Nagoya kept the ball possession against the opponent who was a man down with the ejection, ending the match with a final score of 3-1.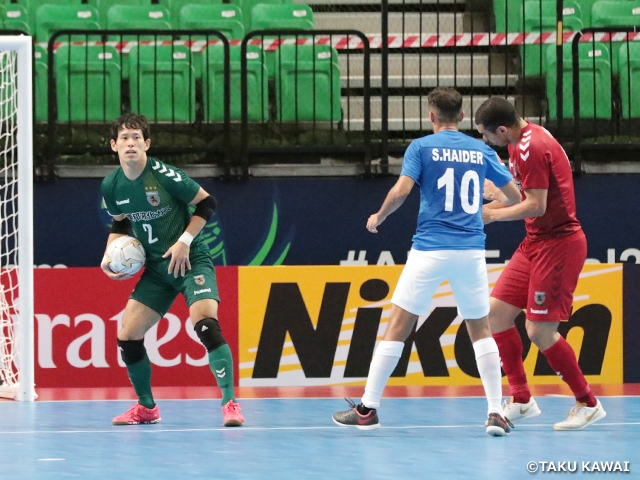 In the other match of Group D, Mes Sungun Varzeqan (Iran) defeated Al Dhafra FC (UAE) 5-0. As a result, Nagoya and Mes Sungun Varzeqan have clinched their spot into the next round. The two teams will face each other on Monday 12 to determine the group leader.
Coach and Players' Comments
FUENTES, Coach
Compared to our previous match, our players managed to enter today's match with a much more relaxed atmosphere. I feel like we were able to build a good rhythm. We were nervous in our first match, and it took us too long to find our composure. We managed to showcase our usual performance today, but there were scenes where the match got a bit tense. Even in those moments, I feel like we were able to keep our cool, so this is a match we can build upon for the next match. Even though we have clinched our spot into the next round, we will approach the next match as we always do and give our utmost efforts to win the match. We hope we can showcase our usual performance and build a positive momentum ahead of the quarterfinals.
GK #2 SEKIGUCHI Yushi
This match has made us realise that the gap between us and the other Asian countries has gotten closer over the recent years. I am glad that we were able to close out the match with a win today. We gave up many close opportunities in both halves, and if we have conceded in any of those plays, the outcome of this match could have been much different, so our defensive efforts have won the match for us. We have now clinched our spot into the next stage, but I am sure that many teams will be watching our next match, so we hope to showcase a dominating performance.
FP #4 MIZUTANI Soma
This was a match that made us really realise that we are competing at the AFC Futsal Club Championship. The match was played under a very tense atmosphere and it was a very unique match. I feel like I was able to gain a precious experience. Following our first match, we managed to enter today's match without getting nervous and we were able to showcase our usual performance. There was a shot that struck the post, and it was a shot that I had to score, so I hope I can become a player that can convert those opportunities.
FP #8 PEPITA
I think that we are in the toughest group of this year's AFC Futsal Club Championship, and the fact that we have managed to win back to back matches means a lot to us. We will now recover from this match and face a very strong team from Iran. Although I was able to score two goals today, Kazma SC was a very tough opponent and it was not easy to score those goals. We are seeing great improvements from our team and this was a huge victory for us.
AFC Futsal Club Championship Thailand 2019
Tournament Dates: Wed. 7 - Sat. 17 August 2019
Tournament Venue: Bangkok Arena, Thailand