NEWS
"Leaving zero regrets at high school" Interview with MATSUBARA Arisa - The 29th All Japan High School Women's Football Championship
28 December 2020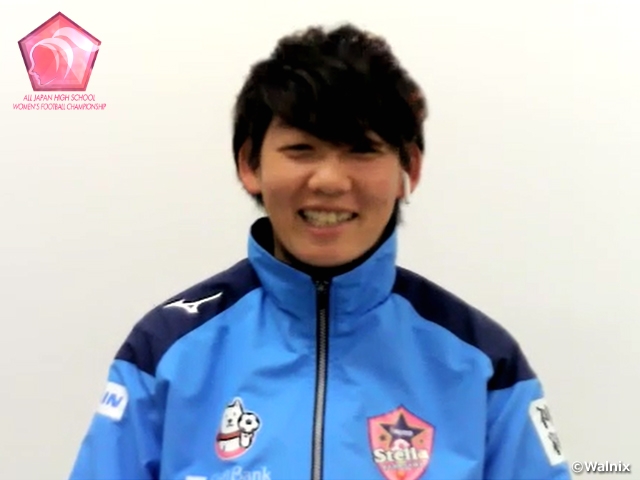 The 29th All Japan High School Women's Football Championship is about to kick-off on Sunday 3 January 2021. Here we have conducted an interview with Nojima Stella Kanagawa Sagamihara's MATSUBARA Arisa, who has played in this tournament when she was in high school.
Interview conducted online: 17 December 2020
――When you were at Daisho Gakuen High School, what was your impression of the All Japan High School Women's Football Championship?
MATSUBARA The tournament represented the culmination of our high school football career, so we were very enthused about the tournament. The tournament is now being televised, so I am sure that adds more motivation for the current players.
――The 20th edition of this tournament was the last time the tournament was held during the summer time. It happened in your first year at high school, do you remember?
MATSUBARA I know I played the matches as a centre half, but I don't remember much about that year… It is probably because of my poor memory. (while laughing)
――How about the 21st tournament? It was the first year the tournament was played at the beginning of the year.
MATSUBARA I remember that year vividly. The match we lost to Kyoto Seika Gakuen High School left a strong impression. We haven't lost to Seika Gakuen at the Kansai region, but we lost because of my mistake. With the seniors retiring after the tournament and me becoming a senior and the next team captain, I had all sorts of mixed feelings. I was super disappointed, and it was one of the most memorable moments of this tournament.
――We were in a much different role compared to your first year.
MATSUBARA As we get older, there are more responsibilities that comes with it, and because I played in the year before, I felt the pressure to lead and support the team. I couldn't make mistakes as a DF and I was also in charge of initiating our attacks, so there were lots of pressure.
――What did the seniors tell you after the loss?
MATSUBARA They were very kind and told me that it wasn't my fault. They also encouraged me to make a deeper run next year.
――How did your senior year start?
MATSUBARA Daisho Gakuen was becoming a familiar face at the national stage, so qualifying for the national tournament was a must for us, and it was a matter of how far we can reach at the tournament. So as the team captain, there were plenty of pressure on me. However, other senior players helped me manage the team, so I didn't have to take care of everything.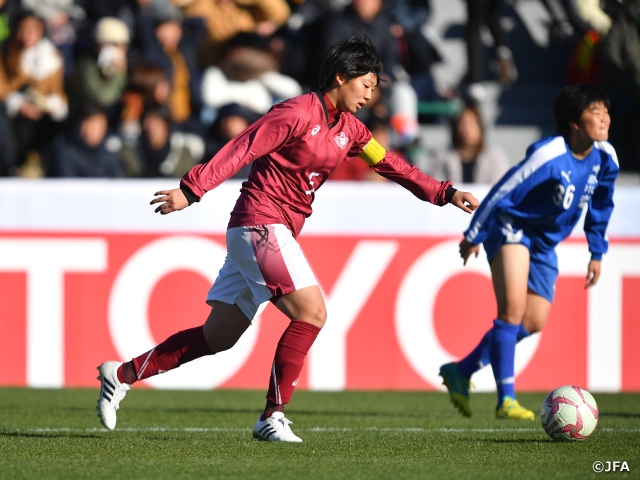 ――During your senior year, you reached the final at the Inter-High School Championships.
MATSUBARA We had a very fortunate draw at the Inter-High School Championships. It was the first time Daisho Gakuen won a medal at the national stage, so I was glad that we were able to achieve that feat, and it gave us great confidence.
――Following that success, you entered the 22nd All Japan High School Women's Football Championship, where you won against St. Capitanio Girls' High School in the first round, defeated Japan Aviation High School in PKs at the second round, and lost to Fujieda Junshin High School at the quarterfinals.
MATSUBARA We were totally overwhelmed at the third round. I knew the opponent's captain, OKUGAWA Chisa (Mynavi Vegalta Sendai Ladies), so I really wanted to win that match. KAWANO Juri (Chifure AS Elfen Saitama) was also their star player, and I gave my best efforts to stop her, but she scored a spectacular shot from distance. I remember making a sliding effort, but I didn't get there in time to stop her, so I remember that scene.
――What was the atmosphere like after losing your final tournament?
MATSUBARA We were all disappointed after the match, but on our way home, I felt relieved that my high school career and my role as a team captain came to an end. There were no regrets because I left everything on the pitch.
――This year's Inter-High School Championships was cancelled due to the effects of COVID-19. Many regional leagues were also cancelled or held in a reduced scale. Can you send a message to those high school football players who were restricted with their football activities this year?
MATSUBARA Under normal circumstances, teams would go through the Inter-High School Championships to strengthen the team, and then enter the All Japan High School Women's Football Championship. However, I was very saddened to hear that this year's Inter-High School Championships was cancelled, and it must have been very disappointing for the high school players, too. I hope they can use that disappointment to fuel their motivation to do well at the All Japan High School Women's Football Championship. Especially for the senior players, this will be their final competition in high school, so I hope everyone can express their feelings on the pitch and leave no regrets. Also, it goes without saying that we are able to play football because of the support of many people, so I hope the players will play with a sense of gratitude and do not take for granted of the given environment to play football.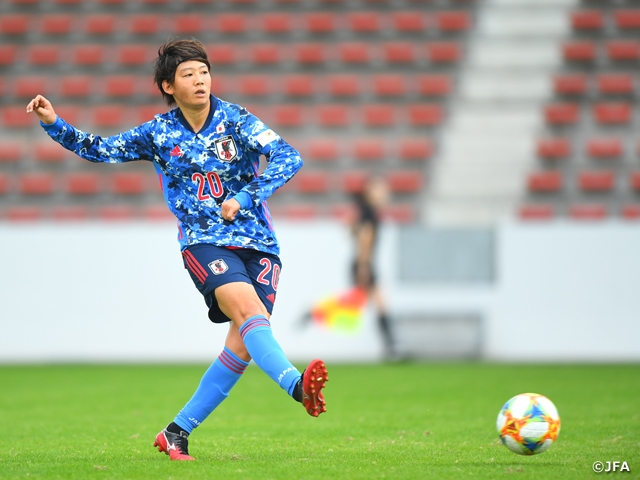 The 29th All Japan High School Women's Football Championship
Tournament duration: Sun. 3 - Sun. 10 January 2021