NEWS
"Win one match at a time to win the title" Interview with SHIMIZU Risa and KINGA Yukari - Empress's Cup JFA 43rd Japan Women's Football Championship
26 November 2021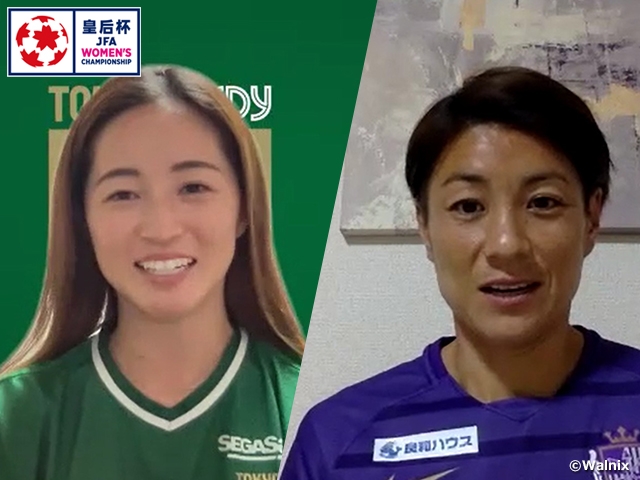 Ahead of the first round of the Empress's Cup JFA 43rd Japan Women's Football Championship, which is scheduled to kick-off on Saturday 27 November, we have conducted an interview with four time defending champions Nippon TV Tokyo Verdy Beleza's SHIMIZU Risa and former player of Beleza KINGA Yukari, who currently plays for the newly established Sanfrecce Hiroshima Regina. The two players, who played for Nadeshiko Japan (Japan Women's National Team) as the right fullback, talked about their impressions of each other and their memories of the Empress's Cup.
○ Interview conducted online on 16 November 2021
――What were your impressions of each other?
SHIMIZU From the time I was with Menina, I looked up to Kinga-san as a role model. We served as ball persons for the Beleza matches, in which we were assigned to areas close to our own positions, so I got to sit and watch her play the right fullback position up close.
KINGA That's new to me. I didn't know that.
SHIMIZU That might be why my playing style is similar to hers. Kinga-san makes a lot of over-lapping runs, and is strong in one-on-one situations, which is exactly the kind of player I was aiming for. Looking back, I was fortunate to be surrounded by great players who I can look up to, such as Kinga-san and ARIYOSHI Saori-san (Omiya Ardija VENTUS).
KINGA That's a lot of compliments.
――What is your impression of Shimizu?
KINGA Shimizu is a very athletic player who can move the ball. Even though I am no longer a part of Nadeshiko Japan, I am always paying attention to that position. She has plenty of stamina, so there are many times when I wish she would just go for it. That is why I wanted to talk to her to discuss her involvement in offence.
SHIMIZU You are absolutely right. Looking back, I think there were times when I missed the right moment to press forward, and there were times when I was a little too passive. I am getting reminded that there are players who are aware of this.
KINGA It is tough. I get excited watching her get involved in offence, so I am always thinking, "Use Shimizu more," but on the other hand, there are times when defence is prioritised at the national team. I understand because there were times when I wanted press up but couldn't.
――The two of you faced each other in the third match week of the WE League, where Beleza won 2-0.
SHIMIZU Hiroshima is a new team, but effectively utilised the 4-3-3 formation to take advantage of their speed in the flanks. Although we managed to win, it was a close and exciting match.
KINGA We knew Beleza would dominate the ball possession, but it was hard to keep up with their ball movements. They would play the ball simple when we apply pressure and hold the ball when we pull back. It has been a while since I last faced Beleza, but they hadn't changed. It was fun facing them, but also very exhausting.
――Are there any Empress's Cup competitions in the past that stand out in your memory?
KINGA It has to be the 37th tournament (2015). It was a movie-like ending with SAWA Homare-san (played for INAC Kobe Leonessa at the time) scoring the game winner at the final, which was her last match of her career.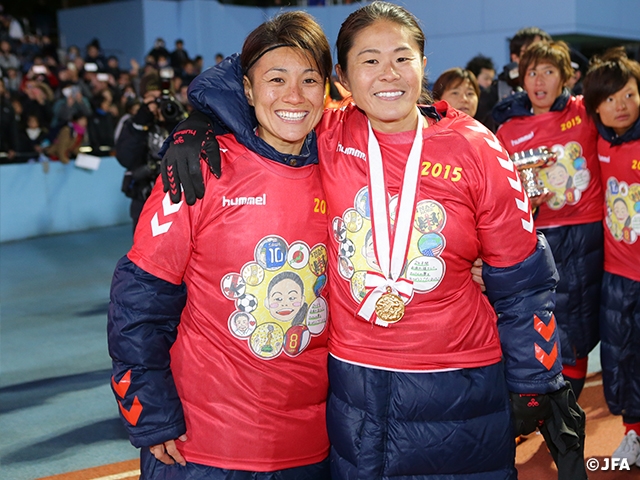 SHIMIZU I watched that match from the stands after losing at the semi-finals. I don't often get excited watching a match, but I was standing up and cheering when that goal went in.
KINGA It felt very surreal, but the way she ended her playing career was also very typical of Sawa-san. I don't have any other choice but that tournament.
SHIMIZU I vividly remember last year's tournament, in which we defended our title for the fourth consecutive year. I was told by many people that the final against Urawa Reds Ladies, which ended 4-3, was fun to watch, and we don't often see that many goals scored in the final, so it left a deep impression on me, too.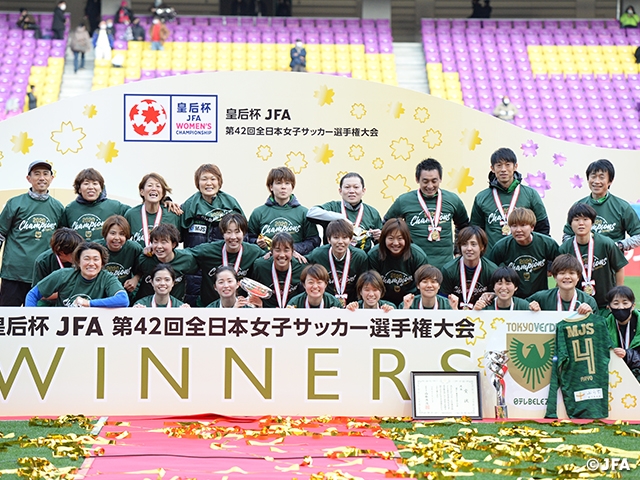 ――What is the key to making a deep run in the Empress's Cup?
SHIMIZU We play our first match in the middle of the tournament, so how we enter the tournament is very important. Our opponent will come at us as a challenger, so we need to find our rhythm early and showcase our usual performance.
KINGA I have experienced losing in the first round of the 37th (2010) tournament when I was playing for Beleza, so I know how hard it is. In addition, this year's tournament is held in the middle of the WE League season, so it's a new experience for everyone. However, as we travel to different stadiums around the country, the players will naturally switch over to the Empress's Cup mode.
SHIMIZU Also, there will be about two months between the semi-finals and the final this year, so how we spend our time during that time will be another factor to consider.
――Finally, what are your aspirations for this tournament?
SHIMIZU Of course, we will be striving to win our fifth consecutive title, but I am also looking forward to playing in this knockout tournament, which is different from our league matches. We want to claim the title by winning one match at a time and carry that momentum into the WE League.
KINGA Hiroshima's first match will be against Mynavi Sendai Ladies, who are doing well in the league, but I am looking forward to this knockout match. We may not be the tournament favourites, but we will play aggressively to make a deep run and hopefully face Beleza in the final.
Empress's Cup JFA 43rd Japan Women's Football Championship
Tournament Duration: Sat. 27 November 2021 - Sun. 27 February 2022
【1st Round】Sat. 27, Sun. 28 November
【2nd Round】Sat. 4, Sun. 5 December
【3rd Round】Sat. 11, Sun. 12 December
【4th Round】Sat. 25 December
【Quarterfinals】Wed. 29 December
【Semi-Finals】Wed. 5 January 2022
【Final】Sun. 27 February 2022