NEWS
"I want the children to make my dreams come true" Mr. UCHIDA Atsuto appointed as captain of JFA UNIQLO Soccer Kids
14 April 2021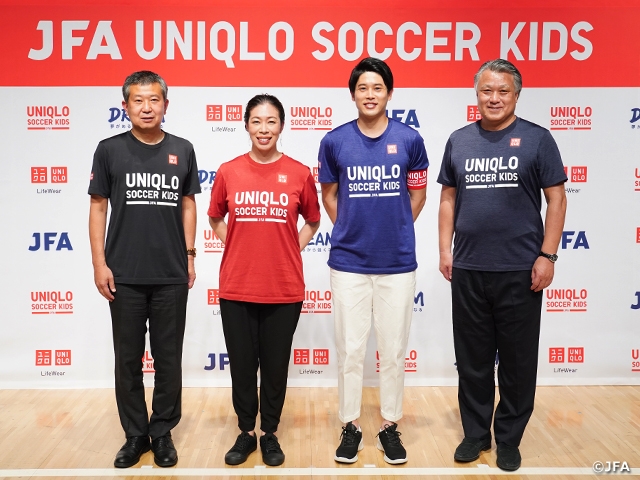 JFA and Uniqlo Co., Ltd. held an online press conference on Tuesday 13 April, and announced that former player of the Japan National Team Mr. UCHIDA Atsuto has been appointed as the captain of JFA UNIQLO Soccer Kids. In addition to Captain Uchida, JFA President TASHIMA Kohzo, CEO AKAIDA Maki of UNIQLO Japan, Promotion Director NAKAYAMA Masao from the JFA Technical Committee took the stage at the press conference.
JFA UNIQLO Soccer Kids is a football festival that has been held since 2003 as part of the "JFA Kids Programme" which is specially sponsored by UNIQLO. It is a free event targeted for kids under six years old, and made available for all kids, regardless of whether they have experience playing football or not. With the event being held at large stadiums and domes, many participants are gathered each time the event takes place. At the press conference, Director Nakayama introduced that the event will be held at 15 venues nationwide in 2021.
Captain Uchida appeared wearing a jersey made of UNIQLO's Dry EX, which is the same jerseys the participants will wear at the events. When President Tashima wrapped the captain mark around his arm, he asked "Does it look good on me?" before making a speech.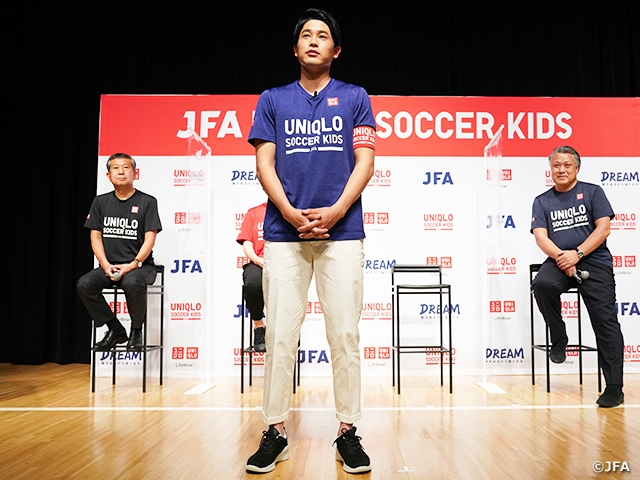 "I am appointed as the captain of JFA UNIQLO Soccer Kids. I myself started playing football when I was in first grade of primary school. I think sports and physical activities are very important for kids. With the support of everyone in the football and sports scenes, I was able to play football in Japan and Germany. I feel like I have the obligation to pass on that experience to the next generation. I am aware that it is a huge responsibility, but I will give my best efforts."
The J.League kicked-off when Captain Uchida was in kindergarten, and he joined a local football club when he entered primary school, as he idolised "King Kazu" (MIURA Kazuyoshi/currently plays for Yokohama FC). The newly appointed captain reflected on his own childhood while sharing his aspiration, "I am planning on participating in the events myself and chase the ball with the children all around the country. I don't know how much I can play, but I will train myself so that I can become a role model. Just as I idolised Kazu-san, I would like to do my best to become an idol for the children who participate in the JFA UNIQLO Soccer Kids."
Following the speech given by Captain Uchida, President Tashima took the podium to share his own experience, "My two children participated in the 2003 JFA UNIQLO Soccer Kids when they were in nursery school. Since taking part in the event, they kept on talking about it for weeks." The JFA President continued by mentioning, "I will provide a common topic for parents and kids, so please join us."
CEO Akaida followed by showing her concerns over the children who are forced to endure the current situation surrounding the pandemic, "The last time I attended the event, I was overwhelmed by the energy and enthusiasm of the children chasing the ball. However, in the midst of the pandemic, they are in a situation where they cannot go out and play freely with their friends. Through this event, I hope that they can spend a wonderful time with Captain Uchida."
To conclude the press conference, Captain Uchida stated, "As a player, I feel like my career ended with unfinished business left behind. So, I think it's time for the children who participated in JFA UNIQLO Soccer Kids to make my dreams come true. That is why I will strive to become a good role model and make the kids think, I want to become a football player and make the national team stronger." As he sent a message to the viewers, "I am looking forward to playing football with you, so see you on the pitch."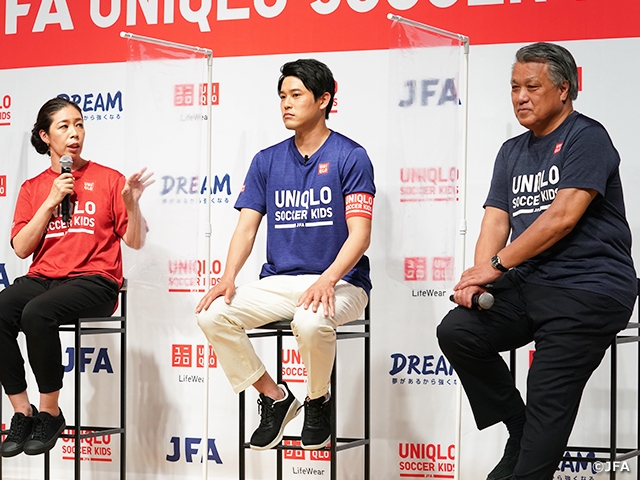 Schedule of JFA UNIQLO Soccer Kids 2021
| Prefecture | Venue | Date |
| --- | --- | --- |
| Niigata | Denka Big Swan Stadium | Sun. 27 June 2021 |
| Fukuoka | Fukuoka PayPay Dome | Sun. 4 July 2021 |
| Hokkaido | Sapporo Soccer Amusement Park | Sun. 5 September 2021 |
| Tokyo | Tokyo Dome | Sun. 12 September 2021 |
| Miyagi | Q&A Stadium Miyagi | Mon. 20 September 2021 |
| Ibaraki | Kashima Soccer Stadium | Sun. 26 September 2021 |
| Aichi | Nagoya Minato Stadium | Sat. 23 October 2021 |
| Fukui | 9.98 Stadium Fukui | Sun. 7 November 2021 |
| Okayama | City Light Stadium | Sun. 21 November 2021 |
| Kyoto | Takebishi Stadium Kyoto | Sun. 28 November 2021 |
| Yamaguchi | Yamaguchi Kirara Expo Memorial Park | Sun. 5 December 2021 |
| Oita | TBC | Sun. 12 December 2021 |
| Saitama | MetLife Dome | Sat. 25 December 2021 |
| Kanagawa | Yokohama Stadium | Sun. 6 February 2022 |
| Osaka | TBC | TBC |
※The schedule is subject to change depending on the situation surrounding COVID-19.
※Updated information regarding venues, dates, event details, and how to participate, will be posted on JFA's official website.