NEWS
Japan Football Museum to resume operation
08 June 2020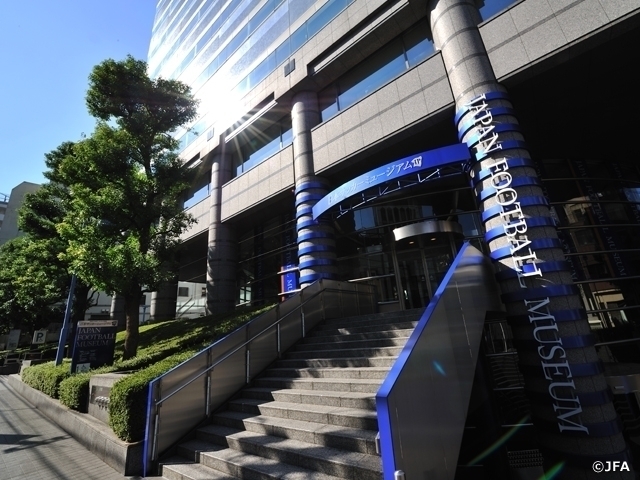 Japan Football Museum has been temporarily closed since Saturday 29 February 2020, but with the state-of-emergency declaration being lifted, the museum will resume its operation in phases from Saturday 13 June. The following measures to prevent the spread of the coronavirus will take place during the time being, and we apologise for any inconvenience, but we ask for your kind understanding and cooperation.
Please be aware that the museum may suddenly close depending on the situation surrounding the coronavirus.
■Scheduled hours of operation
Date
Subject residence area
Hours
Sat. 13/Sun. 14 June
Residents of Tokyo
11:00 - 17:00
(Last entrance 16:30)
Sat. 20 June -
*Closed on Mondays
Residents of the Metropolitan area
(Tokyo, Saitama, Chiba, Kanagawa,
Ibaraki, Tochigi, Gunma, Yamanashi)
Sat/Sun 10:00 - 17:00
(Last entrance 16:30)
Weekdays 13:00 - 17:00
(Last entrance 16:30)
Will be announced via official website
No restriction on residence area
*Museum shop to operate in the hours listed above.
*Please be aware that the museum hours are subject to change depending on the situation surrounding the coronavirus, so please checkJFA.jp before arriving.
■Limitation upon admission
Admission cannot be granted if any of the following applies:
・Anyone with a body temperature over 37.5℃ (all members of the same party included)
・Anyone with symptoms of coughing/sore throat, or feeling sick (all members of the same party included)
・Anyone who has travelled to countries/regions restricted by the government within the past 14 days (all members of the same party included)
・Anyone without a mask
・A group with six or more people (a group can have up to five people)
・Anyone living outside of the subject area listed above
■Restriction and cancellation of exhibits/services
・Please be advised that some exhibits and services may be restricted or cancelled. Also, contents may be added without prior notice depending on the situation. Please contact Japan Football Museum for more details.(info@11plus.jp)
 View only: Huddle, FIFA World Cup replica trophy, photo stand-in
 Cancelled exhibits: First floor exhibition area
 Cancelled shows: B2 Football theatre
・Please do not touch the exhibits/exhibit cases/equipment that are prohibited for use.
・Depending on the state of congestion, admission may be limited.
・Accepting group reservations. Group may be asked to be separated if the group exceeds six or more people.
・Study programmes for schools/football clubs, and the use of the reference room will continue to be cancelled.
・Coin lockers, vending machines, and cell phone charging services will not be available for use.
■Procedures upon admission
・Please enter from the B1 entrance (1st floor entrance will be closed for the time being)
・A thermal imaging camera will be utilised to measure body temperature of all visitors. Anyone detected with a temperature over 37.5℃ will be asked to remeasure using a non-contact thermometer, and if a temperature over 37.5℃ is detected again, admission cannot be granted for that individual and those who are accompanying the individual.
・Sanitisers will be available for use, so please sanitise your hands upon admission.
・Please fill out the admission record (name, phone number, residing prefecture, travel history, physical conditions, etc). Provided information will be managed under the JFA privacy policy, and only be used when a coronavirus outbreak is reported from the museum.
■Request from the museum
・Please practice proper coughing etiquette.
・In order to prevent airborne droplets of secretions, please refrain from shouting and talking in large volume.
・In order to secure social distance, please maintain a two meter gap with others.
・In order to avoid overcrowded conditions, please try not to stay in one position for a long time.
・When waiting for the ticket-vending machine, shops, or restrooms, please keep distance with the person in front of you.

■Prevention measures taken by the museum
・Disinfection, cleaning, and ventilation of the museum.
・Museum staffs may wear masks and/or face guards upon facing visitors.
・Measures of infection control and health management will be conducted thoroughly for the museum staffs.
・If an onset of the coronavirus disease is reported from a visitor or staff of the museum, we will follow the orders of the public health centre to take appropriate action and make the announcement onJFA.jp and other media outlets if necessary.