NEWS
Class S Coach Training Course 2022 Module 1/Intensive Course (1) Participant's Report Vol. 2
28 April 2022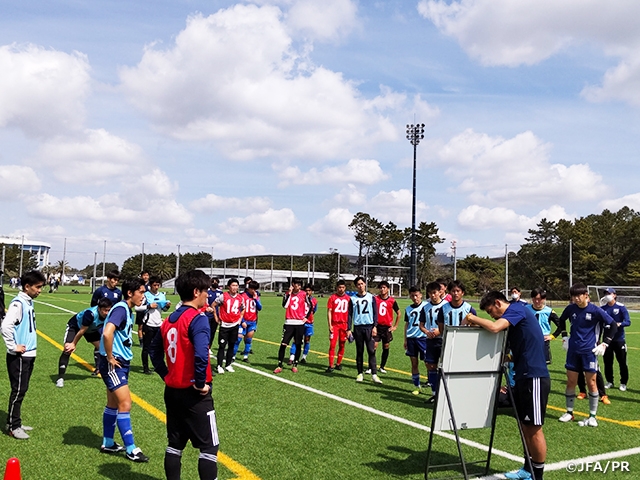 Following the six day short course of this year's Class S Coach Training Course, the first intensive course took place at Prince Takamado Memorial JFA YUME Field from Monday 18 April. As a new initiative for this year, participants will conduct a self-assessment using several methods. This week they started with a self-assessment on their current situation regarding their duties and competencies as a coach.
Module1 Intensive Course (1)
Duration: Mon. 18 - Thu. 21 April
Mon. 18 April
AM
Short-course review
Activities of JFA/Resolutions for the future: TASHIMA Kohzo (JFA President)
Self-assessment and self-scanning: UKISHIMA Bin (JFA Class S Instructor)
Tue. 19 April
AM
Coaching session
PM
Coaching session
Wed. 20 April
AM
Coaching session
PM
Activities of JFA/Youth development: KAGEYAMA Masanaga (JFA Director of Youth Development)
Practical presentation: Associate Professor KATAKAMI Chie (Teikyo University)
Thu. 21 April
AM
Coaching session
PM
Brain-storming: Professor USAMI Makoto (Kyoto University)
Professional coaching theory: UKISHIMA Bin (JFA Class S Instructor)
Cooperation in dispatching support players: Edogawa University, Nippon Sport Science University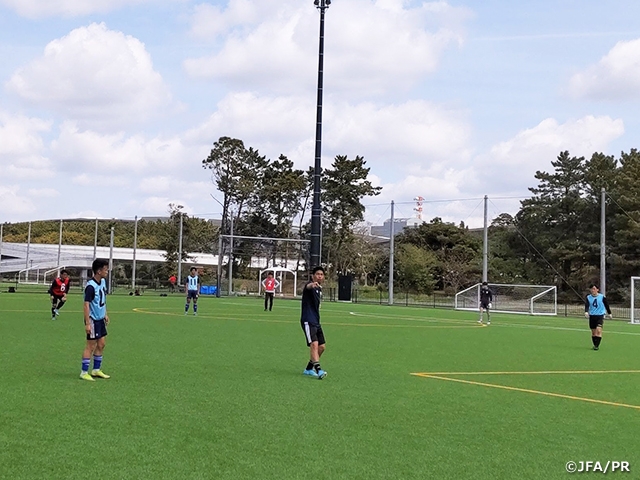 Participant's Comments
Mr. OSHIBA Katsutomo (Ventforet Kofu)
This first intensive course of this year's Class S Coach Training Course was held at the Prince Takamado Memorial JFA YUME Field. We would like to express our sincere gratitude to the many people involved for their cooperation in making this training course possible.
In this course, lectures and practical coaching sessions were held. On the first day, we reviewed the short course, followed by a lecture given by JFA President TASHIMA Kohzo on the activities carried out by JFA. In addition to the history of Japanese football and JFA's current initiatives, he emphasised that "coaching is the most enjoyable and rewarding job," and the importance of "believing in people and players," "coaching with a passion to make players and teams better," and "not pretending to be a coach." I was very impressed by his words, and it made me brace myself for this Class S Coach Training Course.
In the two lectures "Activities of JFA/Youth development" by instructor KAGEYAMA Masanaga and "Professional coaching theory" by instructor UKISHIMA Bin, both lecturers shared their experiences from their coaching days to give us an insight into the importance of having your own coaching philosophy and play model, and knowing the preparation and responsibilities that come with it. In the presentation training, after learning the skills required for presentations, each participant gave a one-minute speech. I found it very difficult to organise my speech, while also trying to focus on my voice, eye contact, posture, facial expressions, and gestures, and felt that I needed to work on all these aspects in order to improve my speech.
In the first brainstorming lecture, we had an active discussion on a given theme. We held the discussion on the premise that our ideas were welcomed, that we did not mind if our opinions differed from those of others, and that we did not jump to conclusions, which made it easier for us to speak freely and frankly. I was very motivated for this lecture, because decision-making is an area that I struggle with. In the coaching sessions, participants were divided into new groups of four, each assigned with the role of head coach, assistant coach, goalkeeper coach, and physical coach, and conducted training sessions based on seven different themes. Having gone through the short course, the participants were able to communicate with each other more actively than before, and it was evident that everyone was trying to build better relationships centred on the head coach role, and to create better training sessions. In addition, participants actively exchanged opinions during the post-coaching review session, which gave us many useful tips and insights. The instructors gave us valuable guidance and advice on our coaching attitude, the balance between reality and clarity, the quality and intensity of training, and the timing and content of our coaching, which provided us with valuable materials to help us construct our own play model. By valuing each of these activities, I believe that we can create an atmosphere where all the participants, not just our own group, can improve each other.
Thanks to the students of Edogawa University and Nippon Sport Science University and the JFA staff who supported us for four days, we were able to spend a very productive time. Thank you very much. I have been sent to this training course with the understanding of my club and colleagues. I intend to learn with a sense of gratitude and humility, and try to become a better coach through this training course, which will last until December. I will strive to grow as a coach and a human being who can contribute to football in my local region and in Japan.
Next week we will share the report of Mr. OSHIMA Hideo (Yokohama F. Marinos).