NEWS
S-Licence Coaching Course 2020 Module 2/Intensive Course (6) Participant's Report Vol. 8
27 October 2020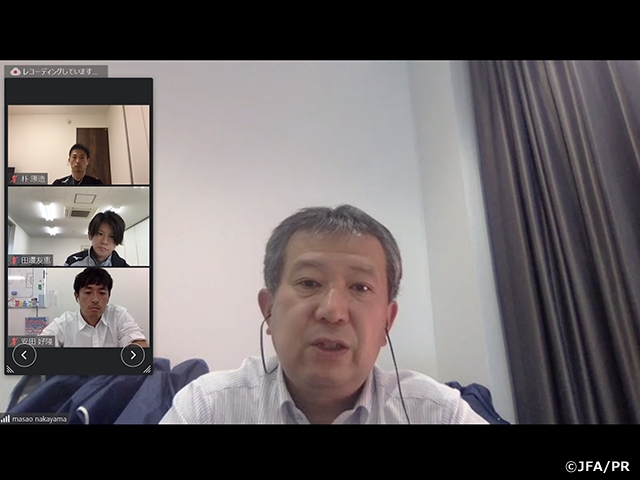 The sixth intensive course of the S-Licence Coaching Course 2020 Module 2 took place for four days from 19 October. Lectures continued to be held online, where participants actively exchanged opinions in the group discussion sessions, while the online course also provided a platform for participants to communicate with each other before and after each lecture session.
Module2 Intensive Course⑥
Duration: Mon. 19 - Thu. 22 October
Mon. 19 October
Media theory: Professor YAMAMOTO Hiroshi (Hosei University)
Professional coaching theory: SUZUKI Jun (JFA Class-S Instructor)
Tue. 20 October
Promotional activities carried out by JFA:
Director NAKAYAMA Masao (JFA Promotion Department)
Mental Training: Ms. TANAKA OULEVEY Miyako
(Certified mental training consultant in sport)
Wed. 21 October
Sports Paramedic Course: FURUYA Shinsuke
(JFA Sports Paramedic Project/Kansai University of Health Sciences)
Thu. 22 October
GKs at the Professional level/What coaches demand from GK coaches
KAWAMATA Noriyuki (JFA GK Project leader)
Next week we will share the report of coach PARK Kang-Jo (Vissel Kobe SS U-15 UMDS).
Comment
Mr. NAKAMURA Shin (Sanfrecce Hiroshima/JFA National Training Centre Coach)
First of all, I would like to thank everyone involved in making this S-Licence Coaching Course 2020 possible during this pandemic. The third week of the Module 2 online course started with Mr. YAMAMOTO Hiroshi's lecture on "Media theory." Mr. Yamamoto is well known from his role as a broadcaster during the 1986 FIFA World Cup Mexico™, and he brought up many case studies to allow us to understand how to prepare and present ourselves in front of the media.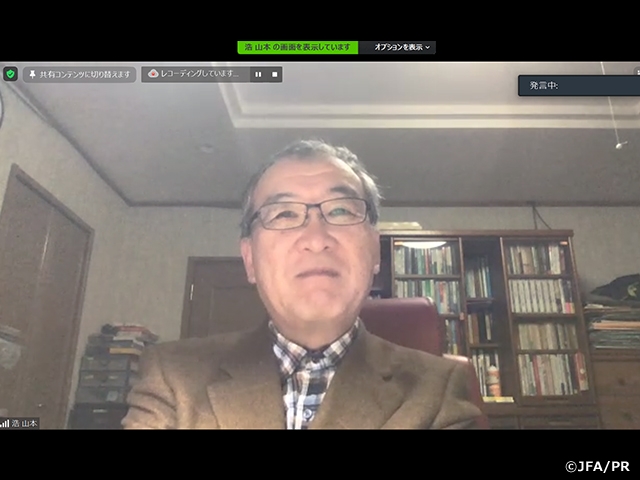 The second lecture was regarding "Team management," where Mr. SUZUKI Jun lectured us about the relationships between coaches and the club, staffs, and players. By sharing his own experience and adding humour to the topic, his lecture was very useful and gave us great insights.
The second day started with a lecture on "Promotional activities carried out by JFA" held by Professor NAKAYAMA Masao. Although there are many grassroots activities held by the JFA, such as the UNIQLO Soccer Kids, more promotional activities must be carried out to increase the number of the football population and reach the world standards. This lecture made us realise that we must be more involved in these grassroots activities.
We then took our second lecture on "Mental Training" held by Ms. TANAKA OULEVEY Miyako. Here we learned how mental training can not only prepare both the coach's and players' mentality, but also control motivation and confidence level of each individual. This lecture was particularly intriguing for me.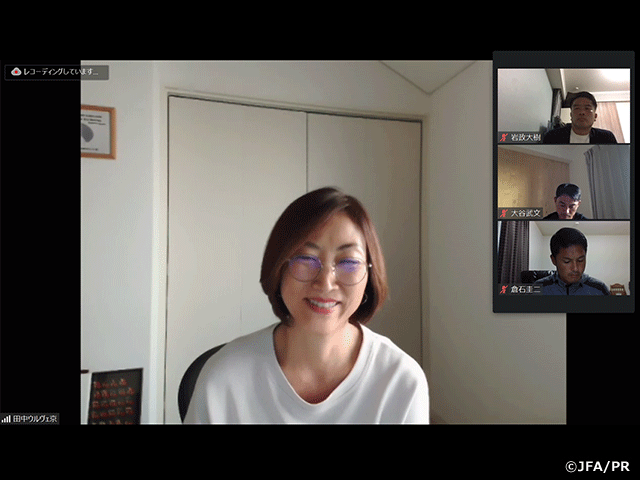 Day three started with Mr. FURUYA Shinsuke's lecture on "JFA Sports Paramedic," where we learned about cardiopulmonary arrests, concussions, and heat-stroke. Despite being fully prepared, unforeseen circumstances can occur at any time. That is why we must learn how to react in the quickest way possible, as one second can change the entire outcome.
On the final day, JFA GK Project Leader KAWAMATA Noriyuki lectured us on "Essential quality of a professional GK" and "What coaches demand from GK coaches" Through this lecture, we learned the current situation surrounding the GK position in Japan, and the difference between the world. We also learned how to build a relationship with the GK coaches and understand their role in the team. In modern football, GK has a significant role in the game, and we were able to reacknowledge their importance through this lecture.
All lectures were so productive, and this week just flew by us. We were able to be more active in our discussions and learned many new findings. In order to utilise these new knowledges, we will continue to broaden our perspectives and keep an open mind for the upcoming courses starting next week.