NEWS
S-Licence Coaching Course 2020 Module 2/Intensive Course (5) Participant's Report Vol. 7
19 October 2020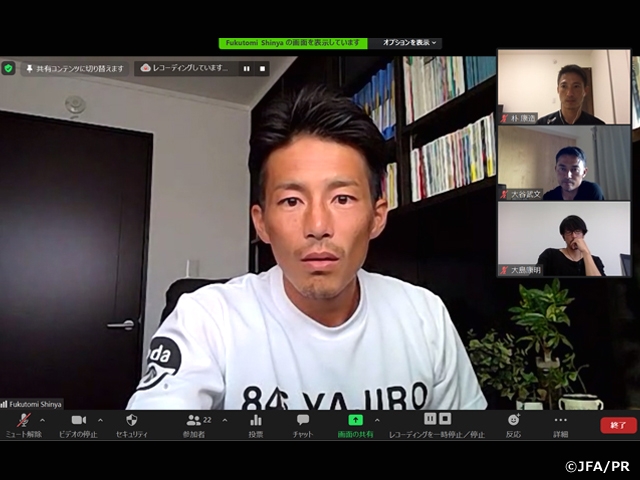 The online section of the S-Licence Coaching Course 2020 intensive course has entered the second half, as participants took part in lectures on "Sport Integrity," which is a topic newly added to the course this year, and learned the legal perspectives and measures taken against various harassments.
Module2 Intensive Course⑤
Duration: Mon. 12 - Thu. 15 October
Mon. 12 October
Discussion, Team-Building: FUKUTOMI Shinya (Tokyo Denki University)
Tue. 13 October
Sport Integrity SATO Yamato/YAMAMOTO Kenta (Ray Law Office), Discussion
Wed. 14 October
Professional coaching theory: Coach MORIYAMA Yoshiro (U-16 Japan National Team)
Play analysis
Thu. 15 October
Club licensing regulations/Club operation: OHSHIRO Ryota (J.League Club Operation Department)
Club Management: KIMURA Masaaki (J.League Managing Director)
Next week we will share the report of Mr. NAKAMURA Shin (Sanfrecce Hiroshima/JFA National Training Centre Coach).
Comment
TANABE Tomoe (Nojima Stella Due)
We are not two weeks into the online course of module two. We started the first day with a discussion session, where we discussed the topic of "Player development in the post youth category," which was a topic raised during last week's lectures. The participants exchanged opinions on environmental requirements to raise the level of Japanese football to the world stage and ways to create more intense match platforms for the players. These discussions have made us realise that we must all think about the Japanese football infrastructure in a broader sense. We then held our second team-building lecture. Using an analogy of an athletic relay race, we were grouped into small groups to overcome tasks we cannot overcome as an individual. "Mental safety is an essential aspect for an organisation." This was something that struck me the most during this session. Even adults can be hesitant to raise their voice at times, and it made us realise the importance to create platforms where all players can speak up and share their opinions.
The second day started with a lecture on sports integrity, where Mr. SATO Yamato and Mr. YAMAMOTO Kenta from Ray Law Office lectured us on various types of harassments using case studies. The word harassment can be defined in many ways, and in order to protect our players and ourselves, we must first understand the meaning of harassment. This lecture gave me a great opportunity to reflect on my past behaviours as a coach.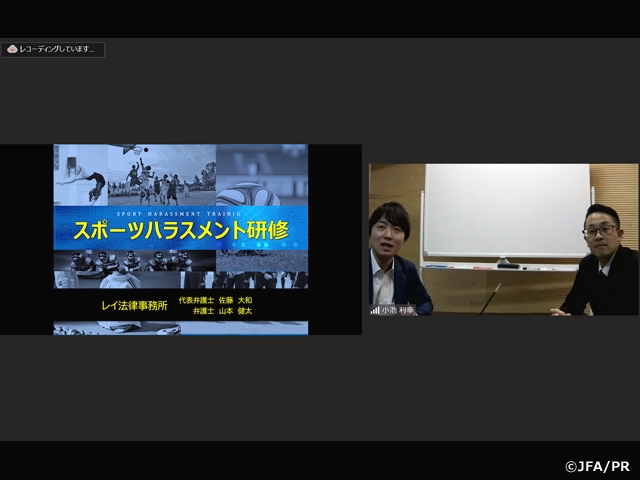 On day three, Coach MORIYAMA Yoshiro of the U-16 Japan National Team gave us a lecture on professional coaching theory, where he shared his experience with youth development, mentioning that youth development starts with understanding the team concept and raising individual talents. I was very moved when he mentioned that coaches must work the hardest when developing youth players. We then spent our time analysing plays from J.League matches, as we held an open discussion to share our opinions. The act of expressing and exchanging opinions can broaden our perspective. It is not about being right or wrong, but it is important that a coach can communicate with his/her players and staffs in a way that can inspire and motivate them to take action. This lecture made me realise the importance to nurture a perspective to critically analyse football and communication skills to convey your thoughts.
On the final day, Mr. OHSHIRO Ryota from J.League lectured us on the club licensing programme, while Managing Director KIMURA Masaaki lectured us on club management. As a professional club, how can we contribute to the local region? Striving to become the world's fairest club in terms of financial fairplay. The importance to cherish the local people and showing gratitude towards their support. A professional league is about to kick-off, so Women's football must also embrace for a major change.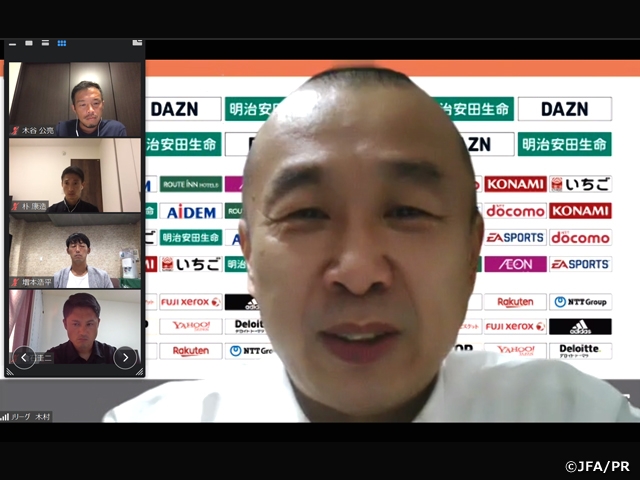 At the S-Licence Coaching Course, we are given the opportunity to take lectures from various fields and it really allows us to broaden our perspectives. Although there are limited opportunities to get in touch with everyone in real life, we can make the most of this online learning experience by implementing the new findings to our daily coaching routines on the very next day. We still have plenty left in this course. We will continue to thank everyone involved in making this course possible and strive to become a better coach.