NEWS
Message from Chairman MAYUZUMI Toshiyuki of JFA Referees Committee
12 May 2020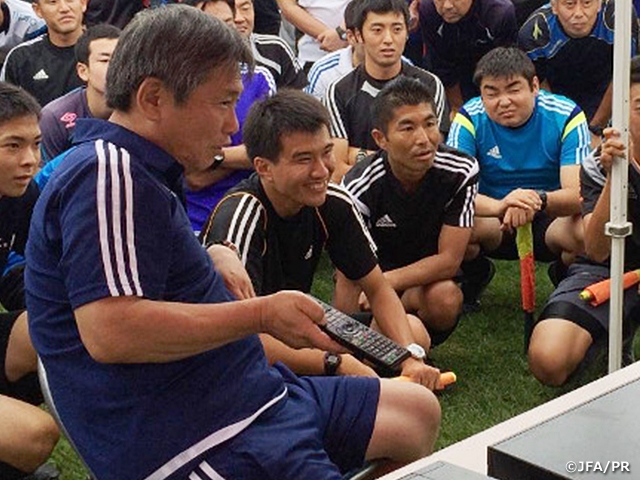 JFA consists a total of 20 committees, each specialising in their own expertise. In concurrence with the reappointment of President TASHIMA Kohzo on 29 March, the head of each committee was named under the new regime. Starting from 11 May, we have been introducing the roles of each committee, along with a message from the chairperson. Today we will introduce the Referees Committee.
The JFA Referees Committee strives not only to develop referees and referee instructors, but it also serves the role of constructing better football environments by spreading the knowledge of the Laws of the Game towards players, coaches, and media members. The committee has been working to implement new technologies such as video assistant referee (VAR) to raise the overall level of Japanese football, from grassroots to the top level.
Message from Chairman MAYUZUMI Toshiyuki (newly appointed)
My name is Mayuzumi, and I was newly appointed as the chairman of JFA Referees Committee. I feel very honoured to be in this position to lead the Japanese referee community. In 2019, we reached a total of 308,598 registrants of referees and referee instructors, and we would like to thank all of the staffs involved at the regional and prefectural level to make this happen.
Many people are involved in football in so many different ways, from the professional level to grassroots, men and women of all ages, with or without disabilities, as a player, an observer, or a supporter. In such vastly diverse sport, referees serve the role to give judgments in accordance to the spirit of sportsmanship, while providing a safe and joyful experience for everybody involved. We are given such difficult task, but it is a worthwhile challenge that can give us great sense of accomplishment when achieved.
In order to develop the overall level of football in Japan, raising the quality of referees is one thing, but it is also essential to spread better understandings towards the referees as well. I will move forward with a clear vision and give my full commitment to manage the referee organisation.