NEWS
Mr. NISHINO Akira, Mr. OKADA Takeshi, and Mr. SASAKI Norio inducted into the Japan Football Hall of Fame - The 16th selection of Japan Football Hall of Fame inductees
26 September 2019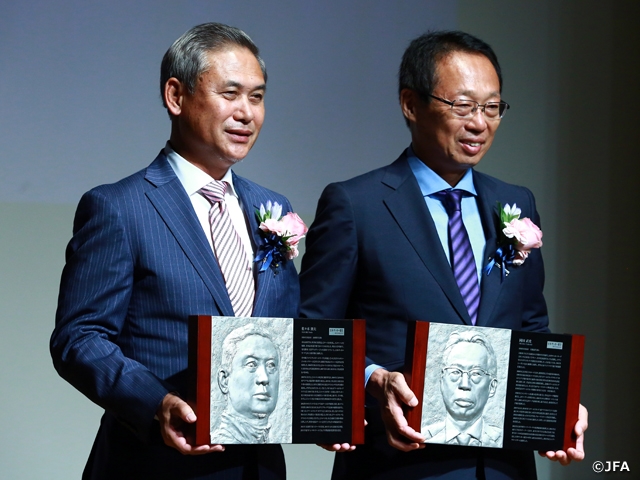 On Tuesday 10 September, on the anniversary of the foundation of the Japan Football Association (JFA), "The 16th Japan Football Hall of Fame Induction Ceremony" took place at JFA House with the presence of the JFA Honorary Patron, Her Imperial Highness Princess Takamado.
At this selection, three individuals; former coach of the Japan National Team and current coach of the Thailand National Team, Mr. NISHINO Akira, former coach of the Japan National Team and current CEO of Imabari. yume sports Inc., Mr. OKADA Takeshi, former coach of the Japan Women's National Team and current member of the JFA Executive Committee, Mr. SASAKI Norio, were inducted into the Japan Football Hall of Fame.
On this day, Mr. OKADA and Mr. SASAKI were present at the induction ceremony, while Mr. NISHINO was absent due to his participation at the second round of the Asian qualifiers for the FIFA World Cup Qatar 2022TM., but the former coach of the Japan National Team shared his excitement through a speech recorded on film.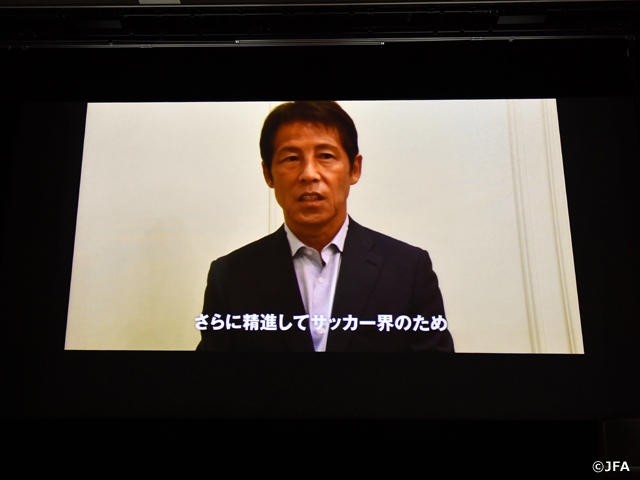 Words of JFA Honorary Patron, Her Imperial Highness Princess Takamado
I would like to truly congratulate Mr. NISHINO Akira, Mr. OKADA Takeshi, and Mr. SASAKI Norio for their induction to the Japan Football Hall of Fame. Mr. NISHINO and Mr. OKADA were the coaches of the "Japan National Team," while Mr. SASAKI was the coach of the "Nadeshiko Japan." A national team coach must assemble individual talents to build a team, analyse opposing teams within a limited time, construct the team strategy, and make decisions on how to approach each match. I can only begin to fathom the pressure they endure while taking responsibility to lead the team that represents Japan. However, these three individuals have overcome that pressure. I believe that it is no longer a dream to see Japan rise as champions at the FIFA World CupTM.someday. I am also looking forward to seeing a Japanese coach being offered with a coaching position for the national team of football powerhouses in Europe and South America. I sincerely hope that the induction of these three individuals can motivate variety of people and help energise the Japanese football community.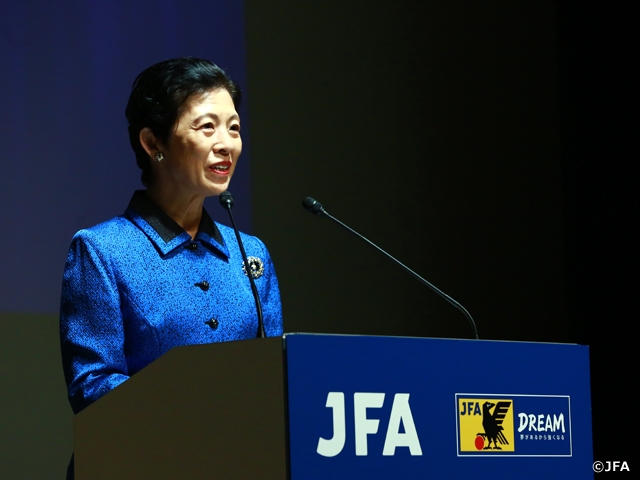 Inductees' Comments
Mr. OKADA Takeshi
As a child, I always wanted to become a professional baseball player. I even joined the children's fan club of Nankai Hawks. That is why I have never been good at playing football. The reason why I joined the Furukawa Electric Soccer Club (the predecessor of JEF United Chiba) was because I wanted to become a president. My career as a player ended when I was told to retire because young talents were piling up behind me. While I was inclined to take part in corporate affairs, I was told to become a coach, so I had to make my return to the football fields. This was back when it was uncertain if there will be a professional football league or not, so I was assuming that I will have my opportunity to go back to the company someday. It might be inappropriate for me to make comments on the current Japan National Team, who are entering the qualifiers (for the FIFA World Cup Qatar 2022TM), but I have never seen a team with so many individual talents. There are ways to restrain teams that rely heavily on individual talents, but this Japan National Team has the strengths to overcome such barrier, even if they are analysed by their opponents. The team will be thoroughly analysed by the opposing teams at the final qualification round, but I have great faith in coach MORIYASU Hajime. They have become an entertaining and exciting team.
Mr. SASAKI Norio
Back when the Japan Women's National Team weren't capable of getting through the qualifiers, coach OHASHI Hiroshi (coach at the time) offered me with an assistant coach position. As I observed the training camp held at J-Village, I was getting the feeling that this team has the potential to become No.1. I had experience coaching for NTT Kanto and Omiya Ardija Youth, where NTT was a team with mainly office workers, and Omiya was a team consisting third and fourth tier players at the prefecture. With my coaching background, I had a feeling that my style might be suitable for women's football and I might be able to help the team. After sitting on the idea for a year, I decided to work with coach OHASHI. With the support of my family, I was able to become a coach and I am very grateful to be given such opportunity. I truly hope that coach TAKAKURA Asako can win a medal at next year's Tokyo Olympics. Such accomplishment will certainly revitalise the Japanese women's football community. I will be supporting the team behind the scenes.