NEWS
JFA-SMC Satellite Course held in Okinawa
22 May 2014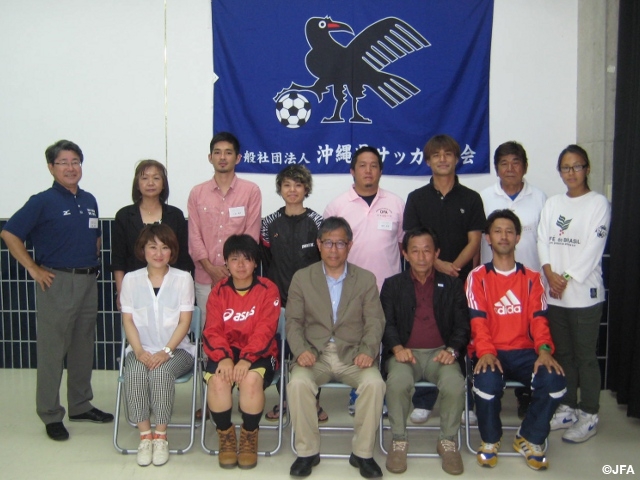 The JFA Sports Managers College (SMC) Satellite Course was held in Urasoe, Okinawa with the JFA-SMC Satellite Course instructor Tokuda Yasushi lecturing to participating eight students. The course consisted of six sessions, Session 1 to 6, including the opening ceremony on 10 May and the completion ceremony on 18 May as Tokuda spoke to students for the total eighteen hours. The subject of the lecture centred on the course's vision, which is "the ability to envision an independent and attractive sport organization and the fundamental skills necessary to manage the sport organization." The first day of the course also had a socialising party where Tokuda, organising staff members and students openly shared their views and opinions on sport management.
Instructor Comment
TOKUDA Yasushi, SMC Instructor
Last year we had 24 students, so it was a challenge to manage time for all the presentations. This year we could allocate enough time to all students and also closely observe the personality of them all. I hope they will take advantage of this course and open the door to the career in sport management.


Participants Comments
●I play soccer for my high school girls' team. My coach recommended me to take this course. I am very glad that I completed this SMS Satellite Course. I tried to analyse many things and listened to people who were older and more experienced than I. Sometimes I couldn't understand them all, but this will be good for my future career in sports. So I will take the main SMC course next time. I would like to thank Instructor Tokuda.
●I learned how we can move closer to materialising our original vision by deeply analysing things that we normally don't pay much close attention and reorganising them. This method is useful in raising children and making a life plan as well as managing a sport organisation and coaching athletes. I would like to take the SMC main course as well to always have a clear goal in my life.
●I had never tried to think about what I wanted to do in such concrete terms, so it was very helpful. I discovered many things, too. Not just thinking about my vision, now I will think specifically about how to make that vision come true. I would like to thank Instructor Tokuda Yasushi so much. I will start saving to take the SMC main course.