NEWS
【Match Report】With goals from Minamino and Ito, SAMURAI BLUE defeat Saudi Arabia to move one step closer to their seventh consecutive appearance in the FIFA World Cup
02 February 2022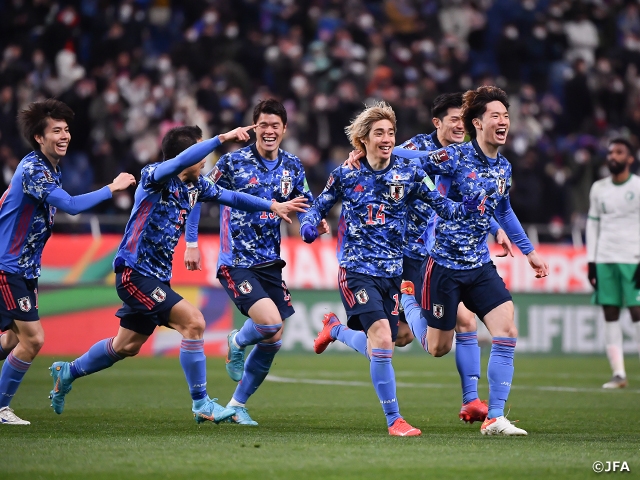 On Tuesday 1 February, the SAMURAI BLUE (Japan National Team) played their eighth match of the FIFA World Cup Qatar 2022™ AFC Asian Qualifiers (Road to Qatar) against the Saudi Arabia National Team at Saitama Stadium 2002. MINAMINO Takumi (Liverpool FC) and ITO Junya (KRC Genk) each scored a goal to help Japan earn a 2-0 victory over the Group B leader, as the team remained in second place with their fifth consecutive victory. Japan are now in position to clinch the FIFA World Cup Qatar 2022™ with a win in their next away fixture against Australia with one more match to be played in the qualifiers.
Japan demonstrated a much improved performance in the second leg against Saudi Arabia, who handed Japan their second loss in the Asian Qualifiers in October.
Being in position where they can qualify for the World Cup with just another win, Saudi Arabia applied intense pressure from the start and collected the ball to their left full-back Yasser AL-SHAHRANI to initiate their attacks. Although Abdulelah AL MALKI was forced off with an injury in the 23rd minute, Al-Shahrani made an attempt from the edge of the box in the 27th minute following a clearance from a corner kick.
However, Japan managed to keep their composure and gradually picked up their pace to dominate the midfield. Midway through the first half, OSAKO Yuya (Vissel Kobe) and Ito created multiple chances by making runs into the open space behind the opposing defence line, including back to back chances created by Ito in the 29th and 30th minute.
With momentum on their side, Japan scored the opener in the 32nd minute, when Ito responded to a pass delivered by SAKAI Hiroki (Urawa Red Diamonds) in the right side. Taking advantage of his speed, Ito ran passed the opposing defender to deliver a cross into the box, which was dummied by Osako to deceive the opponents, allowing Minamino to receive the ball just inside the box. Calmly assessing the situation, the Japanese #10 faked a shot to cut back the ball to his left side, before striking a left footed shot that found the back of the net, scoring his first goal since the second qualifying round against Tajikistan last June, when he scored in seven consecutive matches.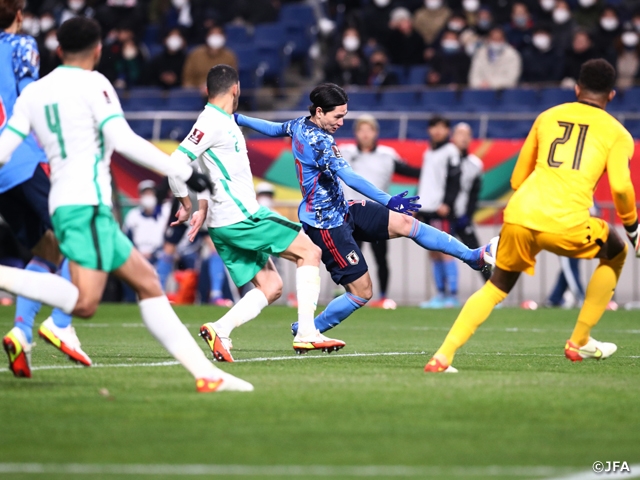 After finding their rhythm, Japan continued to play aggressively in offence, while setting up a block in defence, with the centre-back duo of TANIGUCHI Shogo (Kawasaki Frontale) and ITAKURA Kou (FC Schalke 04), who started for the second match in a row, showing great composure to win the ball and initiate quick attacks. Ito's close opportunity in the 40th minute also came from a short counter that was initiated by TANAKA Ao (Fortuna Dusseldorf).
Having taken a 1-0 lead in the first half, Japan came out firing again to start the second half. In the 48th minute, Sakai made an overlapping run down the right side before sending a superb cross towards the centre, which found Minamino wide open in the far side, but the midfielder failed to hit the target.
The home side's second goal came just two minutes later. After forcing a turnover deep in the opposing territory, the ball was connected through ENDO Wataru (VfB Stuttgart) and Minamino, before finding NAGATOMO Yuto (FC Tokyo) at the left side. The ball delivered by the veteran full-back found Ito, who struck a powerful shot from the edge of the box that pierced the upper corner of the Saudi goal.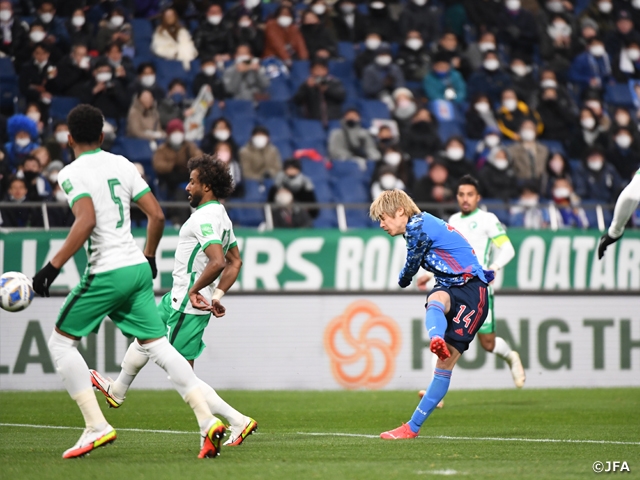 In efforts to rally back, Saudi Arabia brought in Hattan BAHEBRI and Khalid ALGHANNAM to rejuvenate their offence. Mid-way into the second half, Saud ABDULHAMID responded to a cleared ball to strike a shot from distance, but Japanese goalkeeper GONDA Shuichi (Shimizu S-Pulse) was there to make the save.
Leading by two goals, Japan continued to maintain their composure to control the match, as coach MORIYASU Hajime introduced MAEDA Daizen (Celtic FC) and NAKAYAMA Yuta (PEC Zwolle) in the 68th minute, followed by ASANO Takuma (VfL Bochum) in the 78th minute to add more speed to their frontline.
Asano came close to scoring in the 82nd minute, when he responded to the cross delivered by Sakai, while Maeda also tried sending a cross in the 87th minute, but both attempts were denied by the opposing goalkeeper. With HARAGUCHI Genki (1.FC Union Berlin) coming off the bench in the closing minutes, Japan kept Saudi Arabia to just two shots throughout the match, handing the group leaders their first lost in the Asian Qualifiers, while also closing down the gap with Saudi Arabia to just one point.
Elsewhere, third place Australia drew 2-2 away to Oman after conceding a PK that equalised the match in the closing minutes, leaving them three points behind Japan. Oman are now out of contention for the top three spots of the group.
As a result, Japan can qualify for their seventh consecutive FIFA World Cup with one match to spare if they win their next away match against Australia on 24 March.
In Group A, Korea Republic won 2-0 away to Syria to secure a top-two finish behind Iran, who had already qualified for the FIFA World Cup. Iran won 1-0 at home against UAE to maintain a two-point lead over Korea Republic at the top of the table, while fourth place Lebanon drew 1-1 at home against Iraq to close the gap with UAE to three points, keeping their hopes alive for a third place finish with two matches remaining.
Japan is now set to play their next series of matches on Thursday 24 and Tuesday 29 March. The top two teams from each group will automatically qualify for the FIFA World Cup, while the third place teams will compete for their spot into the intercontinental play-off against the fifth place team from the South American qualifiers for the remaining slot.
Coaches and Players' Comments
MORIYASU Hajime, Coach of SAMURAI BLUE (Japan National Team)
We were able to play the matches against China PR and Saudi Arabia at home, despite the fact that the pandemic made it difficult to host matches in Japan. The players were able to win the match with the help of the supporters' cheers at Saitama Stadium. We would like to thank all the people who made these matches possible. After the match against China PR, the players have been able to reset their minds, worked very hard with a good amount of tension and concentration, which helped to create a good vibe for this match. Saudi Arabia is a very high level team, but the fact that we had prepared ourselves with the intension of facing even stronger opponents had helped us to achieve this victory. We knew that our opponents have good attacking players on the flanks and that they rely heavily on side attacks, so we knew that we could exploit that space as our attacking option. The players made good decisions when making the transition from defence to offence, which led to that counterattack that gave us the first goal.
DF #4 ITAKURA Kou (FC Schalke 04/Germany)
I came to these two matches thinking that I had a chance to play and that we had to win three points at all costs, I am happy that we were able to achieve that in both matches. We were all focused for the entire match and the defence line kept communicating with each other throughout the 90 minutes. I think those small things led to us keeping clean sheets in back to back matches. The Saudis were more powerful than the last time we faced them and with so many good players, we expected that there would be times when we would be pinned back. The defenders did well to hold their ground, and even when we lost possession of the ball, we kept the pressure on, which helped us create more opportunities upfront. I don't think there were any notable mistakes. Winning these two matches is great, but we still have two more matches to play, and we are not guaranteed a place in the World Cup yet, so we will continue to work towards that.
DF #5 NAGATOMO Yuto (FC Tokyo)
The atmosphere at the stadium was fascinating, and I was determined to give my best performance today. I received a lot of criticism, but that criticism lit a fire in my heart. It really fuelled me to do better, and I felt that I needed that motivation, as I believe that I perform better under pressure. I fought with all my heart because I knew that this was a life or death situation for me, as I entered the match thinking that I shouldn't be on the national team if I couldn't perform well today. The players on the other side gave me enough time to push forward, and everyone, including Minamino, played very well. This match made me realise that the actions on the left side depend on whether I play dynamically or stagnant, and that I need to be as dynamic as I was today. I really felt like I can still do this.
MF/FW #6 ENDO Wataru (VfB Stuttgart/Germany)
After losing the first leg away from home, we entered this match determined to repay them at home and managed to score two good goals to lock up the victory. The three midfielders were always aware of the distance between themselves, so we managed to keep a good balance in the midfield to act as a hub to connect the ball from the defence line to our front line. There were moments both in the first and second half when we had to drop back in defence to lay a block, but the team was clearly on the same page to commit ourselves in defence while seeking for our opportunities to counter. We managed to win two matches in a row, and now our captain will be back. I hope we can all come back together and qualify for the World Cup.
MF/FW #10 MINAMINO Takumi (Liverpool FC/England)
It was a match we wanted to win at all costs, so as an attacking player, I wanted to contribute to the team by scoring a goal. I wasn't too concerned about the fact that I hadn't scored in the final round, but I wanted to contribute to the team, so I'm glad I was able to score regardless of the circumstances. We are always thinking about our positioning and timing so that we can play to our strengths, both as a team and as an individual. I was focused on creating opportunities from midfield, executing the plays in the final third, and allowing Nagatomo to play as high up the pitch as possible, which are some of the things I improved from the previous match. Although we managed to secure three very important points today, nothing is set in stone yet. We hope to win our last two matches to qualify for the World Cup.
MF/FW #13 MORITA Hidemasa (CD Santa Clara/Portugal)
From our training sessions, we had been focusing on winning the ball and initiating attacks from the near side. That's how we got the lead against China PR, and we knew that it was an effective area to penetrate, so I am glad it worked out again in today's match. Ito has a lot of speed and good at penetrating the corners, which were very effective against today's opponents. Maeda also had a one-on-one opportunity in the second half, so we are creating very good chances. Among the three inside-midfielders, I was focused on positioning myself in a higher position. Tanaka and I are always on the same page, and with Endo standing firmly behind us, I think the relationship between the three of us is getting better each match.
MF/FW #14 ITO Junya (KRC Genk/Belgium)
With the team being in a must win situation, everybody worked extremely hard today. In the scene where we scored the first goal, I was able to get passed the opposing full-back and saw both Osako and Minamino at the centre and delivered the cross thinking that they might be able to score if I send the ball there. In the scene where I scored, I knew I had to take a chance in order to score, so I just focused on making good contact, which turned out pretty favourable for me. I was happy to score a goal because I entered the second half hoping to score the second goal, but I feel I got very lucky with that shot.... So, I was more pleased with my assist and crosses I delivered from the flank. We found ourselves in a very difficult situation after losing two of the first three matches, but because everyone stuck together and never gave up, we are now getting closer to making the World Cup.
Herve RENARD, Coach of Saudi Arabia National Team
Japan deserved the victory, and I would like to congratulate them. We knew it was going to be a difficult match, but the injury we suffered in the first half really hurt us. We were without Salman AL-FARAJ in the first place, and now we have lost Al Malki. Our weaknesses were really exposed in today's match. Football is a simple game, you can't move on if you lack skills or can't win the ball. We knew from the start that the competition between the three teams would be close. This result doesn't change our position as leaders, we still have two more matches to play and all three teams have important matches ahead of them.
Asian Qualifiers - Road to Qatar [2/1]
SAMURAI BLUE (Japan National Team) vs Saudi Arabia National Team
Date: Tue. 1 February, 19:10
Venue: Saitama Stadium 2002 (Saitama)