NEWS
SAMURAI BLUE resumes training in Osaka
06 June 2021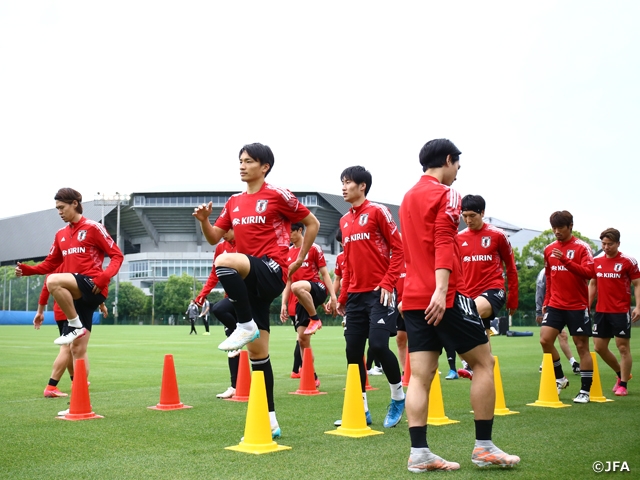 Following their match against the U-24 Japan National Team on Thursday 3 June, the SAMURAI BLUE (Japan National Team) travelled from Hokkaido to Osaka on Friday and resumed training on Saturday to prepare for their match against the Tajikistan National Team. On this day, the team was separated into two groups, as coach UENO Yusaku looked over the offence, while coach SAITO Toshihide looked over the defence.
During supper time, the team watched the match between the U-24 Japan National Team and U-24 Ghana National Team. With YOSHIDA Maya (U.C. Sampdoria), SAKAI Hiroki (Olympique de Marseille), and ENDO Wataru (VfB Stuttgart) being dispatched as the over-age (OA) players, the players paid close attention to the match, and praised the performance of the U-24 side after watching them win the match 6-0.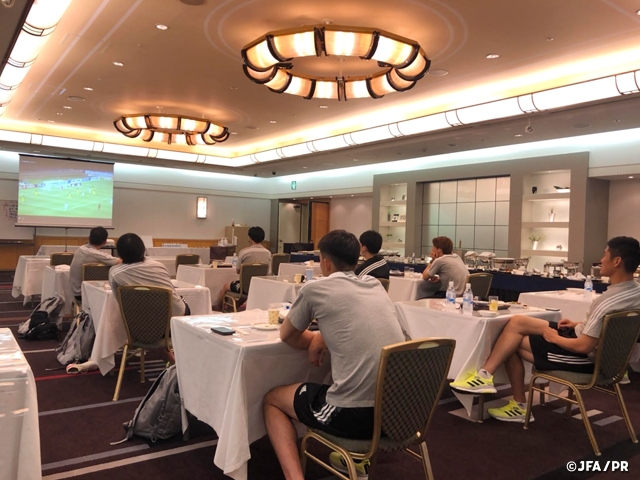 The SAMURAI BLUE will hold a training session at Panasonic Stadium Suita on Sunday before entering the FIFA World Cup Qatar 2022™ Asian qualification match against the Tajikistan National Team on Monday.
Players' Comments
GK GONDA Shuichi (Shimizu S-Pulse)
In football, a lot of things can change in one match. Things can all of a sudden change for the good or the bad. Just because we have been playing well lately, it doesn't mean that we can sit on our laurels. That is why we must be careful but maintain our aggressive approach. When thinking about the competition at the final round, we cannot be over-dependent on a single player. We must be prepared for situations where multiple players are unavailable, especially during this era of covid-pandemic. The fact that we need to prepare ourselves for various scenarios gives us a great opportunity to raise the overall level of the national team.
DF NAKATANI Shinnosuke (Nagoya Grampus)
This is an opportunity for me, so I will try to showcase a strong performance and earn results in the next three matches. I feel strongly that communicate skills are essential when playing for the national team, and I need to be more vocal about my thoughts. The team consists great talents in the attacking third. There are players who are really good at receiving the ball between players, while the team is focused on making quick transitions when losing the ball. It also seems like each player is committed to winning the ball in a one-on-one situation. With that being said, it is my job as a centre-half to deliver the ball to the attacking third as quickly as possible, while also focusing on stabilising our build-up plays. We often see our offence pressing up to apply pressure, so the defence line must also press up to force more turnovers in the opposing end.
MF KAWABE Hayao (Sanfrecce Hiroshima)
It is a good thing that I am getting more playing time. It gives me more time to make a case for myself, while also helping the team win a match. I will continue to fulfil my duty while displaying my strengths. We need to be more vocal and make our midfielders pressure the ball, so that the defenders can also press up. In order to make the team better, I think it is important that speak up and communicate our thoughts.
MF SAKAMOTO Tatsuhiro (Cerezo Osaka)
In our last match against the U-24 Japan National Team, we were forced to play defence for a long time, and I feel like I wasn't able to display a strong performance. With this being my first callup to the Japan National Team, I am amazed by the intensity level and speed of the players here. If I can showcase my usual performance among these players, I feel like I can reach a higher level. We have many players with speed and different talents playing in the flank. I am not the fastest player around, but I know I can be effective if I keep my composure and play with a wider perspective. I hope to make the best decision at any given time and create plays that will lead to goals. I will continue to play with a strong determination to earn positive results with this team.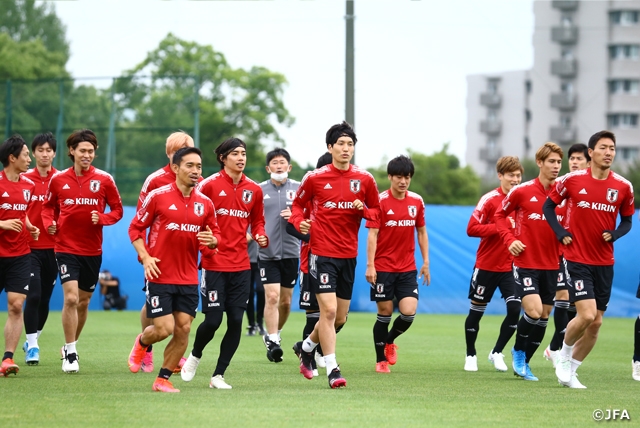 FIFA World Cup Qatar 2022™ - Preliminary Competition/AFC Asian Cup China 2023 Qualifiers/Preliminary Joint Qualification Round 2
Mon. 7 June 2021 [19:30] (Subject to change)
SAMURAI BLUE vs Tajikistan National Team
Venue: Panasonic Stadium Suita (Osaka)