NEWS
SAMURAI BLUE work through tactics behind closed doors before the Oman match
10 November 2016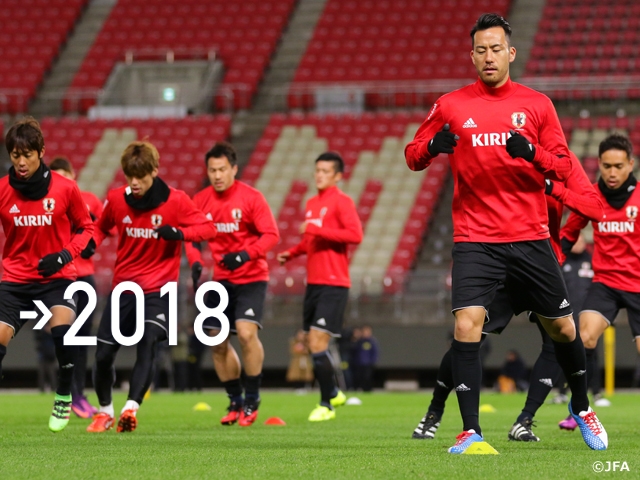 SAMURAI BLUE (Japan National Team) had training on Wednesday 9 November at Kashima Soccer Stadium in Ibaraki two days ahead of a friendly against Oman at the Kirin Challenge Cup 2016. The team went through tactics, behind closed doors except for the first 15 minutes.
The friendly against Oman will be the last test match before the fifth match of the 2018 FIFA World Cup final Asian qualifying round against Saudi Arabia to be held on the 15th in Saitama.
A total of 23 players ran on the match site pitch at the start of the practice session, while midfielder HASEBE Makoto (Eintracht Frankfurt) worked out separately considering his imperfect condition. Midfielder KAGAWA Shinji (Borussia Dortmund) did not show up at the ground and tuned up at a gym due to a leg injury suffered in his Bundesliga match late October.
"We are in good form," Hasebe says. "New faces came in, and we are going to have a lot to try out in the Oman match. That makes the Japan National team more competitive, which is a big plus."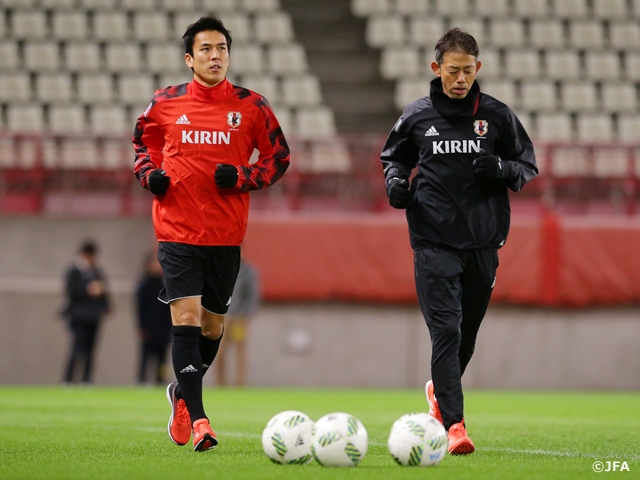 Defender NAGATOMO Yuto (FC Internazionale Milano), who has not made an appearance in this final qualifying round, says, "first, we've got to get good results. I want young players to go aggressive. Just like when we joined the national team for the first time, I want them to have an attacking mentality that each one of them aims to take the central role in the team."
Forward KUBO Yuya (Berner Sport Club Young Boys), who has been selected to the national team for the first time under Vahid HALILHODZIC, did not play the Rio Olympics this summer due to his club's reasons even though he was named for the squad.
"It was disappointing, but the only thing left for me was the senior national team. So I refreshed my mind soon after that," Kubo says. He has scored goals in his three straight Swiss league matches. Commenting on his first call-up to the team since February 2012, "first, I've got to play on the pitch, needless to say." "The only thing I'm thinking about is to showcase myself in training," he added with enthusiasm.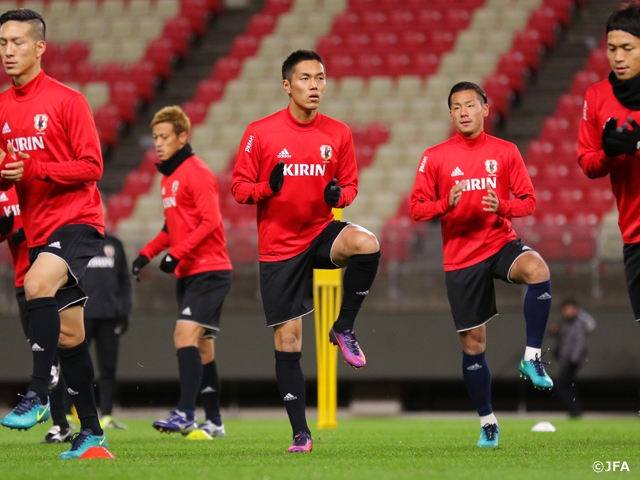 On a side note, jersey numbers for the Oman match was announced. While forward OSAKO Yuya (1. FC KOLN), who came back to the team for the first time since last June in the second Asian qualifying round, was given number 15, KOBAYASHI Yuki (Sport Club Heerenveen) plays in the number 14 shirt on his first call-up after the Kirin Cup in June of this year. New faces IDEGUCHI Yosuke (Gamba Osaka) and Kubo wear numbers 24 and 25, respectively.
The Oman match will kick off at the Kashima Soccer Stadium at 7:20 p.m. on Friday 11.
Players' Comments
FW KUBO Yuya (Berner Sport Club Young Boys)
I was simply happy to be selected. I think I was called up because I got results with my team. I scored for my team with the aid of my teammates and, I think I have fit to my team and performed well. My team put two strikers, so you may think I prefer the two-striker system. But no matter what system the team use, I want to show how hungry I am and shoot from any attacking position on the pitch.
DF NAGATOMO Yuto (FC Internazionale Milano/ Italy)
I played four matches in the last two weeks and also played 90 minutes Thursday for Inter, so there is no problem with my condition. I haven't got playing time in this final qualifying round, so I will focus on helping my team. Regarless of whether I get the chance to play or not, we need to focus on solid defence because we don't want to give up any goal. When looking at the team from the outside, I can see the players feel pressure that they have to get a spot for the World Cup. But you can't threaten the opponents if you don't have the dynamism or the nothing-to-fear mentality. Each one of players needs to have such a mentality and bring all out from the bottom of his heart.
MF HASEBE Makoto (Eintracht Frankfurt)
Our coach changes a way to play depending on a match, so the players need to understand that. It's important for us to be flexible and find a gap on the opposing defence. We gave up four goals from set-pieces, so that's something we need to be careful of. But it's our home. There is a lot of stuff to share in the team on offence rather than defence. I want youngsters to take a full swing and stir up the team to stimulate them.
DF MORISHIGE Masato (F.C. Tokyo)
The national team are always facing challenges and results. And because it's just midway through the final qualifiers, our coach wants to try something new and mature the team. The Oman match gives us an opportunity to adjust what we couldn't do in the past matches like the one against Australia. There is a variety of implications, but the most important thing is to battle with all those in our minds. Basically, we will try to show what our coach wants us to do, but the team don't work out well only with that. I believe not only the coach builds up the team but also the players got to get involved in the process.
GK KAWASHIMA Eiji (Football Club de Metz)
The Saudi Arabia match will be a big turning point for us in terms of the group-stage placement and winning points. And our coach thinks it's going to be a really important match in the sense that we've got to pay back the past losses. We concur with his view. This time, we have a friendly before the qualifying match, so we have more time to prepare. We will try to make sure what to do as a team ahead of the Saudi Arabia match.
Schedule
Sun. 6 November
PM
Training
Mon. 7 November
PM
Training
Tue. 8 November
PM
Training
Wed. 9 November
PM
Training *
Thu. 10 November
TBC
Official Conference (Kashima Soccer Stadium)
Official Training (Kashima Soccer Stadium) *
Fri. 11 November
19:20
KIRIN CHALLENGE CUP 2016
vs Oman National Team (Kashima Soccer Stadium)
Sat. 12 November
AM
Training
Sun. 13 November
PM
Training *
Mon. 14 November
TBC
Official Conference (Saitama Stadium 2002)
Official Training (Saitama Stadium 2002) *
Tue. 15 November
19:35
ASIAN QUALIFIERS (Road to Russia)
vs Saudi Arabia National Team (Saitama Stadium 2002)

*Closed doors except for first 15 minutes
**Schedule is subject to change due to team condition, weather, or any other unforseeable circumstances
KIRIN CHALLENGE CUP 2016
2016-11-11 (Fri.) - 19:20 (Estimated time)
Kashima Soccer Stadium
SAMURAI BLUE (Japan National Team) vs Oman National Team
More Information
※HUGE CROWD and HEAVY TRAFFIC expected for the game. Please check the directions/traffic information below.
Directions/ Traffic Information (Japanese only)
ASIAN QUALIFIERS - ROAD TO RUSSIA
2016-11-15 (Tue.) - 19:35 (estimate time)
Saitama Stadium 2002
SAMURAI BLUE (Japan National Team) vs Saudi Arabia National Team
More Information