NEWS
Full SAMURAI BLUE squad assemble as Honda, Kiyotake arrive
09 November 2016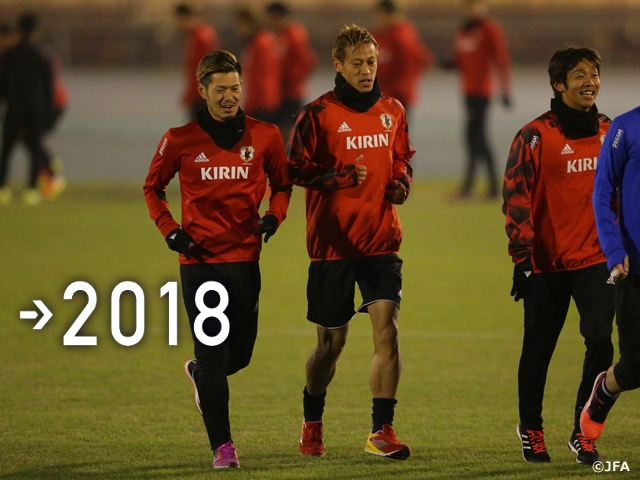 On Tuesday 8 November, SAMURAI BLUE (Japan National Team) welcomed late arrivals of forward HONDA Keisuke, (AC Milan/Italy), midfielder KIYOTAKE Hiroshi (Sevilla FC/Spain) and other players playing overseas who all had been occupied with their club's match schedule. With them, the full 25-man squad assembled for the Kirin Challenge Cup 2016 against Oman (on 11 in Kashima) and the Asian final qualifier match for the FIFA World Cup 2018 against Saudi Arabia (on 15 in Saitama).
In addition to Honda and Kiyotake, forward OKAZAKI Shinji (Leicester City Football Club/England), NAGATOMO Yuto (FC Internazionale Milano/Italy), YOSHIDA Maya (Southampton FC/England), KAWASHIMA Eiji (Football Club de Metz/France), and KUBO Yuya (Berner Sport Club Young Boys/Switzerland) joined the practice, which was their third day of the camp in Kashima, Ibaraki.
They, except for Kubo who arrived the night before, engaged in light workout centred on running with relaxed and delightful look on their face.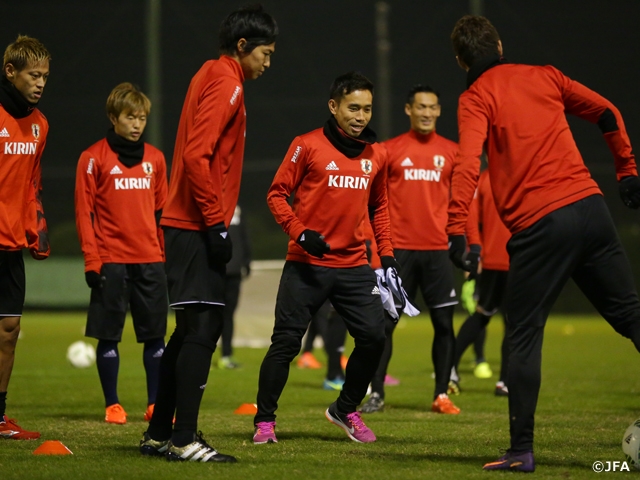 The rest of the team played shorter-duration intrasquad matches in groups of four according to their positions also using four small-sized goals. Switching the breakdown of groups, they worked on battling for the ball in a crowded area, while shifting between offence and defence.
Midway through the session, light rain started to fall, but the enthusiastic practice ended with shooting drills particularly off cross balls.
With the fifth final qualifiers match against Saudi Arabia up around the corner, the KIRIN CHALLENGE CUP 2016 against Oman is held on Friday 11 at the Kashima Football Stadium.
Kiyotake says "I don't play in matches with my club so much these days, so I want to prepare myself well enough to get in prime form. We want to win in a good fashion to go out for the Saudi Arabia match." Honda also commented on his mindset, saying "to post good results, we want to make the best preparation possible. We want to show how we grind and fight hard to get three points."
Meanwhile, defender SAKAI Gotoku (Hamburger Sport-Verein/Germany) says of the Oman match, "we want to play better in terms of what we have done and our combinations." Also he added how he deepened the understanding of the defensive midfielder position by taking that role in last Bundesliga match, saying "that experience of playing the opposite side of things gave me new perspective such as positioning and passing situations."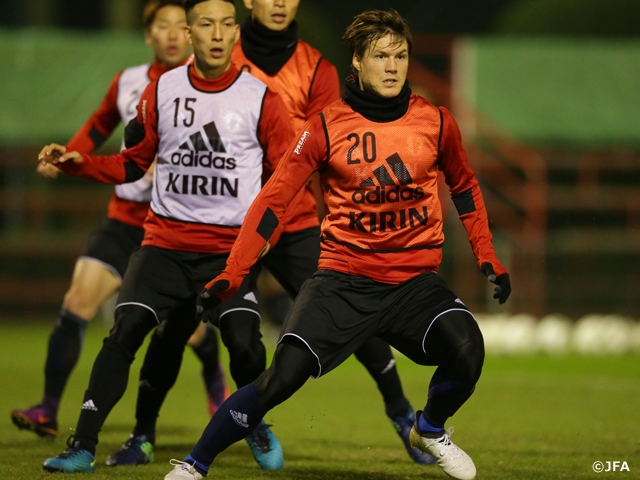 As a side note, on this day, both Saudi Arabia and Oman squads landed in Japan and started their preparation for facing Japan.
Players' Comments
FW HONDA Keisuke (AC Milan/Italy)
This time we have one friendly match prior to it, so we have enough time. But we have to make sure to take advantage of it. I want to tweak a little bit the way we play together, especially how each of us moves when we collaborate our plays and where to take the ball. So I am planning to try it by communicating with guys near me. Who comes back to the national team and who comes in for the first time don't matter. As long as they are here, they are capable of playing. Whoever they are, all of the players here need to play with the mindset that the national team must keep winning. So Iwill try to create that mood within the team.
DF SAKAI Gotoku (Hamburger Sport-Verein/Germany)
In the match against Oman, we want to play better in terms of what we have done and our combinations. So we need to clarify how we play as a team. Saudi Arabia we play against in the second match have outstanding skills and they must be confident now with standing at the top spot in the group. When I watched their matches against Australia and the UAE, their non-hesitant plays had their pieces falling right into places. Also individually they are high-quality players, so we have to be careful. But if you look at the entire 90 minutes, there should be some stretches they don't play well. So that's when we will have chances to attack, in my opinion.
MF NAGAKI Ryota (Kashima Antlers)
It's second time in a row to work with the national team, so I think they know my plays to some degree. This time we have also a friendly match, so there should be chances for me to play. I see this time as a turning point for myself, too. I am used to playing at Kashima Stadium and I think many supporters will come for us, so I want to make sure to show my plays there. My strength is strong intensity on the ball and momentum to move forward. I think I have been learning a lot with Kashima in terms of keeping balance with other players I partner with to build up plays working at defensive midfielder positions. While adjusting my strength to the national team's football, I want to add something more to the team.
MF KIYOTAKE Hiroshi (Sevilla FC/Spain)
I don't play in matches with my club so much these days, but I keep telling myself not to lose stamina, motivation and physical fitness. The other day I played in a Champions League match, but my intuitions were still there pretty much. The match against Oman, hopefully getting a good win, is a good opportunity to see how we have to play against Saudi Arabia. Good young players are making their appearance at the national team. So I want to stay inspired and competitive not to let them get past me.
FW ASANO Takuma, FW (VfB Stuttgart / Germany)
It's a good thing that my generation of players start joining this top national team. The atmosphere will be easier for us to play in, if we get more of the guys of the same age. Also there are guys who are younger than I already on this team so that makes me somewhat happy. Kubo is my teammate, but at the same time he is my rival. We want to compete against each other to move the level of ourselves up higher. Okazaki and Osako have achieved things both with their club and with the national team, so I have to work hard to be better than them. I want to keep showing what I can do first in everyday practices and if I get to play against Oman, I want to improve my plays in order to outsmart and run past the opponents.
JFA-TV (Japanese version only)
HONDA Keisuke (AC Milan) Interview

SAKAI Gotoku (Hamburger Sport-Verein)Interview

KIYOTAKE Hiroshi (Sevilla FC)Interview
Schedule
Sun. 6 November
PM
Training
Mon. 7 November
PM
Training
Tue. 8 November
PM
Training
Wed. 9 November
PM
Training *
Thu. 10 November
TBC
Official Conference (Kashima Soccer Stadium)
Official Training (Kashima Soccer Stadium) *
Fri. 11 November
19:20
KIRIN CHALLENGE CUP 2016
vs Oman National Team (Kashima Soccer Stadium)
Sat. 12 November
AM
Training
Sun. 13 November
PM
Training *
Mon. 14 November
TBC
Official Conference (Saitama Stadium 2002)
Official Training (Saitama Stadium 2002) *
Tue. 15 November
19:35
ASIAN QUALIFIERS
vs Saudi Arabia National Team
(Saitama Stadium 2002)

*Open to the media beginning 15min.
*The schedule is subject to change due to the team condition, the weather, etc.
KIRIN CHALLENGE CUP 2016
2016-11-11 (Fri.) - 19:20 (estimate time)
Kashima Soccer Stadium
SAMURAI BLUE (Japan National Team) vs Oman National Team
More Information
※HUGE CROWD and HEAVY TRAFFIC expected for the game. Please check the directions/traffic information below.
Directions/ Traffic Information (Japanese only)
ASIAN QUALIFIERS - ROAD TO RUSSIA
2016-11-15 (Tue.) - 19:35 (estimate time)
Saitama Stadium 2002
SAMURAI BLUE (Japan National Team) vs Saudi Arabia National Team
More Information