NEWS
SAMURAI BLUE begin final qualifying round with defeat against UAE
02 September 2016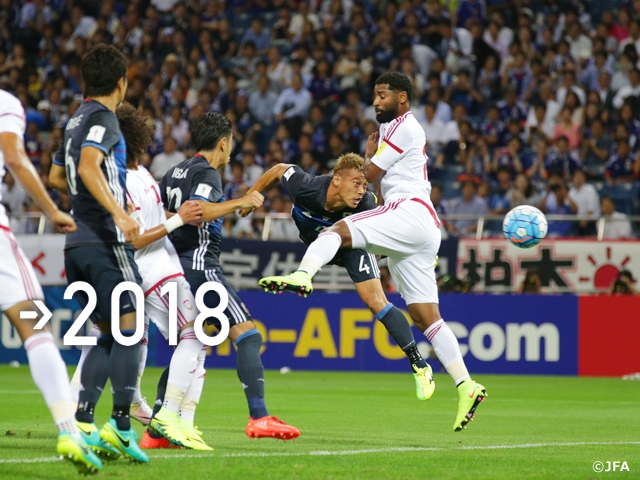 SAMURAI BLUE (Japan National Team) began their final round of the 2018 FIFA World Cup Asian Qualifiers (Road to Russia) with a 2-1 defeat against the United Arab Emirates (UAE) at Saitama Stadium 2002 on Thursday 1 September despite AC Milan forward HONDA Keisuke's early opening goal in the first half.
Japan opened the scoring. In the 10th minute, defender SAKAI Hiroki (Olympique de Marseille/ France) earned a free kick after showing several overlapping moves on the right flank. One minute later, Honda hammered Kiyotake's free kick with his header at the far post after sneaking into the space behind the defenders.
Yet in the 20th minute, the UAE got back on level terms when forward AHMED KHALIL directly drove home a free kick.
Japan created a chance with passes down the line, and midfielder KAGAWA Shinji (Borussia Dortmund/ Germany) tried to tap in a deflection of SAKAI Gotoku's 25-yard shot in the 26th minute, but his shot went just shy of the post.
Shots from forward OKAZAKI Shinji (Leicester City Football Club/ England) and Kagawa in the 32nd and 36th minutes respectively were both denied by defenders. In his 100th international cap, midfielder HASEBE Makoto (Eintracht Frankfurt/ Germany) fired off a deflection of the 37th-minute corner kick first-time, however it also went over the cross bar.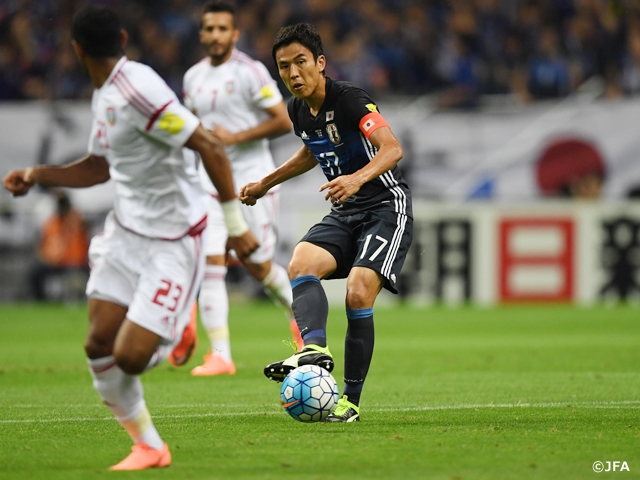 The UAE attempted to threaten Japan with a style of simply passing forward after winning the ball while cutting off shooting angles of Japanese players. In the 41st minute, forward ALI AHMED MABKHOUT's effort was saved by Japan goalkeeper NISHIKAWA Shusaku (Urawa Red Diamonds).
With the first half finishing with 1-1, Japan continued to attack from the start of the second half. Okazaki menaced the opponents through SAKAI Gotoku's cross in the 46th minute, and Hasebe also drove a shot from outside the area in the 47th minute. Yet both efforts did not pay off again.
And when UAE midfielder ISMAIL AL HAMMAD cut into the box in the 53rd minute, three Japanese players crowed around him and robbed the ball, but the play was ruled as a penalty kick. Khalil netted home to give his side a lead.
Japan tried to rally back, with Okazaki heading a cross from Honda, but it hit off the cross bar in the 59th minute.
Japan boss Vahid HALILHODZIC brought on forward USAMI Takashi (FC Augsburg/ Germany) for Kiyotake in the 62nd minute and forward ASANO Takuma (VfB Stuttgart/ Germany) for Okazaki in the 67th minute. Adding to that, midfielder HARAGUCHI Genki (Hertha BSC Berlin/ Germany) subbed in for Oshima in the 75th minute for Japan to look for an equalising opportunity.
In the 77th minute when Honda laid off SAKAI Hiroki's right cross, Asano struck it with his left foot. The ball went inside the goal, but UAE goalkeeper KHALID EISA dived to the left and clawed it away from the goal. Qatari referee Abdulrahman Al-Jassim waved play on, ruling it a no-goal.
In the closing minutes of the match, Haraguchi fired a shot, and Asano came close with a left-footed shot for Usami's long ball, which was saved by UAE goalkeeper Eisa. Japan failed to score by the end of the match, ending up not earning a point.
In other Group B matches, Australia beat Iraq 2-0, Thailand, Japan's away opponents on Tuesday 6, fell to Saudi Arabia 1-0 on the road. As a result, Japan began their qualifying tourney in fourth place following Australia, the UAE and Saudi Arabia, who earned three points each.
On the side note, defender SHOJI Gen (Kashima Antlers) was ruled out due to injury. Instead, defender UEDA Naomichi (Kashima Antlers) was called up and sat on the bench in the UAE match.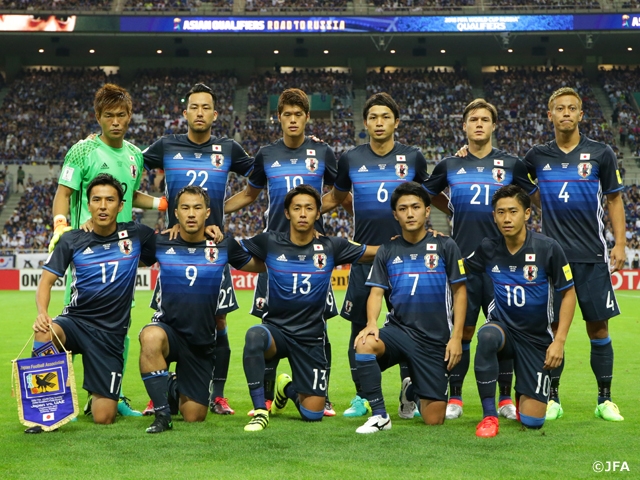 Comments
Vahid HALILHODZIC, Coach of SAMURAI BLUE (Japan National Team)
I am tremendously disappointed with this regrettable result. We have to accept this as it showed our ability now. We had practices and preparation, but we couldn't play as expected. I told my players to move the ball faster, but some of them were physically not prepared with fatigue, and some of them were not brave and aggressive enough a little bit.
Speaking of defence, I said we should not give away a free kick within 30 meters from our goal. In the play right before that penalty kick, our three defenders weren't able to get the ball out of there. The blame should go to me as a coach and as the one who selected the players. But the Asano's shot for our potential second goal looked like it was really in. We still have nine more matches. We want to correct our mistakes and make it better. We will recover, become more strongly determined and go for a win. We haven't lost our hope yet.
FW #4 HONDA Keisuke (AC Milan/Italy)
The result was totally opposite from what we expected and it's very hard to swallow it. But it doesn't end only with this one match. So we want to change our mindset to win all of the rest of the matches. We gave away the ball in a way that it was easy for the opponents to get out there for a counter-attack, and that led to the free-kick we allowed and eventually the goal against. If we had prevented it somehow, the result wouldn't have been this way.
We should have controlled the match better after getting the first goal. In that Asano's shot situation, I was right by the goal so I know it went in. I just don't know why they don't have additional assistant referees in this more competitive final qualifiers.
MF #17 HASEBE Makoto (Eintracht Frankfurt/Germany)
We knew how important this first match was, and it's disappointing that it turned out to be this way. The goals we allowed are a penalty kick and a free kick. But the second one had my own mistake there, so I really feel responsible for it. I knew one single mistake can cost us everything in the final qualifiers. There are many things we need to correct both offensively and defensively. Good team can bounce back from a situation like this. It's just we have got to win the next one.
MAHDI ALI HASSAN, Coach of the UAE National Team
I feel great because we defeated one of the best teams in Asia like Japan at their home. I want to give credit to the spirit of my players who battled through the 90 minutes. This can add our confidence for upcoming matches, but it's just one out of ten and we haven't achieved anything. We stay focused and we want to make sure to come back ready for the next match in such a short interval.
TASHIMA Kohzo, the President of the Japan Football Association
The result is disappointing. The current team of the UAE are called the golden generation and they have a lot of talented players. Of course that doesn't make them somebody we are OK to lose to and they were the opponents we had to defeat. In the rest of the nine matches, we have to make sure to get the ticket to the World Cup. We will certainly appeal about the goal (by Asano).
Schedule
Sun. 28 August
PM
Training *Open to the public (TBC)
Mon. 29 August
PM
Training *Closed-door
Tue. 30 August
PM
Training *Closed-door
Wed. 31 August
TBC
Training *Closed-door
Thu. 1 September
19:35
ASIAN QUALIFIERS - ROAD TO RUSSIA
vs UAE (Saitama Stadium 2002)
Fri. 2 September
AM
Training *Open to the public (TBC)
Sat. 3 September
PM
Training *Open to the public (TBC)
Sun. 4 September
PM
Training *Closed-door
Mon. 5 September
PM
Training *Closed-door
Tue. 6 September
19:15
ASIAN QUALIFIERS - ROAD TO RUSSIA
vs Thailand (Rajamangala Stadium)
*The schedule is subject to change due to the team condition, the weather, etc.
*Local Time
ASIAN QUALIFIERS - ROAD TO RUSSIA
2016-9-6 (Tue.) - 19:15 (estimate time) (Japan Time 21:15)
Rajamangala Stadium (Bangkok/Thailand)
Thailand National Team vs SAMURAI BLUE (Japan National Team)
More information