NEWS
SAMURAI BLUE defeat Cyprus, spur to Brazil
28 May 2014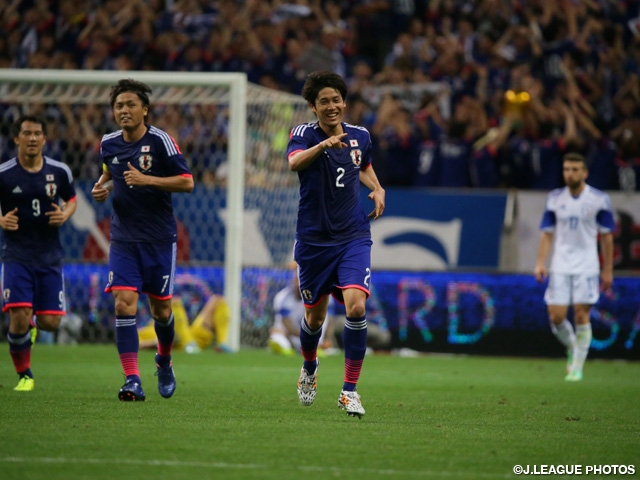 Japan National Team, preparing for the 2014 FIFA World Cup, finished the Kirin Challenge Cup 2014, which was the last warm-up match they had in Japan before leaving for Brazil, with a 1-0 win over Cyprus with the goal by DF Uchida Atsuto at the 43rd minute.
With 58, 564 in attendance, Japan started off the match with Uchida, who had just come back from his injury, at the right side back, DFs Morishige Masato and Konno Yasuyuki in the middle and MFs Yamaguchi Hotaru and Endo Yasuhito as the defensive midfielders,
Partly due to the physically-challenging training camp in Ibusuki, Japanese players were not very active at first and failing to set up rhythmical attacks while Young Cyprus National Team came out very aggressively and kept attacking the space behind Japanese defenders with effective long feeds.
DF Nagatomo Yuto started leading Japan's offence by attacking the left side as MF Kagawa Shinji and Nagatomo threatened the goal by their long shots. It was again the offence off the left side that gave Japan the first goal of the match.
Two minutes before the end of the first half, Honda Keisuke kicked a cross ball from the left side into the middle, which was cleared away by a Cypriot defender. Yamaguchi picked it up, however and fed Okazaki Shinji manning up front with a penetrating pass. Okazaki then gave it to Kagawa who tried to strike the goal. After it was deflected by the Cypriot defence, Uchida got a rebound and fired his shot near the goal. The shot was once blocked by the goalkeeper before Uchida finally laid it into the goal. That was the first goal for Uchida since the round 3 qualifier for the World Cup against Bahrain in June, 2008.
For the second half, Sakai Hiroki replaced Uchida as Hasebe Makoto and Yoshida Maya were subbed in for Endo and Konno respectively.
Right after the beginning, led by FW Kakitani Yoichiro's shot attempt after attacking again the left side, Japan's offense was very aggressively hitting the space behind Cypriot defenders with effective passes. At the 58th minute, Okubo got on the pitch as Kakitani left, which even accelerated the trend and Japan started dominating the match.
Kagawa and Hasebe fired for the second goal for Japan as Honda, after the ball was touched by Okubo and Yamaguchi, attempted his own only to see it go right over the cross bar. Although they created more opportunities, the match finally ended with the score remaining 1-0.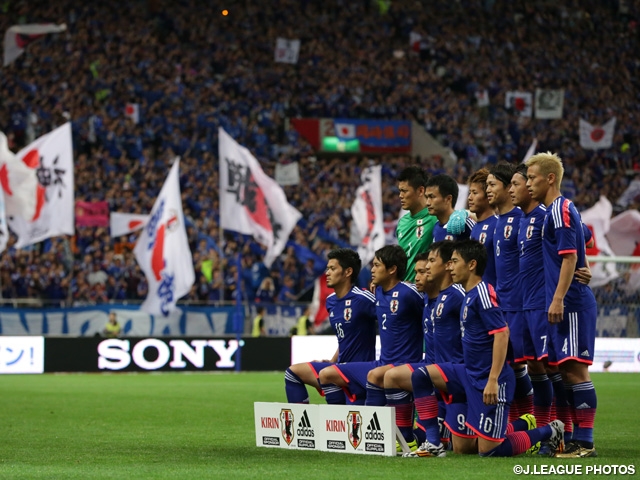 Promising More Wins to Come
In the ceremony after the match, Takakura Asako who coached the U-17 Japan Women's National Team to win the FIFA U-17 Women's World Cup, presented Coach Zaccheroni with flowers while Hasebe promised more wins to follow, saying "With all the wishes from you all we will do our best in Brazil to show what we have built in the last four years."
Also Referees Nishimura Yuichi, Sagara Toru and Assistant Referee Nagi Toshiyuki, who would officiate the World Cup matches, received recognition in the other ceremony before the match. Nishimura said to the audience "We will do everything we can do to make matches as wonderful as they can be."
During the half time, Head Coach Sasaki Norio whose Nadeshiko Japan just won the AFC Asian cup, and Head Coach Miguel Rodrigo who led Futsal Japan National Team to the second straight AFC Asian Championship made appearances and showed off their own championship trophies to the fans. They certainly made the evening even more memorable.
Japan National Team is scheduled to leave for Florida in the USA on Tuesday 29 where they have the last camp before the World Cup and play two matches against Costa Rica National Team on Monday 2 June and against Zambia National Team on Friday 6 both in the local time before arriving in Brazil on Saturday 7.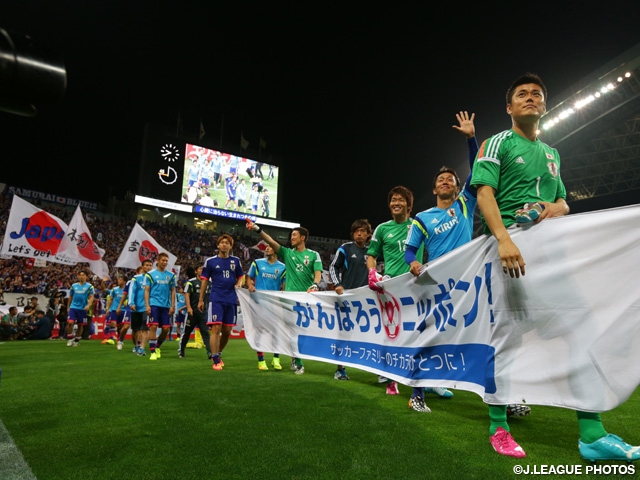 Comments
Alberto ZACCHERONI, Head Coach
We had such physically-tough training in Ibusuki so we couldn't expect our players would move around very fast and sharp. So I rather wanted to see them play smart. I wanted to see how this team would work in such a condition. In that regard, I am very satisfied. We knew we would lack our speed. That can be improved later when we improve our physical conditioning. I am also satisfied how Uchida, Yoshida and Hasebe performed after coming back from injuries. We still have two more matches before the World Cup, so their playing time will gradually increase. Here at the Saitama Stadium, we played two important friendlies. One was my first match as the head coach and the other was the one against Cyprus today. We have also won many World Cup qualifiers here, and that's why we are here today. I am happy to win this match in front of many supporters here and send our final message before leaving. I promise we will do make our every effort possible to get good results in the World Cup.
FW OKUBO Yoshito(KAWASAKI FRONTALE)
I was able to have a lot of fun playing the match. We didn't have a representative match for a long time, but it didn't feel like we didn't. It was the first time for me to play up front collaborating with other players, but it was easy to do, and I am looking forward to future matches. I want to show performance that can excite the audience. I feel that I have a sense of self-composure now more than before when I played in National Team last time. I felt like I was playing in my own team. I was also able to receive warm support from funs, so I wanted to respond to their expectations by scoring a goal. However, it was disappointing that I couldn't make it. I'm hoping to get a goal on a real stage.
DF UCHIDA Atsuto(FC Schalke 04/Germany)
I played the match for 45 minutes, and I felt relieved that we got results. I was anticipating that I would play for 45 minutes. I was told to be in the starting lineup during a meeting. As for the goal I got, I saw a loose ball often there. Also, we didn't have much time (remained time for the first half), so I was aiming at getting a score. I think that if I can adjust to the environment a little more, I will be able to play more smoothly.
DF NAGATOMO Yuto(F.C.INTERNAZIONALE MILANO/Italy)
Since I had been doing intense training, it was a quite hard match. I want to prepare myself in good condition from today. We will not be able to beat opposing teams unless we come up with better ideas for offensive plays and improve our teamwork. I want to show the best play in World Cup in order to respond to support and expectations from funs.
Charalampos CHRISTODOULOU, Head Coach
I felt that Japan National Team was very powerful and well-prepared. It is a promising team, and I think that we can move forward by learning from Japanese diligence. Many members got injured during this one month, and we couldn't bring them to this match. However, because of that, younger players were able to participate in the match. I think it became good experience for them. I'm sure that Japan National Team can make it through World Cup Group Stage.
Schedule
Wed, 21 May ~ Sun, 25 May
-
Training Camp
Sun, 25 May
18:00
"Dream for Our power 2014" send off party
(Tokyo/Yoyogi National Stadium Yoyogi Gymnasiums 1)
Tue, 27 May
1-0
Kirin Challeng Cup2014 vs Cyprus National Team(SAITAMA Stadium2〇〇2)
Thu, 29 May ~ Fri, 6 June
-
Training Camp(Unaited States)
Mon, 2 June
21:00
International Friendly Match vs Costa Rica NationalTeam(United States/Tampa)
Fri, 6 June
19:30
International Friendly Match vs Zambia NationalTeam(United States/Tampa)
Sat, 14 June
22:00
2014 FIFA World Cup Brazil vs CÔTE D'IVOIRE National Team(Arena Pernambuco)
Thu, 19 June
19:00
2014 FIFA World Cup Brazil vs Greece National Team(Estadio das Dunas)
Tue, 24 June
16:00
2014 FIFA World Cup Brazil vs Colombia National Team(Arena Pantanal)
※Local Time