NEWS
Introduction of the referees in charge of the International Friendly Match between Nadeshiko Japan and Argentina Women's National Team
23 September 2023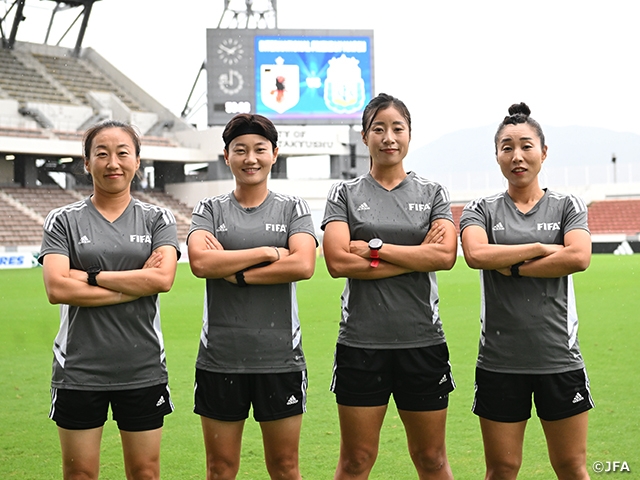 The referees in charge of the international friendly match between the Nadeshiko Japan (Japan Women's National Team) and Argentina Women's National Team at Kitakyushu Stadium on Saturday, 23 September shared their aspirations ahead of the match.
Referees in charge
Referee: OH Hyeon Jeong (Korea Republic)
Assistant referee 1: PARK Misuk (Korea Republic)
Assistant referee 2: YANG Sunyoung (Korea Republic)
Fourth official: CHA Min Ji (Korea Republic)
*Pictured from left, YANG Sunyoung, CHA Min Ji, OH Hyeon Jeong, PARK Misuk
Referee's Comment
OH HYEON JEONG (Korea Republic)
It is an honour to be appointed to officiate at this international friendly match and to be part of the Korea Republic refereeing team travelling to Japan. It is the first match since the World Cup, so it is going to be a very important game in the build-up to the next tournament. Japan and Argentina are both very strong teams, so we expect a great match.
International Friendly Match
Nadeshiko Japan (Japan Women's National Team) vs Argentina Women's National Team
Sat. 23 September 2023, 12:00
Venue: Kitakyushu Stadium (Fukuoka)
Match information