NEWS
【Match Report】SAMURAI BLUE score four goals against Turkiye to notch back-to-back victories in Europe
13 September 2023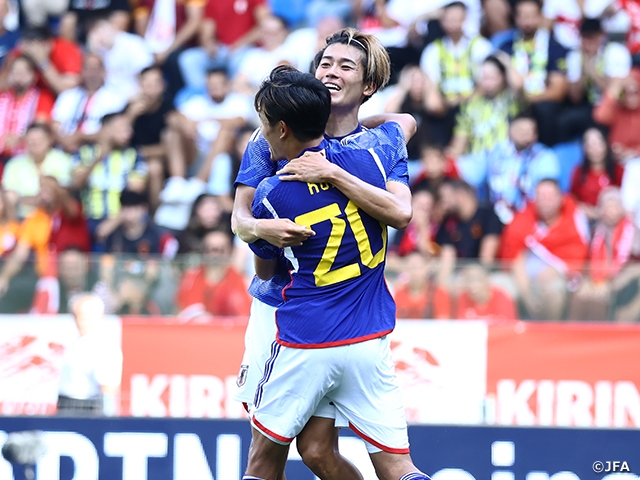 On Tuesday, 12 September, the SAMURAI BLUE (Japan National Team) faced the Turkiye National Team in the KIRIN CHALLENGE CUP 2023 held at Genk, Belgium, where they scored four goals to secure their second straight victory in this tour to Europe.
ITO Atsuki (Urawa Red Diamonds) scored his first international goal in his first start, followed by a brace from NAKAMURA Keito (Stade de Reims) and a second-half penalty scored by ITO Junya (Stade de Reims).
For this match, Head Coach MORIYASU Hajime made 10 changes from the starting line-up against Germany. NAKAMURA Kosuke (Portimonense) was given the start in goal, while ITO Hiroki (VfB Stuttgart), the only player to make back-to-back starts, formed a four-man defence line alongside TANIGUCHI Shogo (Al-Rayyan SC), MACHIDA Koki (Royale Union Saint-Gilloise), and national team debutant MAIKUMA Seiya (Cerezo Osaka). Ito Atsuki and TANAKA Ao (Fortuna Dusseldorf) anchored the midfield, while DOAN Ritsu (SC Freiburg), KUBO Takefusa (Real Sociedad), and Nakamura Keito were positioned beneath the lone striker FURUHASHI Kyogo (Celtic FC).
Perhaps due the new combination, it took a while for the players to get used to the distance and timing of each other's movements, but Japan managed to take the lead in the 15th minute.
The goal was scored by Ito Atsuki, who played a pass-and-go with Doan on the right side, before unleashing a superb left-footed shot into the top corner of the net.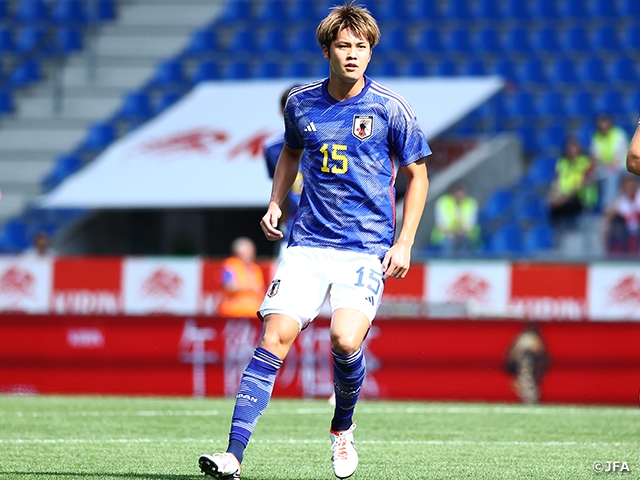 Following the water break in the first half, Japan gradually picked up their pace to create more opportunities in the opposing end. In the 26th minute, Kubo carried the ball from the right side before delivering a through ball that was nearly converted by Doan.
Japan's second goal came in the 28th minute when Kubo struck a powerful shot from the centre. Although this shot was saved by the goalkeeper, Nakamura Keito quickly responded to convert the deflection.
With momentum on their side, Japan scored the third goal in the 36th minute, when Maikuma forced a turnover near the halfway line, carried the ball into the penalty area, and delivered a pass to Nakamura Keito, who calmly slotted the ball between the legs of the opposing defender to make it 3-0.
In a bid to improve the team's overall strength ahead of their EURO 2024 qualifier match against Croatia in October, Turkey made nine changes to their starting line-up since they drew against Armenia on 8 September. Bertug YILDIRIM, Yusuf SARI, and Irfan Can KAHVECI led the way in offence, as Yildirim struck a shot from close range in the 12th minute, while Sari responded to a cross sent by Onur BULUT to make an attempt at goal in the 38th minute.
In the 44th minute, Mert MULDUR connected with a free kick delivered from the left side to head the ball into the mix. Although Nakamura Kosuke was able to parry the ball, Ozan KABAK was there to convert the loose ball into the net.
On this play, Nakamura Kosuke was forced to come off with a shoulder injury and SCHMIDT Daniel (Sint-Truidense VV) was brought on as a substitute. Caglar SOYUNCU connected with the ensuing corner kick, but Schmidt reacted well to deny the attempt.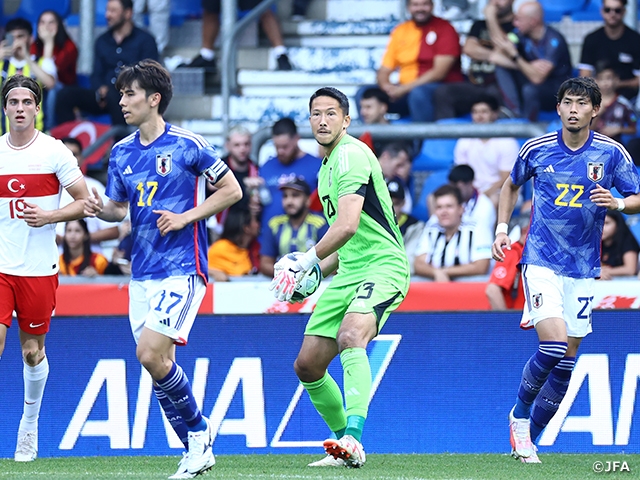 Leading 3-1 at half-time, Japan brought on HASHIOKA Daiki (Sint-Truidense VV), Ito Junya and MAEDA Daizen (Celtic FC) at the start of the second half.
The introduction of Ito Junya and Maeda added pace in the attacking third and allowed Japan to create more chances from the flanks, but it was Turkiye who scored the next goal in the 61st minute when Yildirim latched on to Cengiz UNDER's cross to reduce the deficit.
Gaining momentum from this goal, Turkiye created more and more plays that threatened the Japanese goal, but a superb individual effort displayed by Ito Junya changed the dynamics of the match.
The play came in the 75th minute, when the speedy winger collected the loose ball following a Turkish corner kick, dribbled up the field all the way into the opposing penalty area, and drew a foul. Ito stepped up to the spot and calmly converted this penalty to make it 4-2.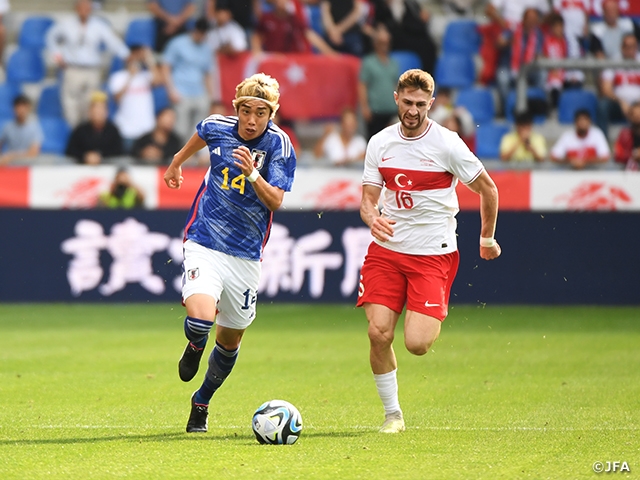 The Japanese defence managed to hold on to their two-goal lead and finish their European tour on a winning note.
Coaches and Players' Comments
MORIYASU Hajime, Head Coach of SAMURAI BLUE (Japan National Team)
We made ten changes from our match against Germany, which allowed us to test out alternative player combinations and celebrate our success with our fans. With this approach, the team has expanded its player pool, shared team tactics with new players, and gained invaluable match experience that will help us raise our playing standards overall. We still have a lot of work to do, but the players have risen to the challenge despite the heavy rotation. The fact that we scored four goals is great, but there were still chances we should have capitalised, so I will continue to demand higher standards from my players. I also think we need to be more precise in exploiting opponents' flaws in defence. In terms of defence, this match provided as a timely reminder that we must exert greater pressure on the ball carrier when the opposition is attacking more directly and that we must strengthen our ability to win the ball in order to prevent the opposition from scoring from power plays in the closing minutes. It was crucial that we were able to share the team's tactical concepts with more players through these two matches. The win over Germany has given us more confidence and the players have a better understanding of the team concept, which was confirmed in today's match against Turkiye. I think the win against Germany was a big part of today's result.
GK #23 SCHMIDT Daniel (Sint-Truidense VV/Belgium)
It was great that we were able to win today. Despite entering as a substitute, I feel like I needed to play better. There were some risky plays I made passing the ball from behind and I felt I needed to do a better job of holding onto the ball and making better decisions under pressure. I made a couple of careless plays that put my teammates in danger, so those are some of the things I need to look at on film and improve on. We were a bit too relaxed when we conceded the second goal, and I feel like that was a goal we really want to take back. Having said that, I think the things we have worked on during this tour have really helped the team improve. Although we didn't improve our ball possession, we still managed to score four goals to win and show that we are capable of shutting down opponents when it really matters.
DF #3 TANIGUCHI Shogo (Al-Rayyan SC/Qatar)
Despite playing with a whole new line-up, I feel like we were able to demonstrate what we are aiming for as a team, but I wish we could have kept a clean sheet, especially after taking a 3-0 lead. Knowing we were up against a strong opponent, we had to be more aware of a comeback like we saw today. Having said that, it means a lot that we were able to play patiently and score the fourth goal. I think it was very important that we held on and won in the end, even though everyone was exhausted. It gives us a lot of confidence that we were able to finish with back-to-back wins against such powerful countries as Germany and Turkiye away from home. But we have a lot of work to do to get to where we want to be, which is to be ranked in the top 10 in the world and to win the World Cup, so we want to keep working hard and keep improving.
DF #26 MAIKUMA Seiya (Cerezo Osaka)
The first thing that came to mind when I was subbed off was the goal we conceded. I was very disappointed that we conceded a goal from a set piece. I regret the fact that I got switched up and conceded a foul, especially because I was very confident that I could keep them at bay. Playing for the national team allows me to experience a lot of things that I cannot in the J.League, so I would like to try and recreate that experience by working with the foreign players at my club. Even though I was able to make some runs and assist a goal, I hope to create more opportunities for the team.
MF/FW #6 ENDO Wataru (Liverpool FC/England)
Despite the fact that every player has a different set of skills, we have a squad capable of producing similar quality regardless of who is on the pitch. I had anticipated that today's match would be challenging due to the heavy rotation, but the players, including the debutant, were very composed and concentrated on playing to their strengths, and the fact that we scored three goals in a very excellent style is quite commendable. I am also very pleased with our performance throughout the two-game series. Obviously we still have a lot to work on, including the way we played in today's match after leading 3-0, but we can be proud of the way we finished the match. The fact that we have scored four or more goals in four consecutive matches simply means that we have a lot of talent in the attacking third. There are so many players who have done well for their clubs and I think that's one of the factors for our success.
MF/FW #13 NAKAMURA Keito (Stade de Reims/France)
Following our win over Germany we were determined to win this match against Turkiye. With the team making drastic changes to its starting line-up, I thought this was my chance to make my mark, so I am glad that we were able to win. When I scored my first goal, I ran towards the goal as soon as I saw the ball rolling towards Kubo because I knew he was going to shoot. I was lucky that the deflection landed where I was. The second goal came when we had numerical advantage inside the box and I'm glad I was able to score because it was a play I couldn't afford to miss. My goal against El Salvador came from Kubo's pass, and this time it was from his shot. I'm happy to play with him because I feel that he is a great chance maker and an exciting player to play with.
MF/FW #14 ITO Junya (Stade de Reims/France)
It was a penalty won at KRC Genk's stadium (his former club), so I was determined to take the spot kick. I thought about stopping a couple of times, but I kept going as soon as I realised I had an advantage in speed. At first I was running side by side with the opposing defender, but at the end I was a body length ahead, so it turned out in my favour. Our opponents made a late comeback, but we had plenty of chances to counter them, so I feel like we could have scored more goals. The fact that we were able to beat two tough opponents gives us a lot of confidence going forward. We are getting better as individuals, which is helping to strengthen the team.
MF/FW #15 ITO Atsuki (Urawa Red Diamonds)
The goal came from a sequence of play that was also used at my club. At first I was thinking about sending a cross, but when I saw that the opposing defenders were slow to react, I changed my mind to play a pass-and-go. As soon as I took the shot, I knew it would go in. I am really glad that I was able to mark my first international goal with such a clean strike. However, I think it was a match that left me with more problems to deal with. I wasn't able to contribute much defensively as I felt I should have been more aggressive in pressing the ball and taking the initiative to help the team win possession. Offensively, I was able to carry the ball and help set up our attacks, but I still feel I can improve the quality of my plays and provide more assists, so that is something I need to work on in the future.
MF/FW #20 KUBO Takefusa (Real Sociedad/Spain)
I am happy that we were able to end the series with back-to-back wins. We were clearly the better team in the first half, and I feel we could have scored more goals when we had the upper hand. It is impossible to show everything the team wants to try, but it was great that we were able to try a lot of things today, including the overlapping runs, the third man involvement and the build-up plays. I think the team's offense has improved a lot with all the different players involved in the attacks. Now, we just need to keep it up at our respective clubs.
Stefan KUNTZ, Head Coach of Turkiye National Team
Against a very skilful Japanese side, we lost a lot of possession in the first half, made a lot of individual mistakes and struggled to counter their physical strength. The heat also prevented several players from fulfilling their tactical roles. We knew that Japan were a very disciplined and fast team, so we were not surprised by their performance, but we were surprised that our players could not match that level of play. That is why we made some changes after the first half, which allowed us to play better and create chances to score. Our defensive shape got better once we scored back a goal. I think we have taken something from today's game that we can apply to our next EURO 2024 qualifier against Croatia.


SAMURAI BLUE (Japan National Team) vs Turkiye National Team
Tue. 12 September 2023, 14:20 (Tue. 12 September, 21:20 Japan time)
Venue: Cegeka Arena (Genk, Belgium)
Match information