NEWS
【Match Report】U-22 Japan National Team start off the AFC U23 Asian Cup Qatar 2024™ Qualifiers with a win over Pakistan
07 September 2023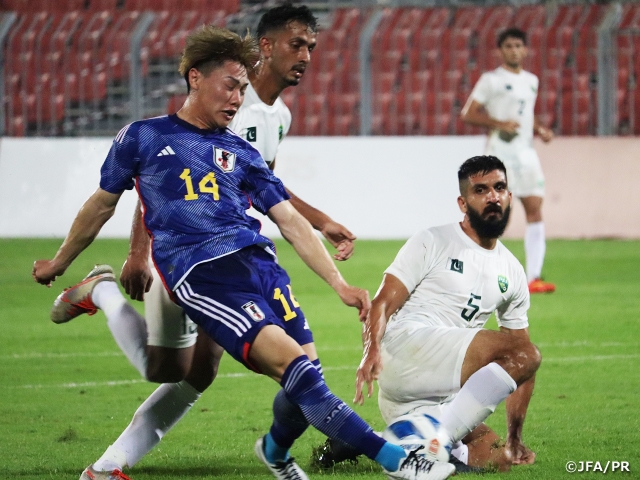 On Wednesday, 6 September, the AFC U23 Asian Cup Qatar 2024™ Qualifiers kicked-off at various locations. At Sheikh Ali Bin Mohammed Al Khalifa Stadium in Bahrain, the U-22 Japan National Team played their first group stage match against the U-22 Pakistan National Team.
The qualifiers will be held across Asia in 11 groups, and the 11 group winners and the four best runners-up will qualify for the AFC U23 Asian Cup, to be held in Qatar next April and serve as a qualifying tournament for the Paris 2024 Olympic Games. Japan was drawn into Group D, where they will compete against Bahrain, Palestine, and Pakistan.
For this match, Head Coach OIWA Go started SUZUKI Zion (Sint-Truidense VV) in goal, with UCHINO Takashi (Fortuna Dusseldorf), NISHIO Ryuya (Cerezo Osaka), SUZUKI Kaito (Jubilo Iwata), and OHATA Ayumu (Urawa Red Diamonds) forming the four-man defence line. FUJITA Joel Chima (Sint-Truidense VV), MITO Shunsuke (Albirex Niigata), and MATSUKI Kuryu (FC Tokyo) were placed in midfield, with SAITO Koki (Sparta Rotterdam) and YAMADA Fuki (Kyoto Sanga FC) in the flanks, while HOSOYA Mao (Kashiwa Reysol) started as the lone striker.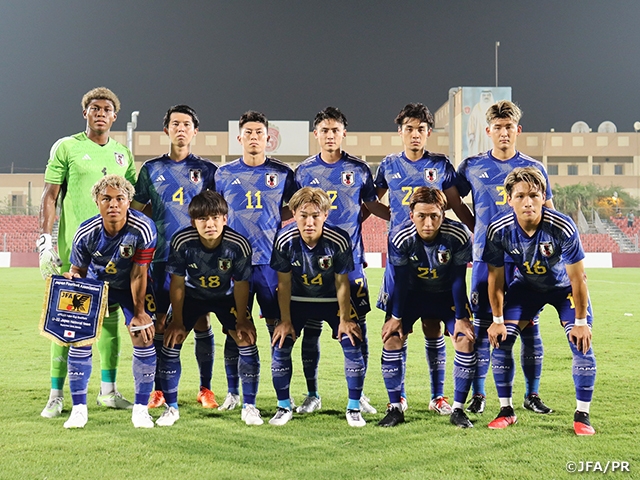 Japan scored the opening goal in the 12th minute, when Suzuki Kaito converted the corner kick of Yamada, in which Suzuki later reflected, "We were able to display what we had been working on. It was a huge goal for the team and for myself."
Despite dictating the pace of the game, Japan struggled to score the second goal, but the players remained calm, as Fujita later commented, "We were able to maintain our composure to control the game." Their patience was paid off in the 44th minute when Mito made it 2-0 after receiving a feed from Matsuki. Hosoya added a third goal in addition time to further extend the lead before halftime.
With momentum on their side, Japan continued to dominate in the second half, with Hosoya, Fujita, and Mito, each adding goals in the 51st, 60th, and 65th minutes, respectively, to start off the group stage with a 6-0 victory.
"I want to praise our defence for keeping a clean sheet," said coach Oiwa after the match, as Nishio and Suzuki Kaito showed great leadership to keep the opposing offence at bay. Despite the long travel, time difference, and harsh weather conditions, Japan is now off to a good start towards Paris.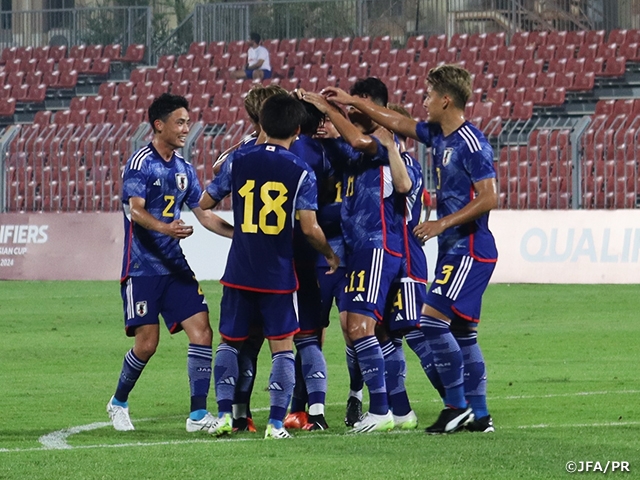 The U-22 Japan National Team will now face Palestine, who defeated Bahrain on this day, on Saturday, 9 September (Sunday, 10 September in Japan).
Coaches and Players' Comments
OIWA Go, Head Coach
We went into the game knowing that the first game was going to be difficult, but the players played well from the first half to earn this victory. There are several obstacles to overcome in the first game of the tournament, including anxiety and nervousness. However, we played with a win-at-all-costs mentality, and we aim to maintain it in our upcoming game. As we prepare for our match against Palestine, we will continue to work closely with our players to build our confidence.
DF #4 SUZUKI Kaito (Jubilo Iwata)
We really focused on how we enter the match. It was crucial that we were able to score a goal from a set-piece while dominating possession of the ball in the first half. However, we started to rush our plays after that goal, so I wish we could have played with more composure. Although we did a good job of preventing our opponents from creating chances, I believe there is still room for improvement.
MF #8 FUJITA Joel Chima (Sint-Truidense VV/Belgium)
I am glad we were able to win despite struggling to create chances in the first half. We knew that set-pieces would play a crucial role in this match, so I am glad we were able to demonstrate what we had been practising. In international competitions like this, games are frequently played every three days, so this would be a terrific learning opportunity for us.
MF #18 SAITO Koki (Sparta Rotterdam/Netherlands)
It was an extremely challenging match because of how tenaciously our opponents played defence against us. However, I have faced many teams like this in the Netherlands, so I was able to keep my composure. The hot weather presented challenges, though, and I felt as though I could only run half as much as usual, particularly in the first half.
AFC U23 Asian Cup Qatar 2024™ Qualifiers
Tournament Dates: Mon. 4 September - Tue. 12 September 2023
Tournament information