NEWS
【Match Report】Nadeshiko Japan defeat Norway to advance to Quarterfinals - FIFA Women's World Cup Australia & New Zealand 2023™
06 August 2023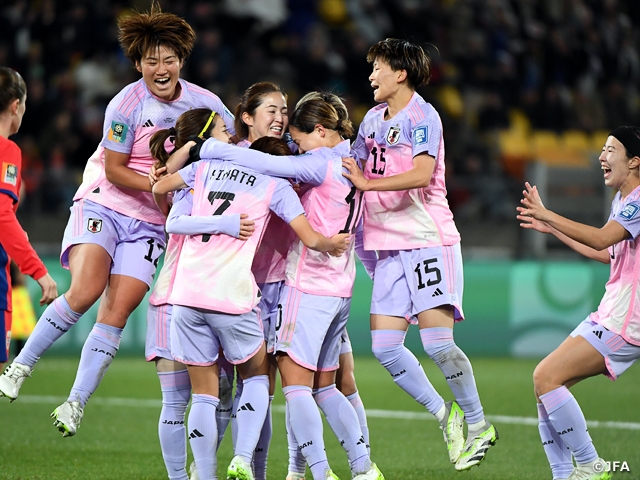 On Saturday, 5 August, the Nadeshiko Japan (Japan Women's National Team) faced the Norway Women's National Team in the round of 16 of the FIFA Women's World Cup Australia & New Zealand 2023™ at Wellington, New Zealand.
Following their 4-0 victory over Spain on Monday, Head Coach IKEDA Futoshi made three changes to their starting lineup, as HASEGAWA Yui (Manchester City) started in midfield, while FUJINO Aoba (Nippon TV Tokyo Verdy Beleza) and TANAKA Mina (INAC Kobe Leonessa) returned to the attacking third along with MIYAZAWA Hinata (Mynavi Sendai Ladies).
Japan started the match by controlling the ball possession while pressing their two wingers up high. This approach came to fruition in the 15th minute, when the diagonal cross delivered by Miyazawa took a deflection off an opposing defender before finding the back of the net.
Despite surrendering an unlucky own goal, Norway, who were seeking to win their first FIFA Women's World Cup™ title since 1995, rallied back in the 20th minute, with a towering header by Guro REITEN, handing Japan their first conceded goal of the tournament.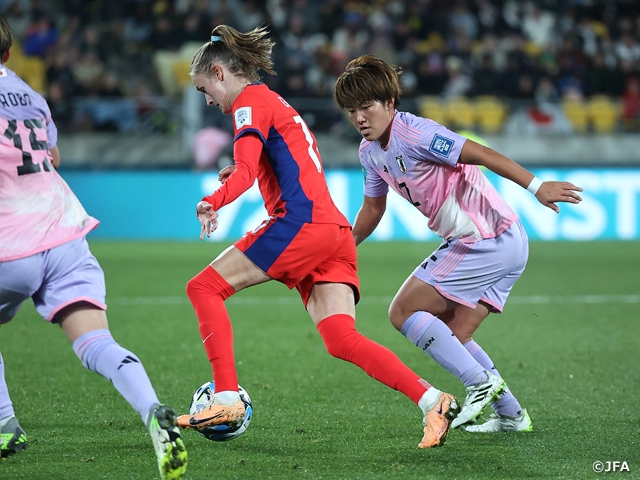 After finishing the first half 1-1, Japan continued to dominate the ball possession in the second half. In the 50th minute, SHIMIZU Risa (West Ham United) intercepted a pass inside the Norwegian penalty area and converted the opportunity to give Japan a 2-1 lead.
In the 72nd minute, Tanaka Mina was replaced by UEKI Riko (Nippon TV Tokyo Verdy Beleza), giving the offence fresh legs. In an effort to bring the match back to equal terms, Norway also introduced Ada HEGERBERG, winner of 2018 Ballon d'Or Feminin, in the 74th minute, but it was Japan who scored the next goal.
In the 81st minute, Miyazawa calmy finished off a through pass from Fujino to score Japan's third goal, giving her side a 3-1 advantage, while also moving ahead in the Golden Boot race with her fifth goal of the competition.
Norway came close to scoring a goal during additional time, when Karina SAEVIK struck a header from close distance, but Japanese goalkeeper YAMASHITA Ayaka (INAC Kobe Leonessa) made a superb one-handed save to deny this opportunity, as Japan marched onto the quarterfinals with a 3-1 victory.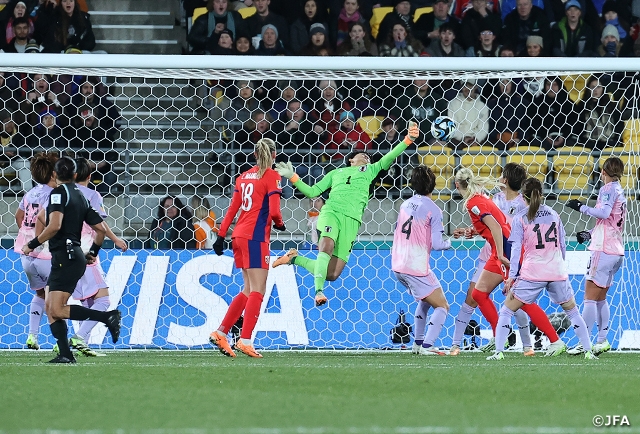 Miyazawa was named the Player of the Match. The Nadeshiko Japan will return to Auckland on the following day and resume their trainings ahead of their quarterfinal match against the winner between Sweden and the USA.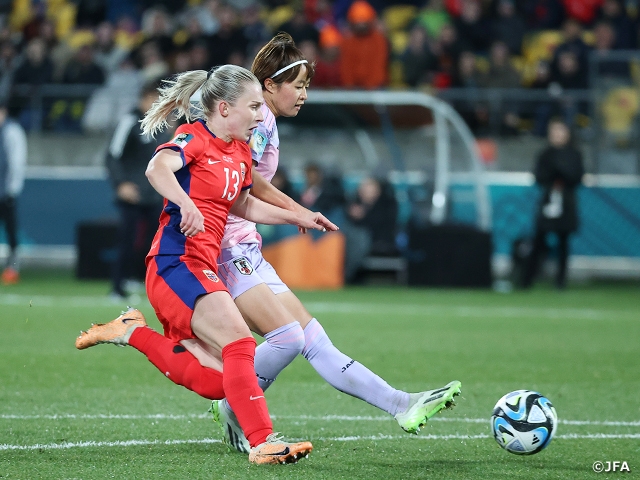 Coach and Players' Comments
IKEDA Futoshi, Head Coach (Nadeshiko Japan)
We informed the players that they would need to prevail in some challenging games during the knockout stages. The players were able to pick up where they left off after conceding the equaliser with positive encouragement and demonstrated that they were not affected by the goal. I feel that this team has become even tougher through this competition. We are anticipating for even tougher competition in the quarterfinals and beyond, so we will try to be in good shape, study our opponents, and train well to be ready for any opponent.
DF #2 SHIMIZU Risa (West Ham United/England)
Even after giving up the equaliser, we all maintained our composure and focused on the next play. We also communicated very well throughout the match, and I think Japan deserved to win. I don't remember much about the goal scene, but I made my run with the anticipation that the ball was coming towards me. We defended well against the cross balls all game, and the third goal definitely helped us to calm down and finish the game strongly. The cheering from the crowd is really powerful because you can hear it so clearly, and it made me want to play more matches in this kind of atmosphere again.
DF #3 MINAMI Moeka (AS Roma/Italy)
Despite conceding a goal, I think we were able to play with great composure. The defence line, under the leadership of Yama-san (Yamashita), was constantly communicating with one another, particularly during the challenging periods. Although there were some close plays, the fact that we managed to keep the second half scoreless gives us great confidence moving forward. I believe that our defensive midfielders did a fantastic job winning the second ball and deflections given how strong Norway was in the air. There were times when things didn't go our way, but we stayed patient and tried to do what we could, which led to the next goal.
DF #12 TAKAHASHI Hana (Mitsubishi Heavy Industries Urawa Reds Ladies)
I am really glad that we were able to advance to the next round. Norway is strong in the air and has great speed in the flanks. Even though we need to improve how we gave up the goal, it was amazing to see everyone maintain their composure and use it as fuel to work harder. We will undoubtedly encounter stronger competition, but we will make every effort to play for this squad for as long as we can.
MF #7 MIYAZAWA Hinata (Mynavi Sendai Ladies)
I feel like we were able to create chances through the left side, even when we were struggling to make use of our ball possession as a team. When I looked up, I saw the opposing defence line pressing up, so I tried to deliver a fast paced ball towards (Fujino) Aoba, which resulted in the first goal. We have come this far, and everyone's desire to win has grown even stronger, so I hope we can all prepare well for the quarterfinals in the next five days and help each other out to finish the tournament on a high note.
FIFA Women's World Cup Australia & New Zealand 2023™
Tournament duration: Thu. 20 July - Sun. 20 August 2023
Group stage:
Sat. 22 July ◯ 5-0 vs Zambia
Wed. 26 July ◯ 2-0 vs Costa Rica
Mon. 31 July ◯ 4-0 vs Spain
Knockout stage:
Round of 16 Sat. 5 August ◯ 3-1 vs Norway