NEWS
Japanese instructor Mr. TSUCHIDA Tetsuya dispatched to the Philippines
17 March 2023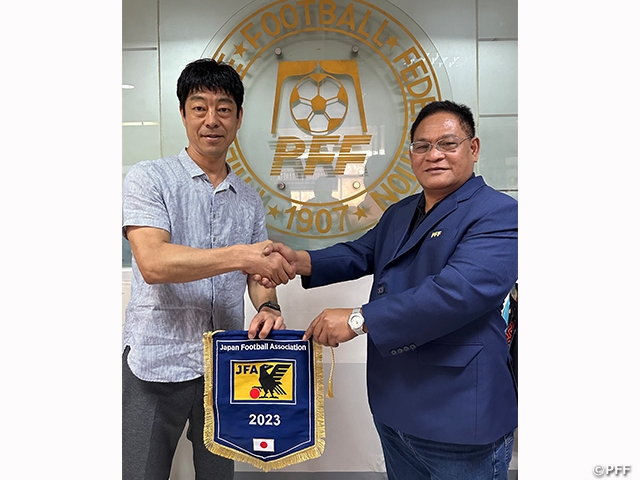 In efforts to support the development of football in Asia, Japan Football Association (JFA) has been dispatching instructors to many regions of Asia. On Monday 6 March, Mr. TSUCHIDA Tetsuya was dispatched to the Philippines, where he will serve as Head of Youth Development to guide the players who will lead the future of the Philippines.
Comments
Edwin GASTANES, PFF General Secretary
We welcome Coach TSUCHIDA Tetsuya as the new Head of Youth Development. We intend to cooperate with Coach Tetsuya as he continues the efforts done by Coach HIRATA Reiji in implementing the Training Areas of Development (TAD) program, as well as the Talent Development Scheme to further bolster the development of youth football in the country.
TSUCHIDA Tetsuya, PFF Head of Youth Development
I have been appointed Head of Youth Development of the Philippine Football Federation. I am honoured to have been given this wonderful opportunity and would like to thank all those involved for their cooperation. I am succeeding Mr. HIRATA, one of many Japanese coaches who have contributed to the development of football in the Philippines. The people here have great respect for Japan. By understanding the country's tradition, history, and culture, as well as cooperating with PFF, I will do everything in my power to help the growth of football in the Philippines and to live up to the reputation and respect that Japanese coaches have built over the years.