NEWS
【Match Report】Nadeshiko Japan win over New Zealand in the MS&AD CUP 2022
10 October 2022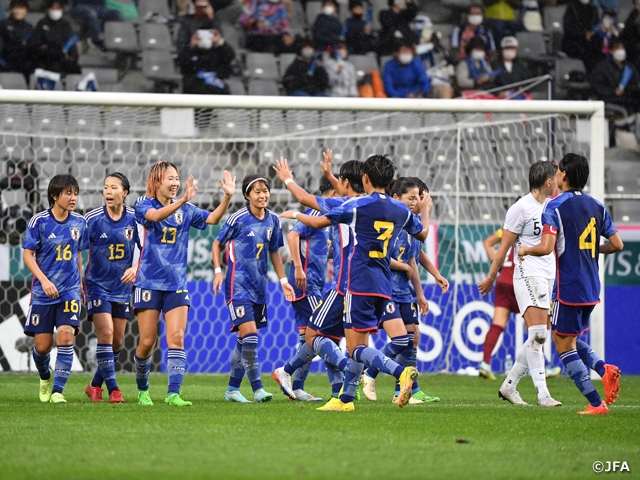 On Sunday 9 October, the Nadeshiko Japan (Japan Women's National Team) faced the New Zealand Women's National Team in the MS&AD CUP 2022 at Nagano U Stadium (Nagano).
After the warm-up, a send-off ceremony was held for Ms. YAMASHITA Yoshimi, who was selected to officiate at the FIFA World Cup Qatar 2022™. After receiving a bouquet of flowers, Yamashita said, "As a Japanese referee, I will go to the World Cup together with your passion for the game. I will do my best as a female referee," as she received a warm round of applause from the audience.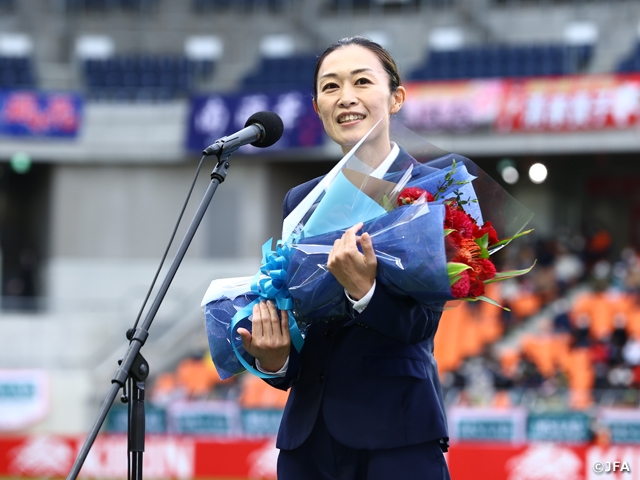 Following their match against Nigeria on Thursday, Head Coach IKEDA Futoshi elected to stick with their three-back formation with team captain KUMAGAI Saki (FC Bayern Munich) playing as the centre back. SUGITA Hina (Portland Thorns FC) started as the defensive midfielder with ENDO Jun (Angel City FC) playing in the left flank. MIYAZAWA Hinata (Mynavi Sendai Ladies) and UEKI Riko (Nippon TV Tokyo Verdy Beleza) were placed upfront along with FUJINO Aoba (Nippon TV Tokyo Verdy Beleza), who had just made her Nadeshiko Japan debut three days ago.
With 4,110 people in attendance on a cold and rainy day, Japan played aggressively from the outset. Led by the shot taken by Fujino in the fourth minute, Japan fired number of shots in the early minutes but couldn't find ways to find the net. In the 26th minute, TAKAHASHI Hana (Mitsubishi Heavy Industries Urawa Reds Ladies) connected with a corner kick delivered by Fujino, but her header went wide of the target.
Japan continued to apply pressure in the attacking third, and the opening goal came in the 44th minute, when the ball was connected through Miyazawa, Endo, and Ueki, before the ball returned to Miyazawa who slotted the ball into the far corner of the goal to give Japan the lead.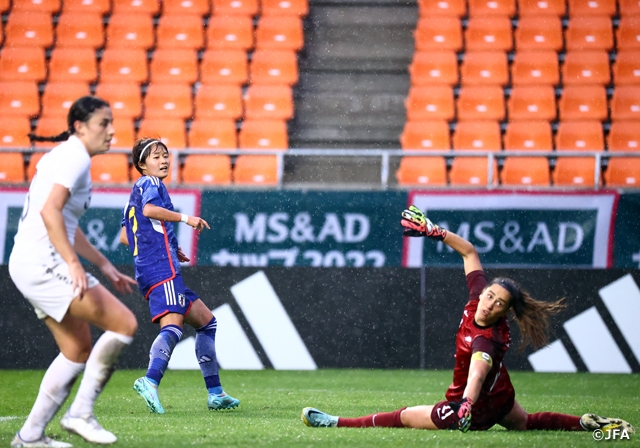 NAGANO Fuka (North Carolina Courage) was brought on to start the second half, paired with HAYASHI Honoka (West Ham United) as the defensive midfielder. In the 61st minute, Nagano delivered a well-placed cross to setup the goal of Ueki, who scored with a header to give Japan a 2-0 lead.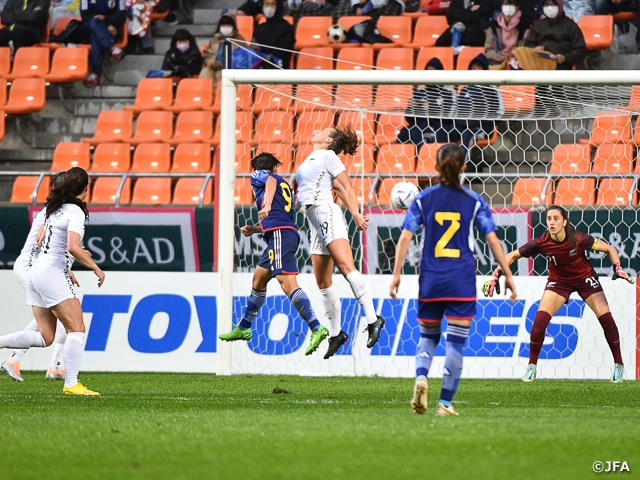 TAKARADA Saori (Linkopings FC) entered the match in the 69th minute, as coach Ikeda shifted Kumagai into the midfield while having MINAMI Moeka (AS Roma) play as the centre back. KOYAMA Shinomi (Cerezo Osaka Sakai Ladies) made her Nadeshiko Japan debut, when the 17 year old midfielder came off the bench in the 82nd minute. After firing 10 shots each in both halves, Japan showcased their dominance to earn a 2-0 shutout victory.
The Nadeshiko Japan will continue to hold their training camp until Monday 10.
Coach and Players' Comments
IKEDA Futoshi, Head Coach of Nadeshiko Japan (Japan Women's National Team)
Even in this kind of weather, many fans came to watch our match and their support gave the players plenty of energy. Against New Zealand, the hosts of next year's FIFA Women's World Cup™, we were able to apply aggressive pressure from the frontline. Not all of our attempts were successful, but I appreciate the players' attitude and commitment towards new challenges, and I'm really pleased that we managed to get a solid 2-0 win.
MF #7 MIYAZAWA Hinata (Mynavi Sendai Ladies)
I noticed that the opponent's side back was drawn towards me when I made runs into the near side, which left (Endo) Jun wide open, so I knew we could take advantage of that space. (Reflecting on her goal) There were a few options, and I wasn't sure if Jun was going to take a shot, but I am glad I was able to score from that play.
MF #13 ENDO Jun (Angel City FC/USA)
It is great that we managed to finish the match 2-0. I made conscious efforts to get myself involved in our offence when we were attacking from the other side. The fact that (Minami) Moeka was playing close to me allowed me to take some risks, but I wasn't able to capitalise on the opportunities I was given, so that is an aspect I need to improve on.
MF #25 KOYAMA Shinomi (Cerezo Osaka Sakai Ladies)
I was nervous when I stepped onto the pitch, but I just focused on giving my all. I was given the same role I had with the U-20 team, and coach Ikeda sent me off by saying, "It's basically the same thing, so just do your best out there." The intensity level was incredible at the senior level, and it reminded me that I need to work even harder in my daily trainings.
FW #9 UEKI Riko (Nippon TV Tokyo Verdy Beleza)
The fact that we were able to obtain a solid victory is a huge accomplishment. It was also great that we were able to make adjustments in the second half to fix the issues we saw in the first half. On and off the pitch, we have constantly discussed and worked on how to apply pressure to win the ball from the front line. (Reflecting on her goal) I got a really good cross, and I'm confident in my ability to head the ball, so I'm glad I was able to contribute to the team with a goal that showed my strengths.

MS&AD CUP 2022
Fixture: Nadeshiko Japan vs New Zealand Women's National Team
Date: Sun. 9 October [14:55]
Venue: Nagano U Stadium (Nagano)
Tournament Information