NEWS
Shizuoka Gakuen win over Gamba Osaka to claim fourth victory - Prince Takamado Trophy JFA U-18 Football Premier League 2022
09 May 2022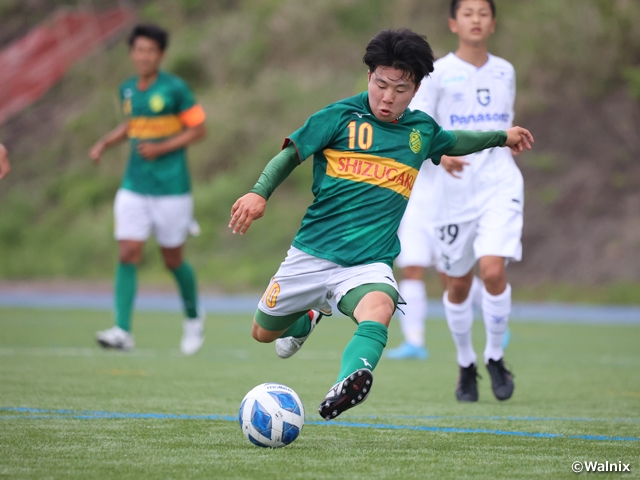 The sixth sec. of the Prince Takamado Trophy JFA U-18 Football Premier League 2022 WEST took place on Saturday 7 and Sunday 8 May. At s_pla@tt Fujispark Athletic Field, Shizuoka Gakuen High School (Shizuoka) faced Gamba Osaka Youth (Osaka).
Featured Match
Shizuoka Gakuen High School 3-0 (1-0, 2-0) Gamba Osaka Youth
After starting the season with three consecutive wins, Shizuoka Gakuen drew and lost their successive matches to Shimizu S-Pulse Youth (Shizuoka) and Nagoya Grampus U-18 (Aichi) respectively.
"Last week, we struggled to possess the ball against an opponent who played intense defence. They made us run and took away the ball as soon as we won the ball. It felt like our defence was not functioning well, so we worked all week to get our defence straight," said Shizuoka Gakuen's coach KAWAGUCHI Osamu, as the high school side entered the match with their emphasis on defence.
Despite their early struggles to create chances in the attacking third, Shizuoka Gakuen managed to take the lead in the 27th minute, when TAKAHASHI Ryuta (#10) scored the opening goal, as the midfielder later reflected, "It was against my former team, so I was both excited and nervous at the same time." The goal scene came when GYOTOKU Ei (#4) carried the ball upfront before sending the ball to the left side, allowing TERAURA Tsurugi (#11) to deliver a cross towards the middle. Although this cross was blocked by the Gamba goalkeeper, Takahashi swiftly responded to the deflection to strike the ball into the net.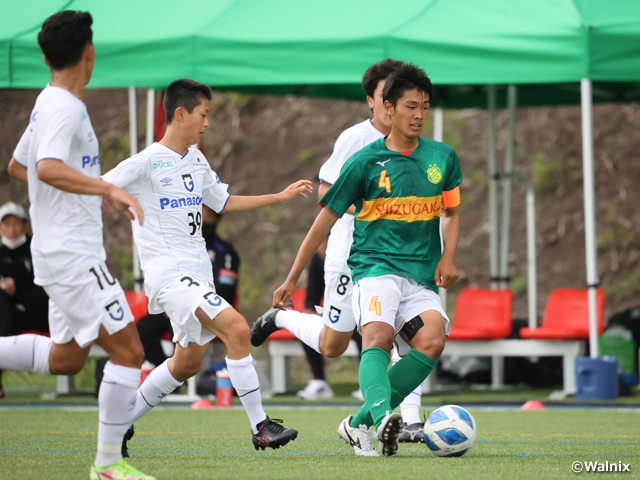 "The fact that Takahashi was the scorer made that goal that much more significant. It was important for him to make a statement against his former team," said coach Kawaguchi, as Shizuoka Gakuen gained momentum from the opening goal, creating more chances through their quick transitions, while also responding to the opponent's attempts to connect the ball to MINAMINO Harumi (#9), who can be a big threat when holding the ball in open space.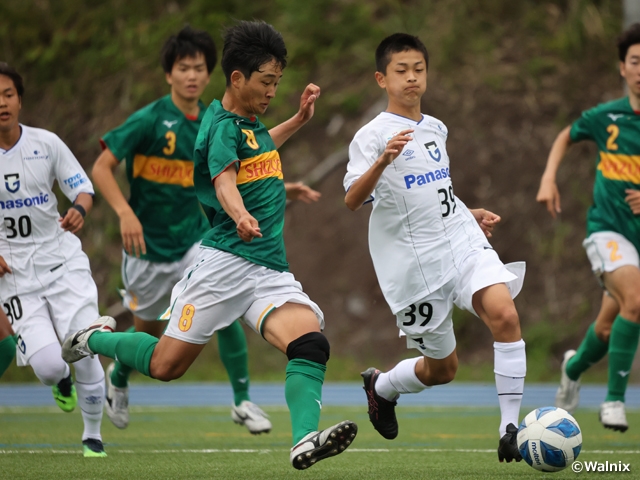 Carrying the momentum from the first half, Shizuoka Gakuen continued to dominate in the second half, as Takahashi later commented, "We went into the second half thinking that the next goal would decide the game, so we tried to play as aggressively as possible." Their aggressive approach came to fruition in the 67th minute, when Gyotoku responded to a corner kick delivered by Takahashi to strike a towering header to make it 2-0.
In efforts to rally back, G.Osaka made strides to create opportunities upfront. In the 69th minute, Minamino responded to a through ball delivered by OSADA Towa (#25) to break into the open space, but Shizuoka Gakuen's goalkeeper NAKAMURA Keisuke (#1) displayed great composure to deny the opportunity. Conversely, Shizuoka Gakuen capitalised on a free kick earned in the 76th minute to further extend their lead, as KANDA Soma (#9) converted the deflection of the cross sent by YASUTAKE Hayato (#7) to make it 3-0. With the final whistle, Shizuoka Gakuen registered their fourth victory of the season.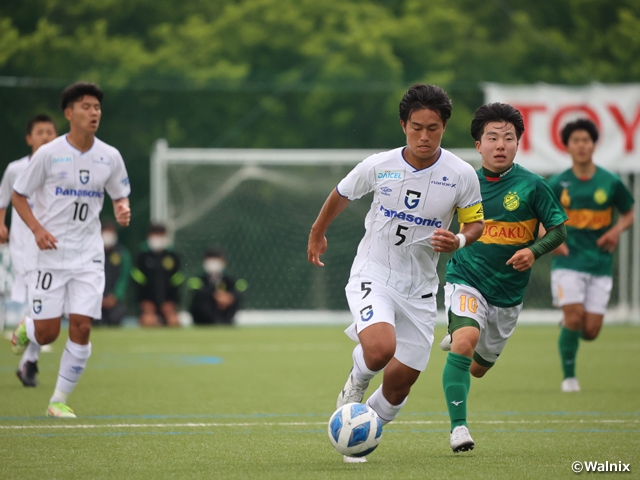 Coaches and Players' Comments
KAWAGUCHI Osamu, Coach (Shizuoka Gakuen High School)
We weren't expecting to pick up so many points in the first half of the season. We were prepared for the possibility of five consecutive defeats against J-Youth teams and thought that it would take until after the summer for us to start winning matches. However, despite all the points we have earned, we are not satisfied with the way we have played in each of the matches. We don't feel like we've played to our strengths yet, so we want to show what we're made of in the coming matches. I really appreciate that we get these challenges every match. I myself am enjoying the experience every week.
MF #7 YASUTAKE Hayato (Shizuoka Gakuen High School)
We were really fired up for today's match and it really brought the team together. After failing to play defence as a team against Nagoya last week, we entered today's match focusing on our defence, so I am glad we were able to keep a clean sheet. Ryuta's opening goal really helped us out. I feel like I have been able to play competitively in the Premier League, but I still feel the need to do better in defence, so that is an aspect I must make conscious efforts in our daily training sessions.
MORISHITA Hitoshi, Coach (Gamba Osaka Youth)
Although we couldn't take any shots, we have made progress compared to the first two matches. I told the players that we need to make better decisions and improve our skills in order to be able to take shots in the final third. We have had some tough results, but there are still a lot of matches to be played. The same situation can happen after they turn professional. It is easy when things are going well. What matters the most is how these players respond in times like this. I want them to be able to bounce back from the current situation.
DF #5 KUWAHARA Rikuto (Gamba Osaka Youth)
The third-year players held a meeting after we started the season with back-to-back losses. During that meeting, it was pointed out that we weren't communicating enough, so that was something we focused on improving during our trainings sessions this week. Although we have now lost three matches in a row, we definitely saw signs of improvement in today's match. We still have a long season, so we must continue to strive to showcase our style of football. We want to win by continuing the Gamba style of football that our seniors have built up.
Results of other matches
Jubilo Iwata U-18 Postponed Higashi Fukuoka High School
Riseisha High School 2-2 (2-0, 0-2) Cerezo Osaka U-18
Vissel Kobe U-18 3-1 (1-0, 2-1) Sanfrecce Hiroshima FC Youth
Sagan Tosu U-18 2-0 (0-0, 2-0) Shimizu S-Pulse Youth
Ozu High School Postponed Nagoya Grampus U-18
Despite conceding a two-goal lead to Riseisha High School (Osaka) in the first half, Cerezo Osaka U-18 (Osaka) managed to walk away with a point thanks to the brace scored by SUETANI Seigo (#19) in the second half. Led by the goal scored by HONMA Justin (#18), Vissel Kobe U-18 (Hyogo) managed to score three goals to win over Sanfrecce Hiroshima FC Youth (Hiroshima) at home. Sagan Tosu U-18 (Saga) defeated Shimizu S-Pulse Youth (Shizuoka) with the goals scored by KITAJIMA Fumiya (#18) and SAKAI Shunya (#4) in the second half. The matches between Jubilo Iwata U-18 (Shizuoka) and Higashi Fukuoka High School (Fukuoka), and Ozu High School (Kumamoto) and Nagoya Grampus U-18 (Aichi) were postponed.
#高円宮U18 プレミアリーグ 2022
WEST 第6節(5/8)

試合結果#鳥栖 2-0 #清水#静岡学園 3-0 #G大阪

結果詳細はこちらhttps://t.co/GNr6Ievn0n#高校サッカー pic.twitter.com/grfXvjphlt

— 高円宮杯 JFA U-18サッカープレミアリーグ (@jfa_u18) May 8, 2022
#高円宮U18 プレミアリーグ 2022
WEST

暫定順位表
1⃣ #鳥栖
2⃣ #静岡学園
3⃣ #C大阪
4⃣ #磐田
5⃣ #名古屋
6⃣ #清水
7⃣ #履正社
8⃣ #V神戸
9⃣ #大津
1⃣0⃣ #東福岡
1⃣1⃣ #広島
1⃣2⃣ #G大阪

詳細はこちらhttps://t.co/UFlr6DqbvG#高校サッカー pic.twitter.com/TFhaLQ2yw4

— 高円宮杯 JFA U-18サッカープレミアリーグ (@jfa_u18) May 8, 2022
Prince Takamado Trophy JFA U-18 Football Premier League 2022
League Duration: Sat. 2 April - Sun. 4 December 2022