NEWS
Battle between two undefeated sides ends in a draw at the Prince Takamado Trophy JFA U-18 Football Premier League 2021
26 April 2021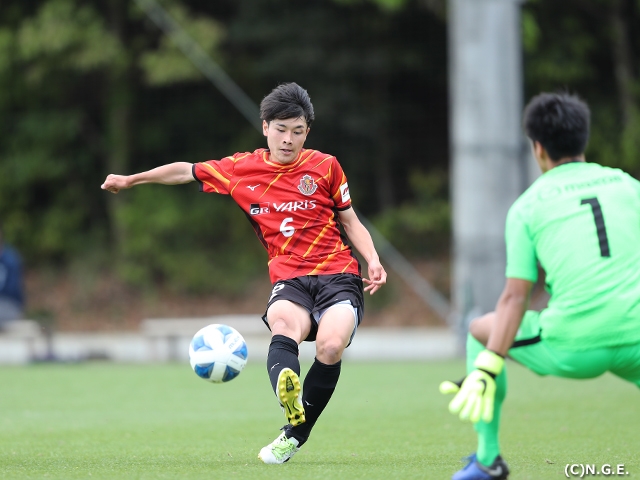 The fourth sec. of the Prince Takamado Trophy JFA U-18 Football Premier League 2021 WEST took place on Sunday 25 April, where second place Nagoya Grampus U-18 (Aichi) squared off against third place Sanfrecce Hiroshima F.C Youth (Hiroshima).
Pick-up Match
Nagoya Grampus U-18 2-2 (2-1, 0-1) Sanfrecce Hiroshima F.C Youth
Both teams entered the match trailing two points behind Gamba Osaka Youth (Osaka) who started the season with three consecutive wins. With the title race already on their minds, both sides showed great intensity from the early minutes, as Hiroshima's MITSUHIRO Kento (#6) mentioned "In order to get a step closer to Gamba, this was a match we couldn't afford to lose."
The first opportunity came for Nagoya, as their captain MANABE Hayato (#10) later reflected, "We must win matches against top teams to win the title. We had been entering each match with the intention to dominate the opponent and winning 5-0." Unlike their previous matches, where they "entered poorly" according to SATO Taisei (#6), the Nagoya side showed great collective efforts to build their offence, as TOYODA Koki (#8) assisted the goal of Manabe in the third minute. Sato followed in the 28th minute, when he responded to a through ball delivered by KATO Gen (#5) to score the second goal for Nagoya.
With SAHASHI Toma (#2) pressing up the left flank, the ball was delivered to Manabe, who fired a shot that struck the post in the 31st minute. Despite their early success, Nagoya struggled to capitalise on their opportunities and started to lose their momentum, as Sato later reflected, "We weren't able to convert our chances and gradually lost momentum." Seeing their opponent losing their grip, Hiroshima pounced on their opportunity as KOSHIMICHI Sota (#27) converted the pass of TANADA Ryo (#10) to cut the deficit in half just before the break.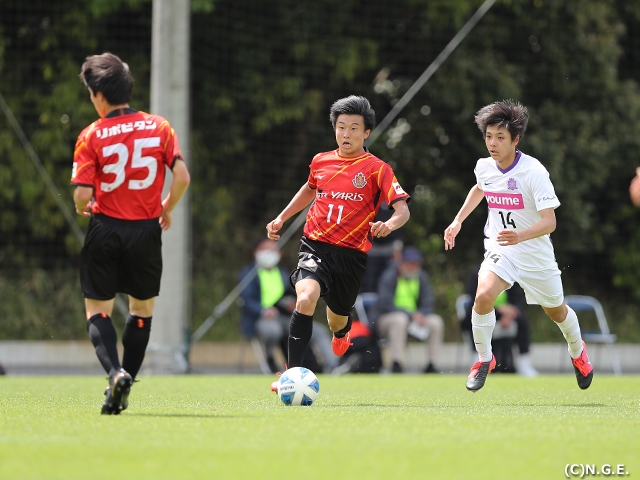 After finishing off the first half on a high note, it was Hiroshima who took the initiative in the second half, as Toyoda later described Nagoya's misstep, "We were responding late to the ball in both offence and defence, which allowed our opponent to stay ahead of us." With momentum on their side, Hiroshima scored the equaliser in the 48th minute, when TAKAYANAGI Eijiro (#9) converted the cross of Koshimichi with a header.
Both sides started to show signs of fatigue in the second half of an afternoon match played in Nagoya. In efforts to change the dynamics of the match, Nagoya made two substitutes, as they brought in first year players KIDA Ryoga (#35) and SUZUKI Haruto (#38) in the 61st and 76th minute, respectively. Suzuki came close to scoring the game winner in the 90th minute, but his attempt was denied by a spectacular save made by Hiroshima's GK HADANO Soshi (#1), as the two undefeated sides walked away with a point each.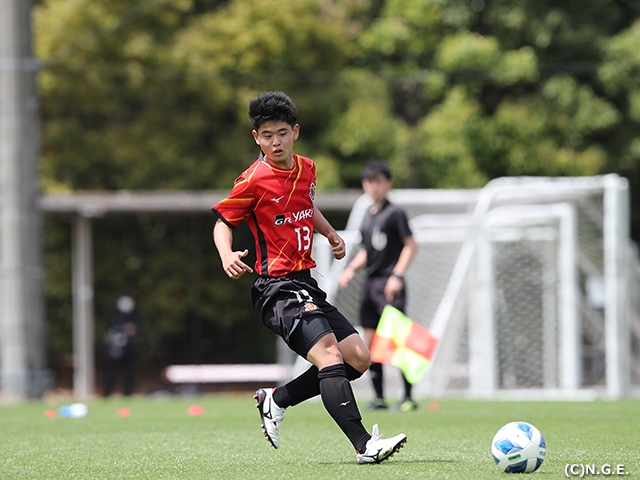 Coaches and Players' Comments
KOGA Satoshi, Coach (Nagoya Grampus U-18)
It was great to see our side create chances and score goals when we had the momentum going our way, but we lost our composure once the momentum shifted the other way. We could have kept the momentum going our way if we showed quicker transition between offence and defence, and made better adjustments on the pitch. Those are some of the aspects the players need to understand more, so we will work on them in our future trainings.
FW #10 MANABE Hayato (Nagoya Grampus U-18)
Despite winning the match last week, I wasn't able to convert my chances, so I focused on my finishing skills and worked on my shots all week. I was so eager to score goals today, which led to the opening goal, but I still missed on some opportunities to give our team the lead. I will continue to work hard to improve myself and strive to help the team win more matches.
TAKATA Tetsuya, Coach (Sanfrecce Hiroshima F.C Youth)
At the beginning of the match, we struggled to play on natural turf and conceded while we were trying to make the adjustments. As we got used to the pitch, we regained our composure and managed to score a goal within the first half, which was huge for us. Although it was great to see our side score the equaliser early in the second half, we looked tired and made many mistakes towards the end of the match. It was unfortunate that we couldn't win this match, but at the same time, I am glad we didn't lose this match. Including this match, we were able to gain confidence in our ability to control the match when we have possession of the ball.
DF #6 MITSUHIRO Kento (Sanfrecce Hiroshima F.C Youth)
Defence has been the key to our success thus far, but we couldn't contain the Nagoya offence today, as they effectively penetrated the tight spaces using quick through balls. Even when there is an attacker in the final third, I feel like we still need to step up to pressure the ball, so that our opponent can't take easy shots. We also couldn't build our momentum because we didn't take enough shots in the first half. If we can finish our plays with a shot, we can reduce the risk of getting counterattacked, and that is what we did well in the second half.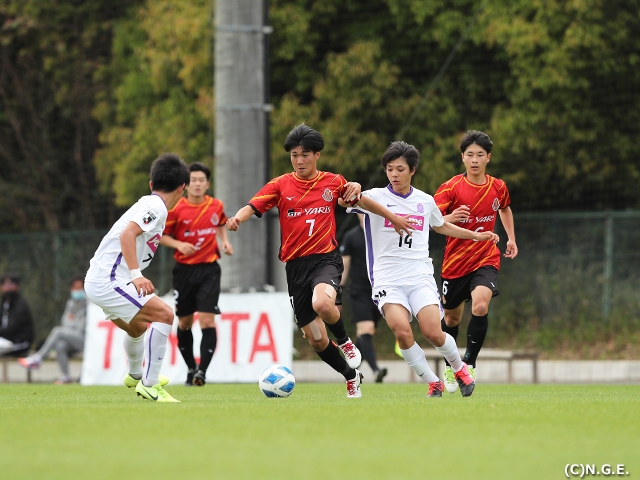 Results of other matches
Vissel Kobe U-18 Postponed Sagan Tosu U-18
Higashi Fukuoka High School Postponed Cerezo Osaka U-18
Ozu High School 2-1 (0-0, 2-1) Jubilo Iwata U-18
Gamba Osaka Youth Postponed Kyoto Sanga FC U-18
Ozu High School (Kumamoto), who carried an undefeated record into sec. four, squared off against Jubilo Iwata U-18 (Shizuoka), where the two sides entered halftime scoreless. With Ozu scoring back to back goals in the second half, the Kumamoto side managed to secure their second win of the season. The remaining three fixtures in the WEST were postponed due to the effects of the state of emergency announced in four prefectures. The schedule for the makeup matches and the following game weeks will be announced as soon as they are determined.

Prince Takamado Trophy JFA U-18 Football Premier League 2021
League Duration: Sat. 3 April - Sun. 5 December 2021