NEWS
S-Licence Coaching Course 2021 Module 1/Short-course (1) Participant's Report Vol. 1
23 April 2021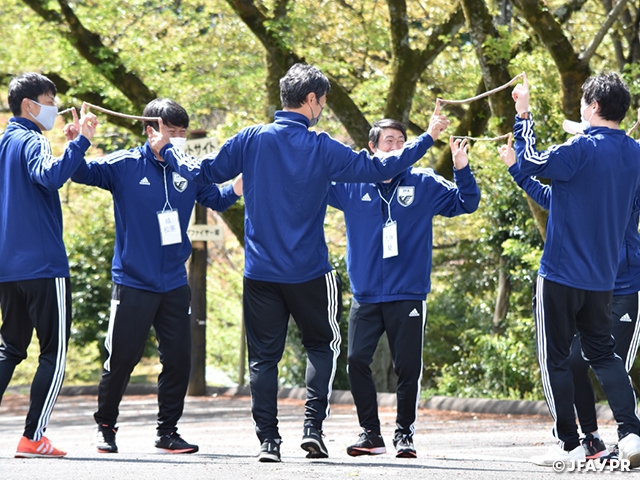 On 11 April, the opening ceremony of the S-Licence Coaching Course 2021 took place, while all possible measures to prevent the spread of the infection were followed. The participants strictly followed the guidelines of sanitising their hands, taking temperatures each morning, and eating meals without talking at the cafeteria. Following the six-day short course, the participants will move onto the intensive course, which will start next week.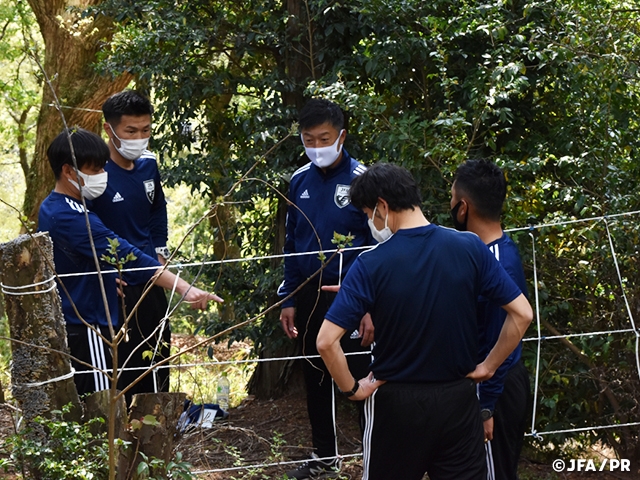 Module 1 Short-course (1)
Dates: Sun. 11 - Fri. 16 April
Sun. 11 April
Opening ceremony, Guidance, Group work, Match observation (Saitama Stadium 2002)
Mon. 12 April
ASE <Action, Socialization Experience> (Central Youth Center of Ibaraki Prefecture)
Group work, Analysis presentation, Condition check game (Kashima Heights Sports Plaza)
Tue. 13 April
Practical coaching session, Review session
Wed. 14 April
Practical coaching session, Review session
Thu. 15 April
Practical coaching session, Review session
Fri. 16 April
Practical coaching session, Review session, Guidance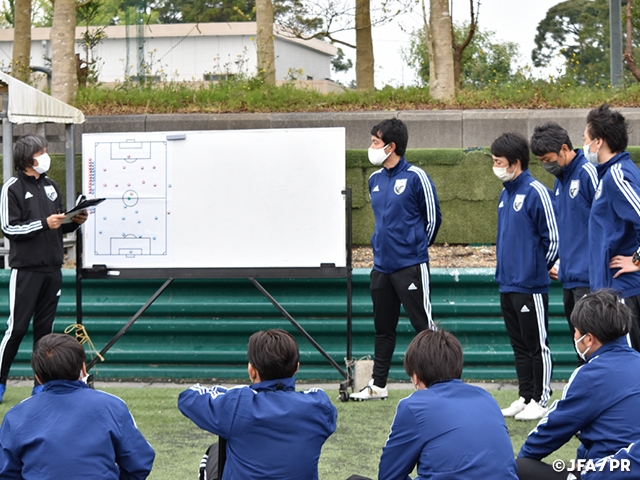 Participants' Comments
AMANO Kenichi, Coach (Giravanz Kitakyushu)
The long-awaited S-Licence Coaching Course has finally begun. At the opening ceremony, JFA Technical Director SORIMACHI Yasuharu and Chief Instructor SUZUKI Jun mentioned that, "A coach is a job that needs to make decisions." It reaffirmed the coach's responsibility to make appropriate decisions under various circumstances and made me brace myself ahead of a year of cultivating the knowledge and experience to become a coach.
At the ASE held at the Central Youth Center of Ibaraki Prefecture, we were formed in groups of five people to perform various activities. What impressed me the most was the activity where we moved onto a building that was 3.5-4m in height. Although we held discussions to achieve our goal, there were moments when things did not go according to our plan, which raised doubts about our group's ability. But we continued to work together as a team and managed to accomplish our goal. Through activities apart from football, we were given the opportunity to reaffirm the importance to communicate, trust, and work towards a common goal as a team.
In our practical coaching session, we observed the match between Urawa and Tokushima to come up with a training menu that would address the issues that were brought up in the match analysis. We were grouped in a team of four people, consisting a coach, assistant coach, GK coach, and a physical coach. Prior to each training session, we held many discussions to go over the training menu and to get ourselves on the same page for the session. Holding discussions while building a training plan was not an easy task, especially with people with different perspectives on football, but it was a necessary process. We also exchanged our opinions in the post training review session. We went over various aspects, including our attitude as a coach, the settings of the training session, relationship between the coaching team, and the actual coaching procedure. If we can continue to work in this course, I am sure we can gain so much experience as a coach.
After participating in the short course for a week, I have decided the followings. I will make this a year where I reconstruct my coaching philosophy by getting inspiration from with my peers and instructors. I will commit myself to this course to become a coach that can make firm and correct decisions to lead the team to a higher level. I will stay humble and openminded, and never take for granted of this opportunity, as this course is made possible through tireless efforts of many people under this current pandemic.
Next week we will share the report of Mr. IMAYA Naoki.