NEWS
Tournament Information of "StayAndPlay eFriendlies" (4/21-24@Online)
22 April 2020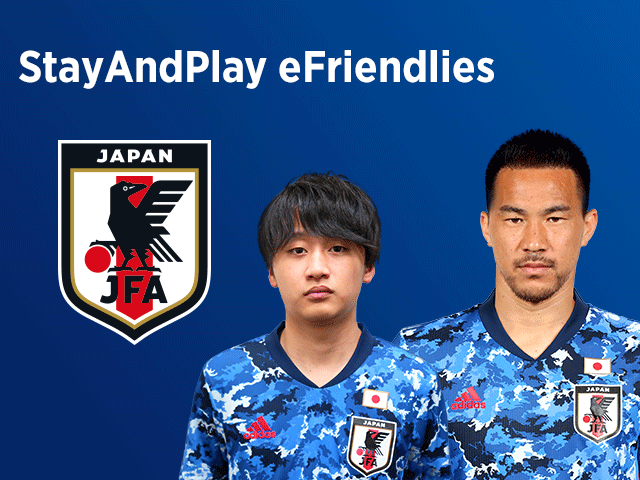 JFA has announced the details of the e-International friendly match "StayAndPlay eFriendlies."
Following the cancellation of the "FIFA eNations StayAndPlay Cup," it was determined that the "StayAndPlay eFriendlies" was going to be held between four Asian countries/regions. The tournament will take place between Tuesday 21 and Saturday 24 April, where four teams will compete in a round-robin league competition.
With many football tournaments and events being cancelled and postponed, the tournament provides entertainment for football fans, where active football players (or public figures) form a tag-team with eFootball players to compete with other countries. Web Nasri will represent Japan along with JFA eSports Ambassador OKAZAKI Shinji. The tournament will partially incorporate the rules of FIFA eNations StayAndPlay Cup. The tournament details are as follows.
Tournament Information
Tournament Name
StayAndPlay eFriendlies
Participating Countries
Japan, Malaysia, Chinese Taipei, Singapore
Tournament Format
Round-robin league competition
Tournament Period
Tue. 21 - Fri. 24 April
Game Console
PlayStation®4 (Online mode of EA SPORTS™ "FIFA20")
"PlayStation" is a registered brand and trademark under the Sony Interactive Entertainment.
Participants
2 Players from each country (1 eFootball National Player, 1 Player of Football National Team or Active/Legend Player or Public figure)
Match Format
・Teams will consist 2 players.
・Each match will be played one-on-one, and the winner will be determined from the total points of two matches. First match will take place between the eFootball National Players, and the second match will be played by their country's public figures.
・Match points will be distributed as follows: 3 points for a win, 1 point for a draw, and 0 points for a loss
・If teams are tied in points, tie-breaker rules will apply in the following order: Goal difference/total goals scored/head-to-head record/coin-toss
・Match time will be set for 90 minutes. (roughly 12 minutes in real time)
Matches involving Japan *Scheduled time for the second matches may change depending on the match progress
Tue. 21 April
vs Malaysia 6-3 (1st Match 2-0, 2nd Match 4-3)
Wed. 22 April
20:00 vs Chinese Taipei 1st Match (Web Nasri vs Ching-Yu Leung)
20:40 vs Chinese Taipei 2nd Match (Okazaki Shinji vs Benson Lin )
Fri. 24 April
19:00 vs Singapore 1st Match (Web Nasri vs Amraan Ghani)
19:40 vs Singapore 2nd Match (Okazaki Shinji vs Joel Chew)
*Starting time of the match can vary depending on the previous match. Please be aware that the 19:40 and 20:40 match can start 5 to 10 minutes earlier than scheduled.
Broadcast
JFA Official YouTube ChannelJFATV
JFA eSports/Football Official Twitter account (@jfa_esports)https://twitter.com/jfa_esports
*In order to priorities the health of all players and staffs, all matches of this tournament will be played remotely to prevent the spread of the novel coronavirus.