NEWS
JFA rewarded with Inspiring Member Association Gold Award at the AFC Dream Asia Awards
22 November 2019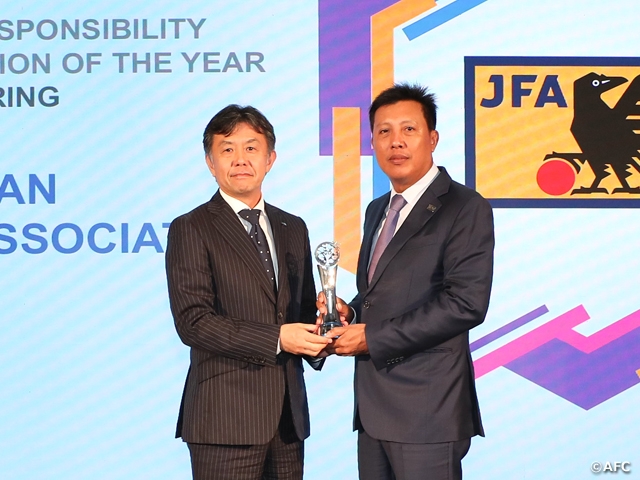 On Wednesday 30 October, the AFC Dream Asia Awards 2019 was held at the AFC House in Kuala Lumpur, Malaysia, where the Japan Football Association (JFA) was rewarded with the Gold award in the Inspiring Member Association category.
The AFC Dream Asia Awards was established to recognise the commitment and expanding efforts of the AFC Member Associations who continue to use football as a catalyst for social development. Along with the JFA, the Japan Inclusive Football Federation (JIFF) was rewarded with the Gold award in the NGO category, making Japan the only country among the 46 Member Associations to have won two Gold awards this year.
AFC Dream Asia Awards 2019
AFC Member Associations are rewarded based on their efforts in using football as a tool for social development in the three categories – Inspiring, Developing and Aspiring.
Inspiring Member Association
Gold: Japan Football Association
Silver: Chinese Football Association
Bronze: Football Association of Malaysia
Developing Member Association
Gold: Myanmar Football Federation
Silver: Hong Kong Football Association
Bronze: Bangladesh Football Federation
Aspiring Member Association
Gold: Guam Football Association
Silver: Palestine Football Association
Bronze: Mongolian Football Federation
JFA's Comment
MATSUDA Kunji, JFA Grassroots Promotion Group Director/JIFF Executive Director
The JFA's involvement in social development were recognised both internationally and domestically, and we are very honoured to receive the Gold award. A total of 13 programmes were nominated including, "Dream Fukushima Action plan," "The Declaration – Ensure Safety of Football Family," "Green Project," "JFA Kirin Big Smile Field," "JFA KOKORO Project," "Physical Education Support," "Women's Football Promotion," and "Kids Eating at home." All of these programmes are made possible with the contribution from people all over Japan. This award was won by everyone who has supported these programmes, so we hope to share the joy of winning this award with everyone.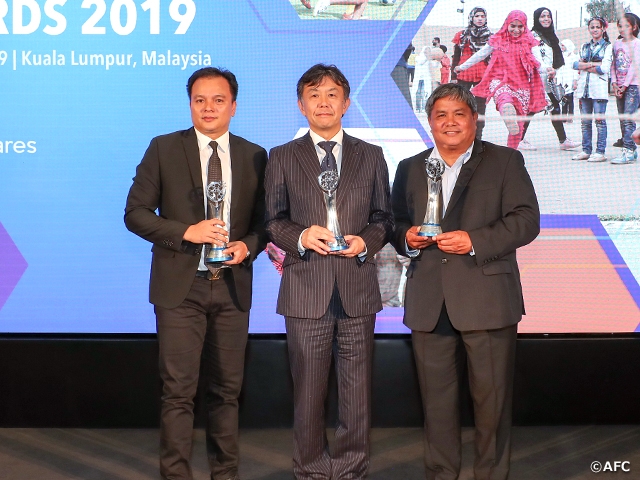 AFC's Comment on JFA (From Official Website of AFC)
As the world's first sports organisation to be registered under the United Nations' Global Compact, the JFA upholds its commitment to social responsibility through three key pillars – sport for all, maximising potential through youth development and building better lives and communities. The Football Exchange Project with ASEAN, JFA KOKORO Project, and the continuous reconstruction efforts of disaster-hit areas through the Dream Fukushima Action plan are just some of the game-changing programmes undertaken by the JFA which have touched the lives of communities across numerous prefectures. Through all these engaging programmes, the JFA continues to improve and empower communities through football and serves as a true inspiration for Member Associations across the Continent.
AFC Dream Asia Awards
The Dream Asia Awards is an annual awards ceremony held by the AFC (Asian Football Confederation), which recognise federations, individuals and corporations using the power of football as a platform for social development.
【Reference】Official Website of AFC:AFC Dream Asia Awards winners announced in Member Associations categories