NEWS
U-17 Japan National Team concludes final tour ahead of the FIFA U-17 World Cup
12 September 2019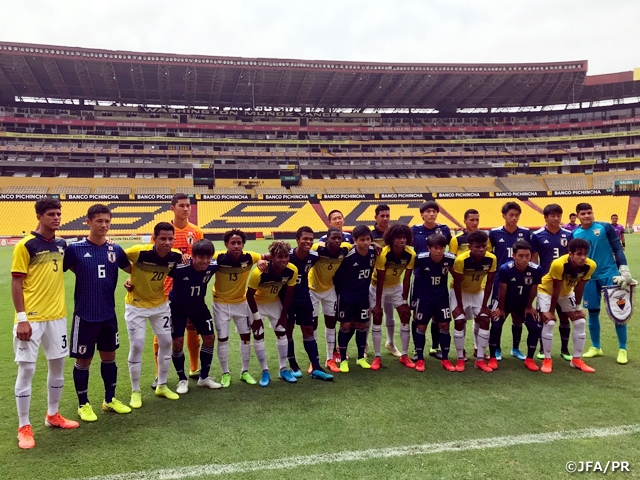 After leaving Japan on Monday 2 September, the U-17 Japan National Team concluded their Ecuador tour and returned to Japan on Wednesday 11 September.
During this tour, the team played a total of three matches, one training match against a local select team and two friendly matches against the U-17 Ecuador National Team, where they recorded three consecutive victories. The players did well to embody coach MORIYAMA Yoshiro's team concept "to take the initiative by playing tenaciously and control the ball possession." However, they also exposed their vulnerability, as they conceded goals in both matches against Ecuador from their lack of concentration. With the FIFA U-17 World Cup Brazil 2019 kicking off on Saturday 26 October, the team must strive to strengthen their strong points while improving their weak points.
The U-17 Japan National Team will make their ways to Brazil in mid-October and play their first match of the FIFA U-17 World Cup Brazil 2019 against the U-17 Netherlands National Team on Sunday 27 October.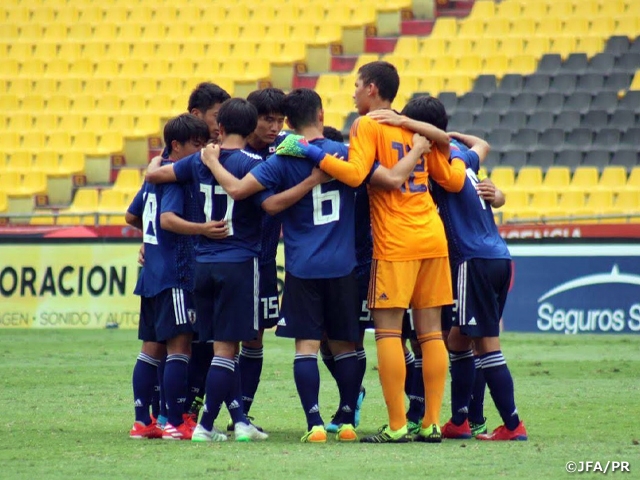 Comment of Coach MORIYAMA Yoshiro
We are left with just a month and a half until the FIFA U-17 World Cup that will take place in Brazil. We were initially scheduled to travel to the Netherlands to face the Netherlands and the USA, but after we found out that we were grouped in the same group with the aforementioned two teams, we had to reschedule the entire tour. While we struggled to find our new destination for our tour, Ecuador, who has earned their spot into the U-17 World Cup by finishing fourth in the South American qualifiers, welcomed us to their country.
We managed to score wonderful goals and win both of our matches. The matches also gave us the opportunity to test out many players, formations, and strategies ahead of the World Cup, so we were able to spend a very productive time at this tour. Upon our arrival to Ecuador, the Ecuadorian Football Federation welcomed us with a passionate greeting, and many of their officers and directors paid a visit for us during our stay. Not only were we given the kind words that they were looking forward to developing a friendly relationship with Japan, we were also featured in the local newspaper on the following day. Our bus was getting escorted by the police at all times, and we were welcomed warmly at our training facility and match venues. We sincerely thank the Ecuadorian Football Federation for preparing us with this wonderful environment.
President Tanabe from Tanabe Farm has also paid a visit to our hotel and shared us with his high-grade bananas. Tanabe Farm has farmed bananas for a long time in Ecuador and their bananas are highly recognised as high-end bananas. We felt very proud to see our fellow countryman being successful at a country far away and his presence has inspired our players in many ways.
I would like to thank all the clubs, schools, and parents for their understandings and support to allow these players to join our team for this tour.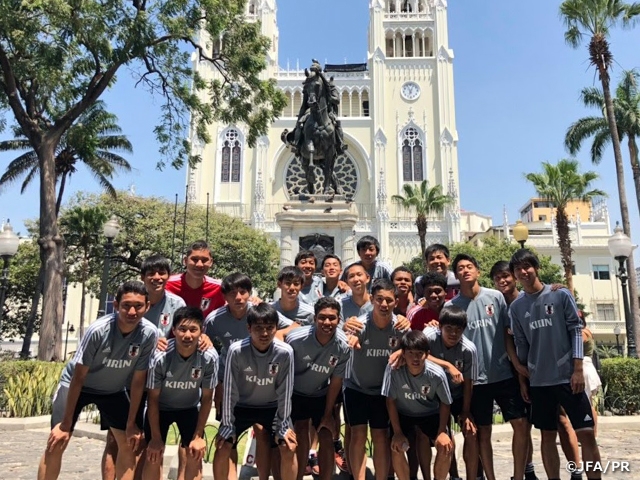 Schedule
Tue. 3 September
AM/PM
Training
Wed. 4 September
AM/PM
Training
Thu. 5 September
3-0
Training Match vs U-17 Guayaquil Select Team
(Estadio Alejandro Ponce Noboa, Guayaquil)
Fri. 6 September
3-1
1st Match vs U-17 Ecuador National Team
(Estadio Cristian Benitez, Guayaquil)
Sat. 7 September
AM
Training
Sun. 8 September
AM
Training
Mon. 9 September
4-1
2nd Match vs U-17 Ecuador National Team
(Estadio Monumental Banco Pichincha, Guayaquil)
*The schedule is subject to change due to the team condition, the weather, etc.
International Friendly Match - Ecuador Tour
Dates: Mon. 2 - Wed. 11 September 2019
Tournament Information