NEWS
U-18 Japan National Team gets revenge over Spain with 1-0 victory
07 September 2019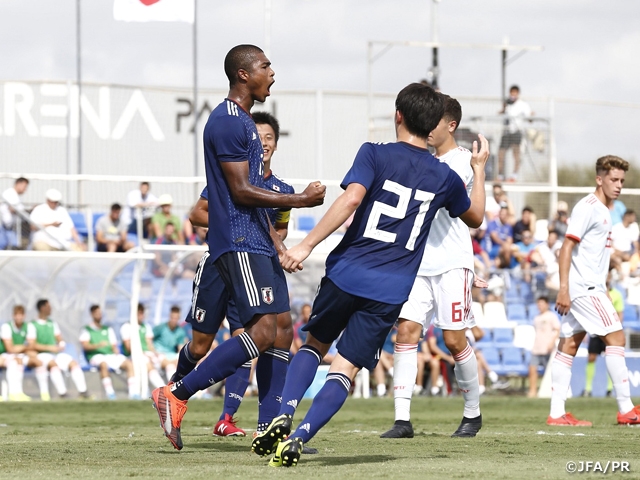 Spain Tour 2nd Match vs U-18 Spain National Team
Fri. 6 September 2019 11:00 Match duration 90mins (45mins×2)
Pinatar Arena (Spain)
U-18 Japan National Team 1-0 (1-0, 0-0) U-18 Spain National Team
Scores
32' SAKURAGAWA Soromon (U-18 Japan National Team)
Starting Line-up
GK: KOKUBO Leobrian
DF: MIHARA Shuma, NISHIO Ryuya, BABA Seiya, KATO Hijiri
MF: AYUKAWA Shun, MATSUOKA Daiki, MATSUMOTO Nagi, ODA Yutaro
FW: SAKURAGAWA Soromon, HARUYAMA Misaki
Reserves
GK: OBATA Yuma
DF: IKEDA Kou, ISHIDA Ryotaro, KIMURA Seiji, HAYASHIDA Kaito
MF: NAKAYAMA Riku, SHIBATA Sosuke, KAWASAKI Sota, ISHIURA Taiga
FW: OMORI Shingo, FUJIO Shota, UENAKA Asahi
Substitutions
62' MATSUMOTO Nagi → SHIBATA Sosuke
62' HARUYAMA Misaki → OMORI Shingo
77' AYUKAWA Shun → ISHIURA Taiga
Match Report
On Friday 6 September, the U-18 Japan National Team faced the U-18 Spain National Team in their second match of the Spain tour and earned a 1-0 victory.
After losing to Spain 0-4 at the Copa del Atlantico, held at the Canary Islands in February, many of the Japanese players who experienced the loss entered this match with a strong intention to pay back the loss. In the early minutes of the match, Japan applied aggressive pressure against the Spanish side who showed quick ball movements. Japan created an opportunity in the sixth minute, when AYUKAWA Shun broke away from a counterattack to face the opposing goalkeeper one-on-one, but the Spanish goalkeeper made a fine save to deny Japan's chance to score the opener. Another opportunity was created in the 13th minute, when HARUYAMA Misaki won the ball deep in the opposing territory, before sending a cross towards the goal, but his delivery failed to connect with SAKURAGAWA Soromon at the centre. While the Japanese defence showcased a solid performance to keep Spain from scoring a goal, the golden opportunity arrived for Japan in the 32nd minute, when ODA Yutaro delivered a pass to MATSUMOTO Nagi, who was fouled inside the box to earn a penalty kick. With Sakuragawa calmly converting the spot kick, Japan took a 1-0 lead. The Japanese side almost doubled their lead in the 41st minute, when Oda struck a powerful shot off of a freekick, but his attempt was denied by the crossbar, as the match entered halftime with Japan leading by a goal.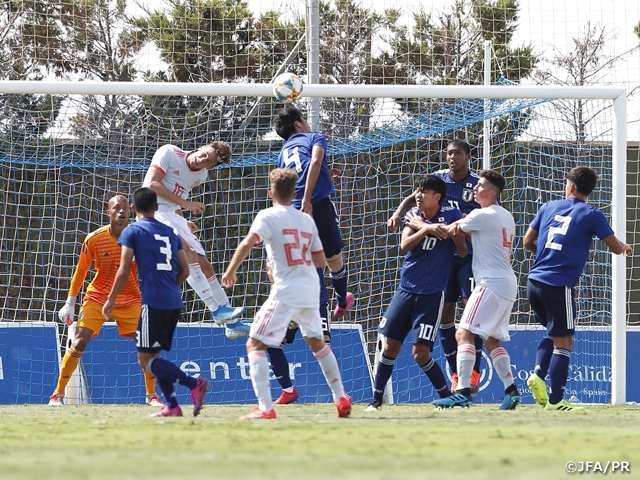 The second half saw the home side attacking vigorously to equalise the match. The Spanish players effectively utilised the width of the field to attack the flanks and Japan was forced to be in the defensive end for a while. However, learning from their match against Scotland, Japan showcased great composure to defend through this stretch and gradually found ways to possess the ball. Their patience almost got rewarded in the 62nd minute, when KATO Hijiri delivered a fast driven cross towards the goal, where Haruyama redirected the ball to Oda, who struck a shot from his favourite angle, but his attempt was saved by the opposing goalkeeper. While Spain utilised their substitutes to change the dynamics, Japan responded by effectively utilising time, while anticipating to score their second goal. In the 80th minute, Sakuragawa and Oda exchanged passes before Oda struck a shot from close range, but once again was denied by the Spanish goalkeeper. After both teams showcased an intense and heated battle for 90 minutes, Japan came out victorious with a score of 1-0, as they got their revenge from February.
The U-18 Japan National Team will play a training match against a local club on Sunday 8, before facing the U-18 Scotland National Team once again on Monday 9.
Players' Comments
GK #1 KOKUBO Leobrian (SL Benfica)
After suffering a loss to Spain in February, we really didn't want to lose twice in a row, so I am glad we were able to win today. It was a very difficult match, but the defence line did a fine job to keep the clean sheet while our offence kept possession of the ball. I am currently playing abroad, and I am training under a very tough environment, but I hope to give back to the national team by giving my best performance, while I also strive to reach higher levels as an individual player. We hope to implement what we've learned from the first two matches and try to showcase a better performance in our next two matches.
MF #8 MATSUOKA Daiki (Sagan Tosu)
We were facing the Spanish side who we have suffered a complete defeat in our Spain tour held in February, so prior to the match we told each other to stay aggressive and play with confidence. I personally wasn't able to do anything in our last encounter, so I made sure I was fully prepared for this one and I am glad we were able to win this time. As the team captain, I am also glad that I was able to stay vocal and help the team control the match. Today we showed confidence in plays where we forced turnovers and carry the ball upfront. We hope to continue to strengthen our teamwork through this tour. We would like to win the remaining matches to prove our strengths and finish this tour on a high note.
MF #10 ODA Yutaro (Vissel Kobe U-18)
I feel like we were able to enter the match with a good rhythm. However, I gave our opponents opportunities to counterattack by losing possession of the ball in the early minutes of the match, and that is an aspect I must improve on. As the match progressed, we got used to our opponent's speed and rhythm, and it allowed us to create more opportunities to take shots, but we lacked quality to capitalise those chances, and that was our main concern of this match. We do not have much time to train during this tour, so it is crucial that we communicate with each other during the matches, and in that sense, we did a fine job today. We will continue to communicate with each other to deepen our team unity. In our final two matches, I hope to get myself involved in our goals and finish this tour with two more wins.
FW #11 SAKURAGAWA Soromon (Jef United Ichihara Chiba U-18)
We were crushed by the U-18 Spain National Team in February, and at the time, it felt like they were superior in every aspect. Today, we entered the match with the intention to payback the bitter experience and I personally was very eager to lead the team to victory. As a result, I was able to lead our offence and score a goal to help the team win the match. Through this tour I will try to find out where I stand in the world, learn how I can be effective at this level, and what I need to improve. We will have another opportunity to face Scotland in our final match, so we hope to implement what we have learned from today's match and improve ourselves ahead of the match.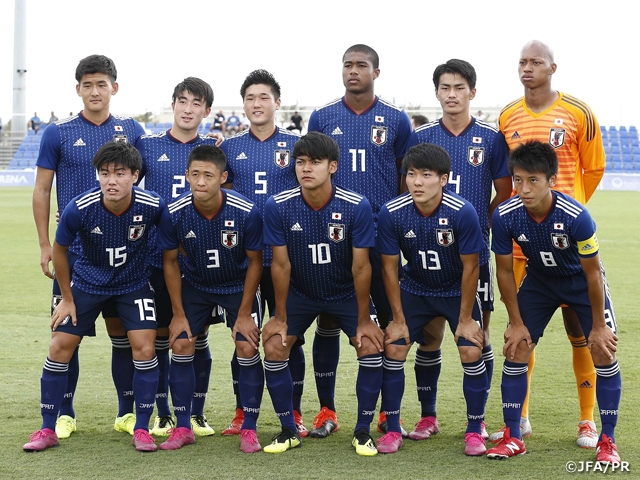 Schedule
Tue. 3 September
AM/PM
Training
Wed. 4 September
AM/PM
Training
Thu. 5 September
1-1
1st Match vs U-18 Scotland National Team
(Pinatar Arena, Murcia)
Fri. 6 September
1-0
2nd Match vs U-18 Spain National Team
(Pinatar Arena, Murcia)
Sat. 7 September
AM
Training
Sun. 8 September
11:00
3rd Match vs Callosa Deportiva CF
(Pinatar Arena, Murcia)
Mon. 9 September
11:00
4th Match vs U-18 Scotland National Team
(Pinatar Arena, Murcia)
*Local time
*The schedule is subject to change due to the team condition, the weather, etc.