NEWS
JFA Kokoro Project starts activities for 2019
10 May 2019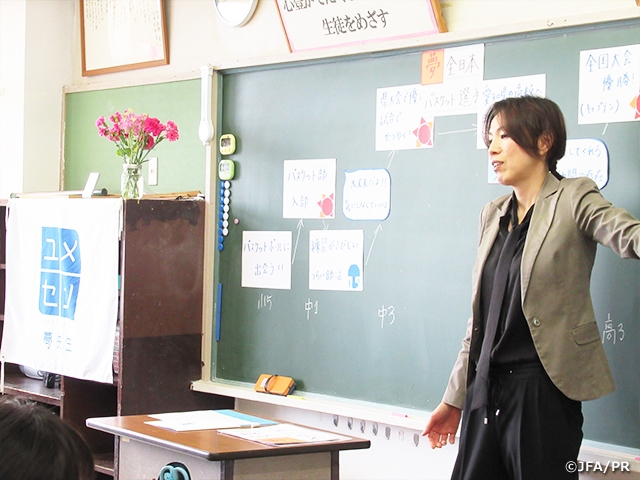 The JFA Kokoro Project started the activities for the 2019 edition of the "Dream Class." This year's first classroom took place at Hakusan Junior High School in Abiko City, Chiba. A total of six Dream-Teachers took the podium for eight classes of second graders from Wednesday 10 to Monday 15 April.
This year, the JFA will work together with 170 local governments to conduct the "Dream Class" nationwide.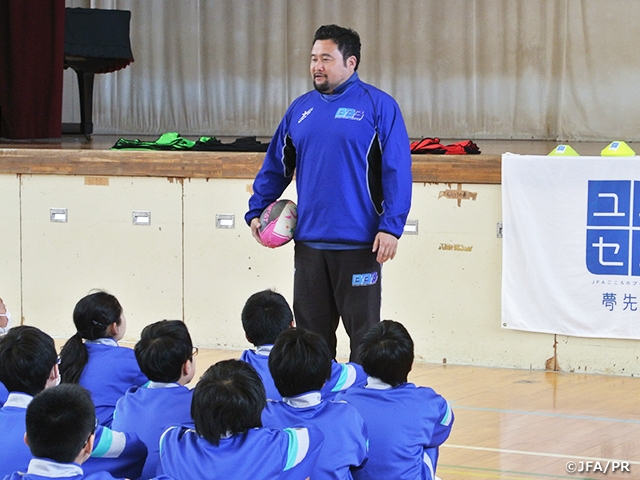 Comments
Ms. OKAZATO Akemi (Former member of Japan Women's Basketball National Team)
With this being the first Dream Class of the year, I was very excited to hold the class. The class was held just days after the students met their new classmates, so everyone in the classroom shared a sense of fresh start. Junior High School students generally asks many questions and share their problems on the Dream-Sheet we provide after classes. I always try to convey personal messages on the Dream-Sheet, so that I can share insights I couldn't share at the classroom. I will continue to convey my words at the Dream Class so that I can give the students a positive perspective and the courage to challenge new things. I myself have learned many things through the students I've met during this project. It is my pleasure to be a part of this Dream Class project and I hope to remember this sense of excitement when I face new students throughout the year.
Mr. KOMIYAMA Yusuke (Former member of Japan Futsal National Team)
This is my third year as an assistant, and the most important thing I have been working on is how to shorten the distance between the kids and the teachers. The kids are very nervous at first. It will be a total waste of time if we spent the entire class being nervous. That is why I emphasise on my approaches to let everyone be themselves during class. The ideal assistance shall notice what the kids want and deliver the enthusiasm of the Dream Teacher in a shape the kids can understand. Within the limited time, our job is to understand what the Dream Teacher is trying to convey and create a productive time for everybody who is taking part of the class. With a simple exchange of words or the way the games are conducted, the entire course of the class may change dramatically. I hope to create a wonderful time for the kids and the Dream Teachers, where they can all share laughter from the bottom of their hearts.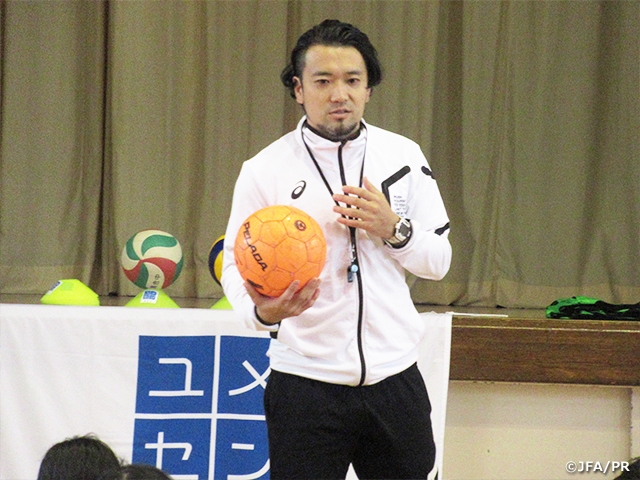 JFA Kokoro Project
Former and current athletes from various sports are dispatched to schools as the "Teacher of dreams" to give lectures on the importance of having a dream and making the efforts to make that dream come true. By playing games and sharing personal experiences, the "Teacher of dreams" also teach the importance to help out friends and peers.