NEWS
In efforts to support the Kumamoto Earthquakes Reconstruction, JFA Kokoro Project conducts "Dream Class" for the third year
27 March 2019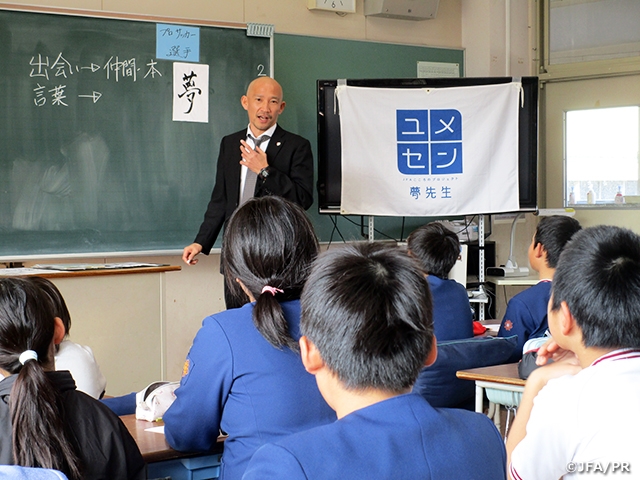 The JFA Kokoro Project held their "Dream Class" in four towns and villages of Kumamoto Prefecture, as part of their efforts to support the reconstruction from the 2016 Kumamoto Earthquakes. Following their activity in 2017, the third edition of the "Dream Class" was held in 22 classed from 14 schools in Kashima town, Nishihara village, Mashiki town, and Minamiaso village, from Tuesday 12 to Thursday 28 February.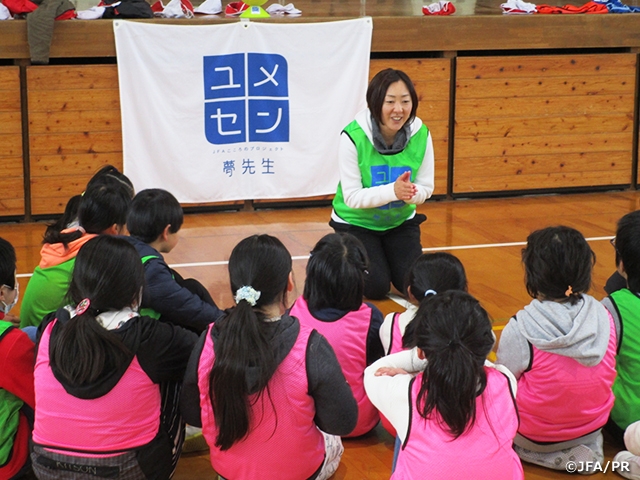 Comments
Mr. UCHIDA Hiroya (Mashiki Town Board of Education, Lifelong Learning Department, Director of Sports Promotion))
As part of the Kumamoto Earthquakes reconstruction support project, the "Dream Class" has been held in Mashiki Town for the third time since 2016. I will like to express my sincere gratitude towards the Japan Football Association and all the supporting companies for making this possible. Perhaps the biggest attraction of the "Dream Class" is that every child can be involved, not just the athletes. In our town, we have held sports classes in the past, but we were only able to conduct classes of certain sport, which allowed limited kids to participate. Another great aspect of the "Dream Class" is that we get to welcome top athletes as the "Teacher of dreams." The kids get to hear priceless stories from the Teacher of dreams and learn the importance of making the efforts to achieve their dreams. I am thankful of this project for giving our kids with such wonderful experience. We will continue to do give our best efforts to provide our kids with dreams and hope.
KITAOKA Osao, Vice-president (Kumamoto Football Association)
I am recalling an event that happened in April 2016, just following the Kumamoto Earthquakes. Former coach of the Nadeshiko Japan, Mr. SASAKI Norio, who is a friend of mine, gave me an international call to make sure I was okay and offered to support the disaster relief. He told me, "I will do anything, so please let me know what I can do to help." Five months following the earthquake, Mr. Sasaki offered to conduct the "Sasaki Norio's Devastated Area Support Project Football Clinic" in September. At the event, Mr. Sasaki's family came out to support us and the kids were able to spend a wonderful time playing football. At the inaugural Kumamoto Reconstruction Assistance "Dream Class" held in 17 January 2017, the very first Teacher of dreams was the person himself, Mr. Sasaki. I still vividly remember that scene. Following that day, many Teacher of dreams has taken the podium in the past three years. I am very grateful for all the efforts made to support and encourage the kids of Kumamoto.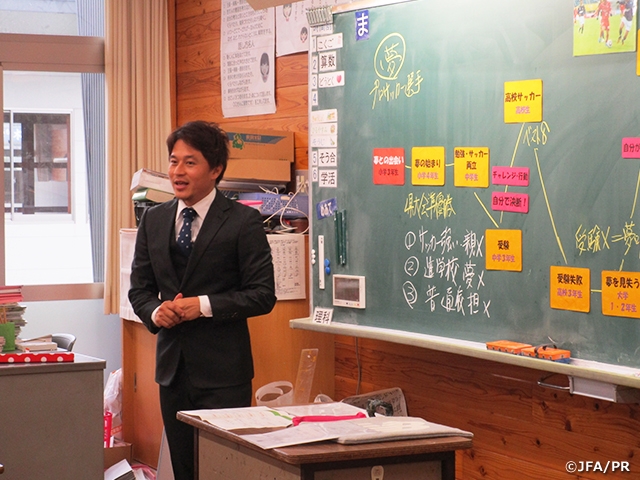 JFA Kokoro Project
Former and current athletes from various sports are dispatched to schools as the "Teacher of dreams" to give lectures on the importance of having a dream and making the efforts to make that dream come true. By playing games and sharing personal experiences, the "Teacher of dreams" also teach the importance to help out friends and peers.