NEWS
U-21 Japan National Team wins over Kuwait 5-0 at UAE Tour (11/11-21)【Dubai Cup U-23】
18 November 2018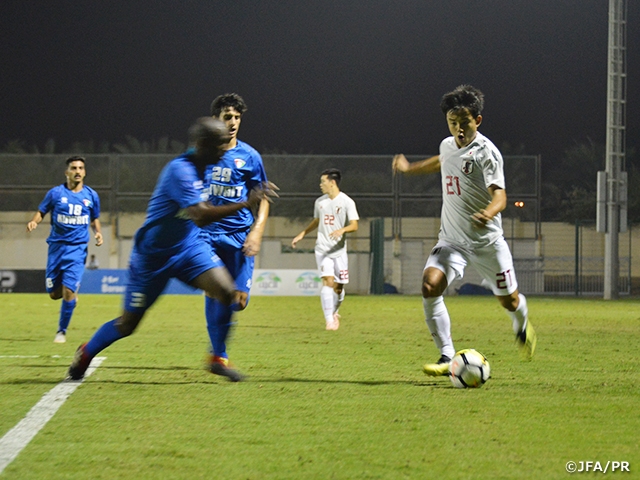 On Saturday 17 November, the U-21 Japan National Team faced the U-21 Kuwait National Team in their second match of the Dubai Cup U-23. With the help of UEDA Ayase's hat-trick, the team won the match 5-0 to record their first victory of the tournament.
In their second match of the tournament, the team rotated 10 players from their starting line-up against Uzbekistan, as YAMAGUCHI Louis started in goal, along with HASHIOKA Daiki, NAKAYAMA Yuta, KOBAYASHI Yuki, NAGANUMA Yoichi, and SUGA Daiki forming the defence line. KAMIYA Yuta and ITO Hiroki were placed in the defensive midfield role, while KUBO Takefusa and HATATE Reo played beneath the lone striker UEDA Ayase.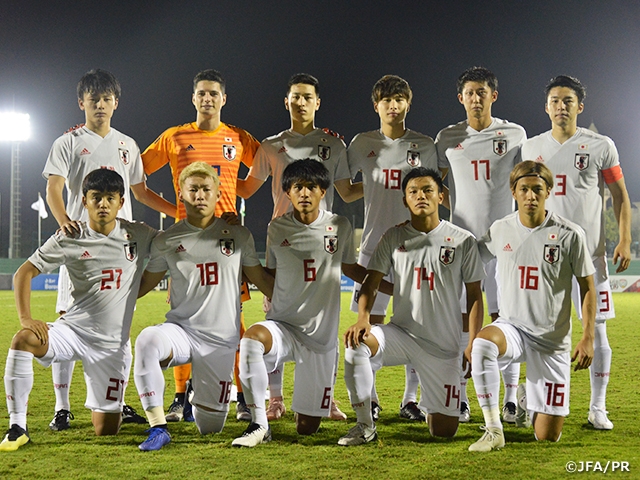 Japan took control of the match from the early minutes, as they showed great ball movements to create opportunities. In the 27th minute, Naganuma played a one-two pass with Kubo before sending the last pass to Hahate, who captured the opening goal for Japan. With momentum on their side, Japan continued to attack as they scored their second goal in the 41st minute when Ueda converted a cross delivered by Naganuma, sending the match into halftime with a 2-0 lead.
The second half continued to see Japan dominating the match as they sought for opportunities to extend their lead. The third goal came in the 56th minute, when they forced a turnover deep in the opposing territory. Naganuma once again found Ueda at the centre, as the same duo captured the goal. Ueda registered his third goal of the match in the 73rd minute when he responded to a sharp pass delivered by Kubo, taking on the opposing goalkeeper one-on-one to complete his hat-trick. With the players showing signs of fatigue, Japan went onto utilise their substitutes towards the end of the match. Late substitute ITO Tatsuya delivered a corner kick in the 81st minute to assist OGAWA Koki's goal to finish up the match with a score of 5-0. Japan showcased great concentration in their defence to shutout their opponents to earn their first victory of the tournament with a dominating fashion.
Following their first match draw against Uzbekistan, Japan had to win this match. Despite winning the match with five goals, Naganuma remained contended to win the tournament, "We must forget about this match and focus on our next match. It is important for the team to finish up the tournament with a win." With the tournament title at stake, the U-21 Japan National Team will face UAE in their third match on Tuesday 20 November.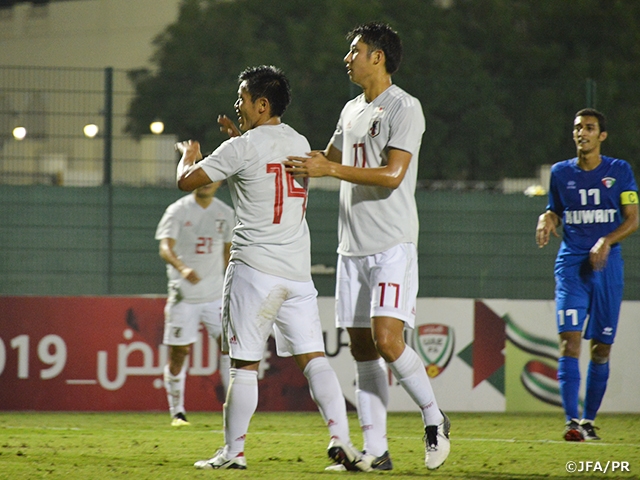 Coach and Players' Comments
YOKOUCHI Akinobu, Acting Coach
In today's match, I think we were able to convert the opportunities we were given. Of course, there were more chances we could have scored, but we managed to create plenty of chances and score many goals. In terms of defence, we learned from our first match and managed to apply pressure aggressively from the first half. However, we have not achieved anything yet. We must stay contended to win our third match, as if our advancement to the next stage is depending on it. I told my players to prepare well against the next match.
MF #6 NAGANUMA Yoichi (FC Gifu)
It is very important to win the match regardless of who we face. Coach Yokouchi has also stressed the importance of winning the second match, so I am glad we were able to win this match. The quality of my crosses has always been an aspect I had to improve on, and I was working on my crosses at my club, so I am glad I was able to earn some assists with it today. However, we must forget about this match and reset our minds ahead of our next match.
MF #21 KUBO Takefusa (Yokohama F・Marinos)
We were able to enter the match well and managed to take control of the entire match. Prior to the match, Ueda mentioned to me to keep an eye on his runs, and I was able to pick him out to assist his goal. Although my passes were on target, the few shots I took in the first half all went straight at our opponents, so I felt like I had to do a better job in that aspect. We still have a match to play, so I will stay focused to score goals next time.
FW #11 UEDA Ayase (Hosei University)
I feel like I was able to showcase my strong points, such as my header, ability to make runs and connecting with the crosses. I am glad to earn results, especially after tying our first match. However, we still have one more game to play. I don't know how much playing time I will be given, but I will give my very best under any circumstance and hopefully contribute to the team's win.
Schedule
Dubai Cup U-23
Wed. 14 November
2-2
1st Match vs U-21 Uzbekistan National Team (UAE FA Stadium)
Thu. 15 November
TBC
Training
Fri. 16 November
TBC
Training
Sat. 17 November
5-0
2nd Match vs U-23 Kuwait National Team (Al Hamriya Stadium)
Sun. 18 November
TBC
Training
Mon. 19 November
TBC
Training
Tue. 20 November
17:00
3rd Match vs U-23 UAE National Team (Al Shabab Stadium)
*Local Time
*The schedule is subject to change due to the team condition, the weather, etc.
*Some of the players will join the training session late on Sun. 11