NEWS
Nadeshiko Japan (Japan Women's National Team) squad, schedule - Sweden trip (7/16-26)
06 July 2016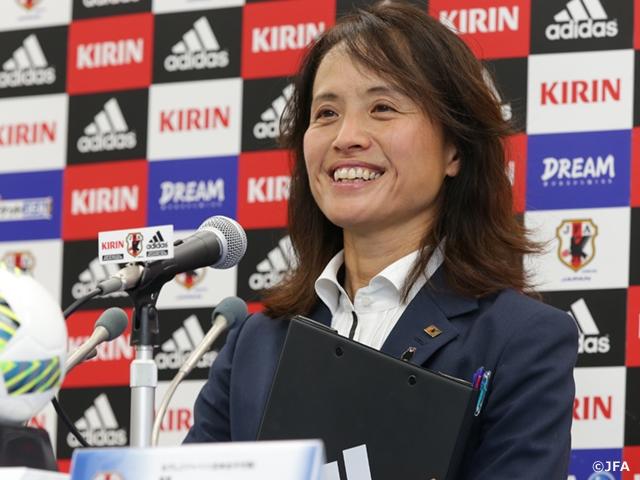 Staff
Coach: TAKAKURA Asako (JFA National Coaching Staff)
Assistant Coach: OBE Yumi (JFA National Coaching Staff)
GK Coach: OHASHI Akiyoshi (JFA National Training Centre Coach)
Physical Coach: MURAOKA Makoto (Free Physical Coach)
Squad
GK
1 YAMANE Erina (JEF UNITED ICHIHARA CHIBA LADIES)
12 YAMASHITA Ayaka (NIPPON TV BELEZA)
18 HIRAO Chika (Urawa Red Diamonds Ladies) *
DF
2 ARIYOSHI Saori (NIPPON TV BELEZA)
5 KAWAMURA Yuri (VEGALTA SENDAI LADIES)
4 KUMAGAI Saki (Olympique Lyonnais/France)
19 SASAKI Mayu (VEGALTA SENDAI LADIES)
15 TAKAGI Hikari (NOJIMA STELLA KANAGAWA SAGAMIHARA)
3 MURAMATSU Tomoko (NIPPON TV BELEZA)
MF
10 SAKAGUCHI Mizuho (NIPPON TV BELEZA)
6 UTSUGI Rumi (Seattle Reign FC/USA) *
7 NAKAJIMA Emi (INAC KOBE LEONESSA)
21 KUNISAWA Shino (AC NAGANO PARCEIRO LADIES) *
8 CHIBA Sonoko (AS HARIMA ALBION)
16 KYOKAWA Mai (INAC KOBE LEONESSA)
14 NAKASATO Yu (NIPPON TV BELEZA)
13 MASUYA Rika (INAC KOBE LEONESSA)
FW
9 NAGASATO Yuki (1. FFC Frankfurt/Germany)
11 ARIMACHI Saori (VEGALTA SENDAI LADIES)
20 YOKOYAMA Kumi (AC NAGANO PARCEIRO LADIES)
17 TANAKA Mina (NIPPON TV BELEZA)
*The players with an asterisk indicate players for first international cap.
Note: UTSUGI Rumi will join the squad on 18 July.
Coaches' Comment
While world's powerhouses are preparing for the Rio Olympics, Japan will also get ready to gun for the next title in our own way. I'm happy that we can play against one of the European big teams, Sweden. We added some new faces, but Nadeshiko Japan have not changed our qualification for players – skill, cleverness, hard-running, fighting attitude committing to the team and great enthusiasm for the national team.
I want my players to be aware that the new challenge's already started and be proud of and responsible for the fact they were selected. And I want them to be strongly aware they are being tested. I expect my players to bring out their best on the pitch and display the attitude to battle for the future as a Nadeshiko Japan player off the pitch as well.
Nonparticipation Player (7/17)
NAKAJIMA Emi
MF Club: INAC KOBE LEONESSA Sidelined due to injury
Schedule
Mon. 18 July
AM/PM
Training
Tue. 19 July
AM/PM
Training
Wed. 20 July
AM
PM
Training
Training *Open to the public beginning 15 min.
Thu. 21 July
16:00
International Friendly Match
vs Sweden (Guldfageln Arena)
Fri. 22 July
AM
Training
Sat. 23 July
AM/PM
Training
Sun. 24 July
14:00
Training Match
vs Kristianstads DFF (Vilans IP)
*Local Time
*The schedule is subject to change due to the team condition, the weather, etc.