NEWS
U-23 Japan National Team get home on 31 January night
01 February 2016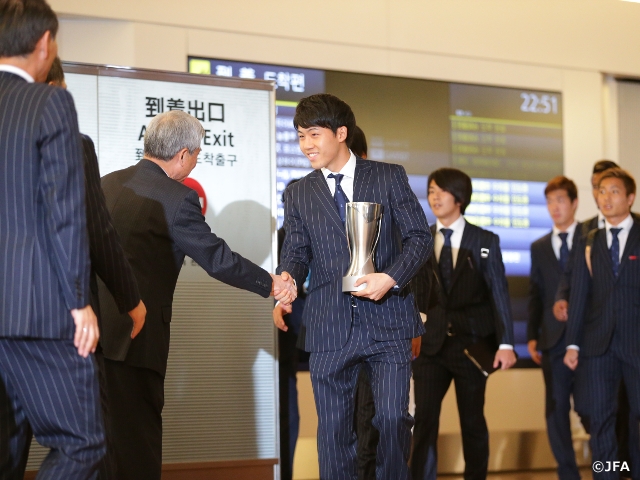 After winning the AFC U-23 Championship Qatar 2016 and getting a ticket to the Rio de Janeiro Olympics, U-23 Japan National Team got back to their home country on the night of 31 January.
Greeted by hundreds of fans, media reporters and staff at the airport, the players looked apparently relaxed with occasional smiles. At the same time, they saw such a reception and seemed to realise how big the task the team achieved.
Then, the team held a press conference at a facility in the airport. Coach TEGURAMORI Makoto, captain ENDO Wataru, sub-captains IWANAMI Takuya and OHSHIMA Ryota went on the stage.
Japan coach Teguramori said, "I'm glad to live up to the people's expectations. We were able to achieve the goal – going to Rio by winning the Asian Champions without any loss. From now on, we will make efforts to get a medal at the Olympics to write a new chapter in the Japanese football history."
Iwanami, who helped the team at the final line, said, "I'm happy that I was able to play with wonderful teammates and staff. I'm also thankful to people who gave spurs to us when we struggled to win."
Although Japan finished the tournament unbeaten, their journey to the championship was not easy. Of six matches, their four victories were capped by one goal, and the quarterfinal against Iran that eventually went three goals up also entered extra-time. Coach Teguramori spoke about why they won through as a team in such close contests as follows.
"The strength of this team is that the players failed to reach the world youth championships and have a rebel spirit derived from the disappointment. The players and staff, fellows who hadn't achieved anything, knew that it's important to work together."
By winning through a series of fierce battles, U-23 Japan National Team claimed the top of Asia. The players will go back to their belonging team after a brief rest. Endo said, "not being satisfied with the result that we got the championship, how much each one of us can grow is going to be a key at the Olympics." And Ohshima said, "from now on, we are going to prepare for our goal to get a medal at the Olympics." U-23 players' battles for the Rio Olympics are starting again.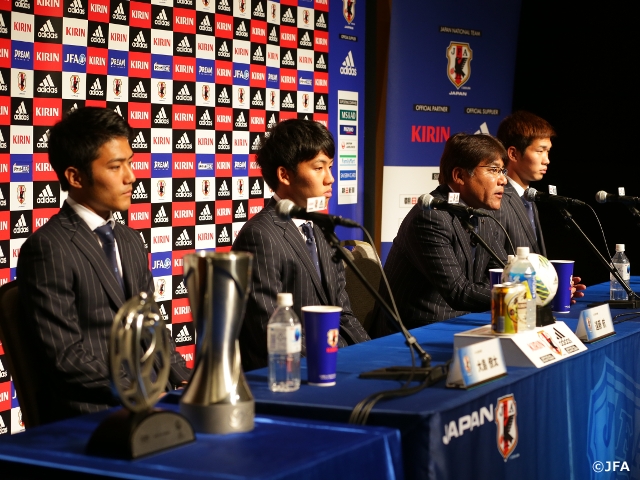 Coach and Players' Comments
TEGURAMORI Makoto, Coach
As we hadn't have so much international experience, I was so convinced that we should be and we would be able to get better as we played each Olympics qualifying match. What it came down to was sticking to the winning end result and actually pulling out that win. Talking about this tournament, our tenacity and game controlling skill got better. We were able to show our capability to grow and be a better team as we play each match. My players played bravely once getting onto the pitch and I felt they were very trustworthy. I hope this Asian championship feat motivates not only our national teams but also each club for their better youth development.
MF #3 ENDO Wataru (Urawa Reds)
During the tournament, I kept in mind to pull the team together as a captain and lead them with my play. I got a good response for our team in terms of reading the situations of the game when the flow of the game was bad for us. Our homework is we had plenty of stretches when we couldn't take the initiative throughout the tournament. In the finals, we will try to show football where we take action by ourselves and control the game. We will work hard to grow as a team and an individual.
DF #4 IWANAMI Takuya (Vissel Kobe)
I'm happy that I was able to play all the way up to the final with my teammates and staff after spending a lot of time together for almost a month. We kept losing at the last 8 in Asia and failing to win tough contests, but at this tournament we were able to win such matches like the extra-time contest. I got positive signs of the team. We became the Asian champions but still need to improve all the aspects when it comes to playing against top teams in the world. I will personally try to prove myself in the J.League.
MF #8 OHSHIMA Ryota (Kawasaki Frontale)
We achieved our goal to win all the six matches and overcame the consistent responsibility and pressure as a team. That's a positive side. The age group who kept losing in Asia worked as a team and such disappointment led to tough training. And the unity worked in a positive way as a result. We have a goal to get a medal at the Olympics, so now we will need to start preparing for that.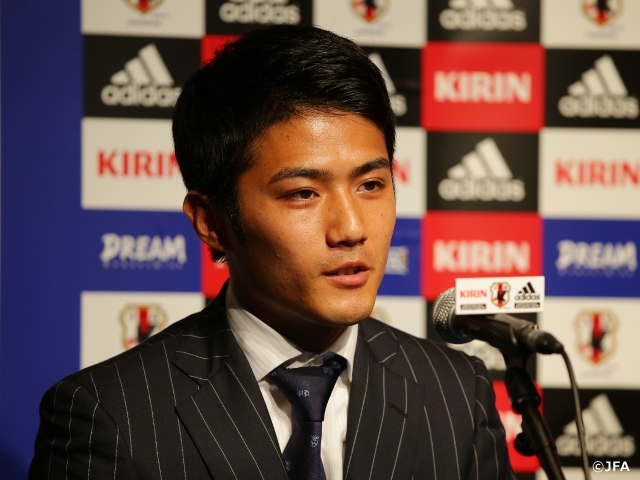 JFA-TV (Japanese version only)
Schedule
AFC U-23 Championship Qatar 2016
Wed. 13 January
1-0
Group Stage 1st Match vs U-23 DPR Korea
(@Grand Hamad Stadium)
Thu. 14 January

AM

Training

Fri. 15 January

PM

Training

Sat. 16 January
4-0
Group Stage 2nd Match vs U-23 Thailand
(@Grand Hamad Stadium)
Sun. 17 January

AM

Training

Mon. 18 January

17:45

Official training (@Suhaim Bin Hamad Stadium)

Tue. 19 January
2-1
Group Stage 3rd Match vs U-23 Saudi Arabia
(@Suhaim Bin Hamad Stadium)
Wed. 20 January

AM

Training

Thu. 21 January

TBC

Official training (@tbd)

Fri. 22 January
3-0

Knock-out stage Quarter-Finals vs U-23 Iran
(@Abdullah Bin Khalifa Stadium)

Sat. 23 January

AM

Training

Sun. 24 January

PM

Training

Mon. 25 January

PM

Training

Tue. 26 January

2-1

Knock-out stage Semi-Finals vs U-23 Iraq
(@Abdullah Bin Khalifa Stadium)

Wed. 27 January

AM

Training

Thu. 28 January

PM

Training

Sat. 30 January
3-2
Knock-out stage Final vs U-23 Korea Republic
(@Abdullah Bin Khalifa Stadium)
*Local Time
Women's Olympic Football Tournament Rio 2016 - Asian Qualifiers Final Round
29 February 2016 - 9 March 2016
Nadeshiko Japan (Japan Women's National Team)/Australia/Korea Republic/China P.R./Vietnam/DPR Korea
Round robin tournament 15 Match(Top two team will earn Olympic berth)
Mon. 29 February vs Australia Women's National Team
Wed. 2 March vs Korea Republic Women's National Team
Fri. 4 March vs China P.R. Women's National Team
Mon. 7 March vs Vietnam Women's National Team
Wed. 9 March vs DPR Korea Women's National Team
All competitions are held in Osaka/Kincho Stadium -19:35 kick-off (tbd)
Ticket now on sale!